---
If you are new to gluten-free, grain-free, and nut-free baking, you have probably encountered a lot of alternative flour types and are feeling uncertain about where to even begin.
When I first eliminated gluten, almond flour was my go-to for baking. However, after having to eliminate nuts, I had to turn to other flour alternatives, such as cassava flour and arrowroot powder. After making the switch, I can honestly say that I am really enjoying the variety of options available and having fun experimenting.
It is important to note that with alternative flours, replacements are not 1:1 with original wheat flour recipes. In my experience, it definitely takes some trial and error to learn the properties of the various flours but I have discovered that mixing the flours yields the best results. It can feel intimidating trying to bake with new types of flour, but it is definitely possible to create similar textures with the right flour combinations.
---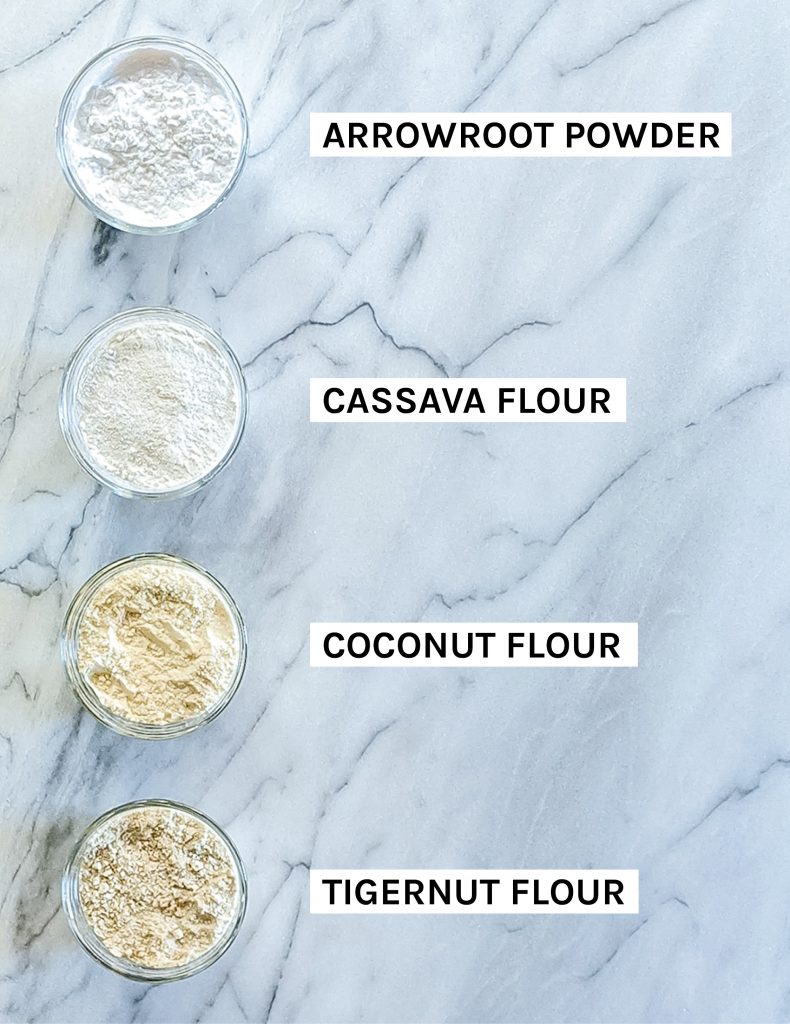 ---
To help familiarize you with grain-free and nut-free flours, I wanted to share with you an alternative flour guide. I hope the guide gives you the confidence to try your own versions of your favorite recipes.
Arrowroot Powder
Light, powdery, and fluffy, arrowroot powder is extracted from the rhizomes of the tropical herb Maranta arundinacea. It is an easily-digestible starch that is native to South America, Mexico, and the Caribbean.
Arrowroot powder has a neutral flavor that can help bind together baked goods while providing some elasticity and lightness. Not only can arrowroot powder be used in baking, but it can be used as a thickening agent, acting as a perfect swap for cornstarch.
Recipes to check out:
Cassava Flour
One of the main staples of grain-free baking, cassava flour has a starchy texture that provides a nice chew in baked goods. It is made by drying and grinding the white flesh of the yuca root, a root vegetable native to South America.
Cassava flour has a texture that is similar to wheat flour, however when baked, it is pretty dense since it absorbs more liquid. I find that it works best when mixed with other alternative flours to help soften and lighten it up.
Recipes to check out:
Coconut Flour
This grain-free flour alternative is produced from drying and grinding coconut meat. When I first started baking with coconut flour, I was very surprised at how small of an amount a recipe requires. A general rule of thumb is 1/4 to 1/3 cup of coconut flour to wheat flour.
However, similar to other alternative flours, I find coconut flour works best if it is mixed with other flours, especially since it is so porous. It is very absorbent and high in fiber, making it great for soaking up excess liquid, such as in baked goods that call for pureed/shredded fruit or vegetables.
Recipes to check out:
Tigernut Flour
Despite the name, tigernut is not a nut. It is actually a tuber that grows on one of the only edible sedges, Cyperus esculentus (Yellow Nut Grass).
Tigernut flour is very rich in prebiotic fiber, a resistant starch, making it great for gut health. It is probably my favorite alternative flour to bake with due to its naturally sweet and "nutty" flavor. Tigernut flour has a similar texture to almond flour but is nut-free. Again, I find it works best when mixed with arrowroot powder or cassava flour to help bind ingredients together.
Recipes to check out: