---
Who doesn't love chocolate chip cookies? I am always on the look-out for soft and chewy allergy-friendly chocolate chip cookies. When my husband tasted this recipe, he was very impressed — this means a lot coming from someone who doesn't care for sweets!
This recipe is adapted from Otto's Eggless Chocolate Chip Cookies but I have included tigernut flour and coconut manna / butter for a "nuttier" taste. It can easily be modified to be AIP by replacing the dairy-free chocolate chips with your preferred carob chips.
---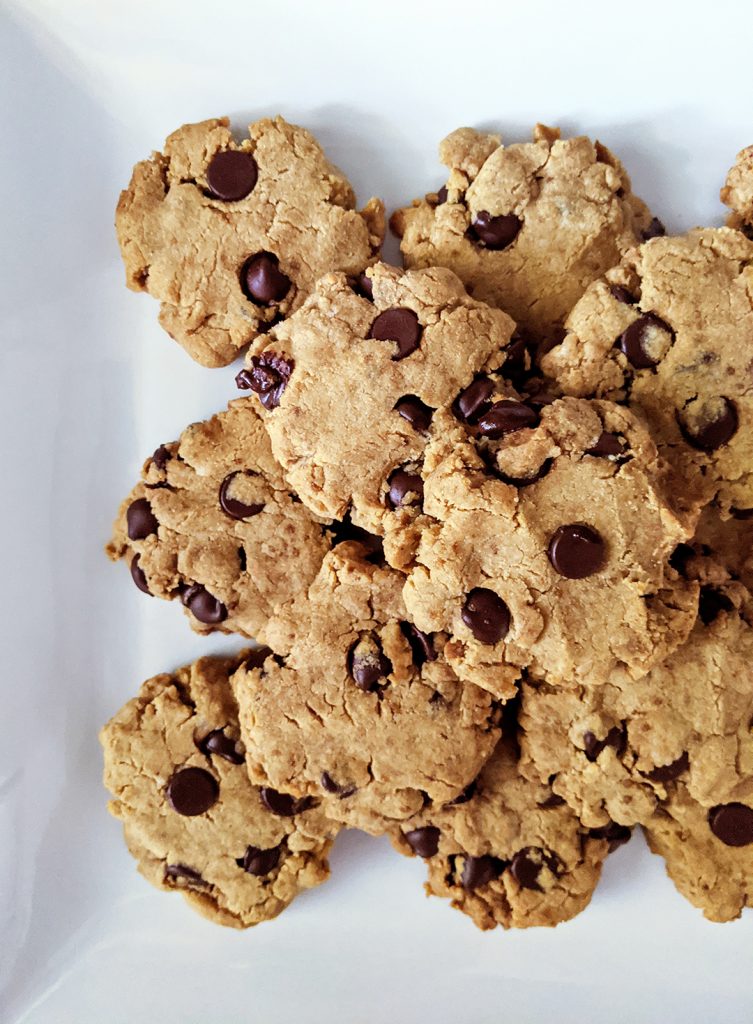 So, what exactly is a tigernut?
Despite the name, tigernut is not a nut. It is a tuber that grows on one of the only edible sedges, Cyperus esculentus (Yellow Nut Grass).
Tigernut flour is incredibly versatile — it is one of my favorite gluten-free and nut-free baking flours. It is very rich in prebiotic fiber, a resistant starch, making it great for gut health.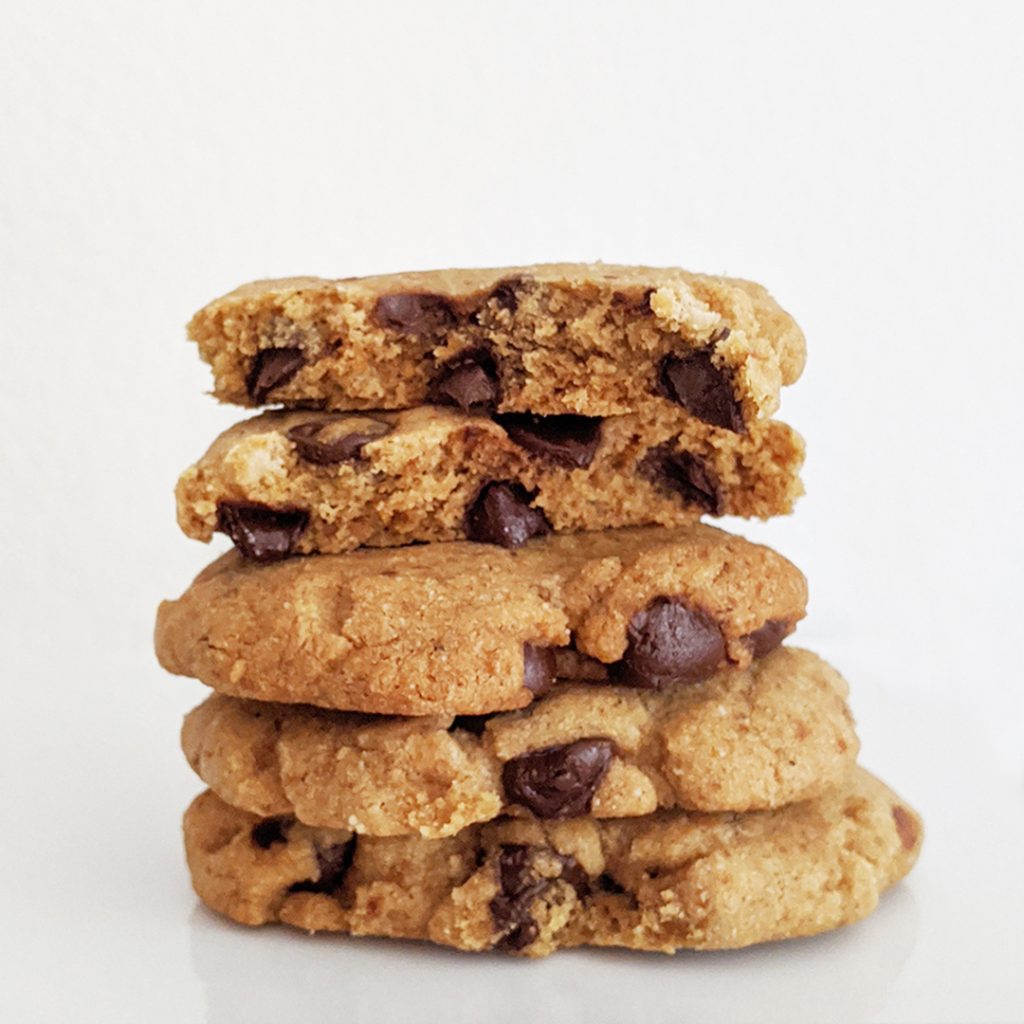 ---
RECOMMENDATIONS
Be sure to warm-up the coconut manna/butter right away. I like to place the glass jar in a small pot of hot water on the stove.
If you don't have any coconut manna/butter, you can use a total of 1/2 cup of coconut oil instead. Also, note if using only coconut oil, the cookies tend to spread out more when baking.
My favorite chocolate chips are Enjoy Life Dark Chocolate Morsels — certified dairy-free, gluten-free, and Paleo friendly.
---
TOP 8 FREE CHOCOLATE CHIP COOKIES
: 12-15 cookies
: 15 min
: 11 min
: 26 min
These soft and chewy allergy-friendly chocolate chip cookies have a a rich, nutty flavor while being gluten-free, dairy-free, egg-free, and nut-free. It can easily be modified to be AIP by replacing the dairy-free chocolate chips with your preferred carob chips. Diet Type: SFED, Paleo // AIP (modified)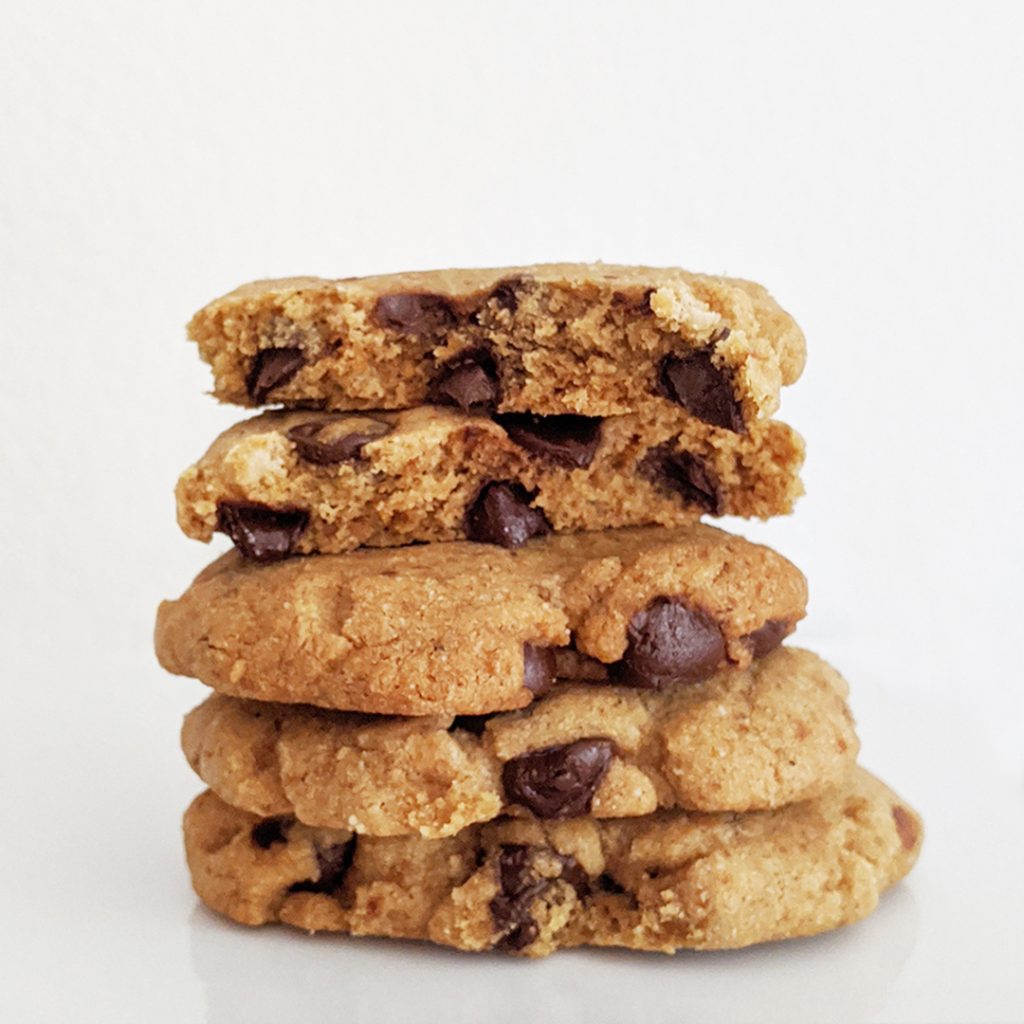 Directions
Step 1

Preheat oven to 350°F.

Step 2

Start warming up the coconut manna/butter. This should take about 10 minutes.

Step 3

In a small mixing bowl, whisk together the cassava flour, tigernut flour, gelatin, baking soda, and salt, and set aside.

Step 4

In a separate medium-sized mixing bowl, mix the maple syrup, coconut or maple sugar, and vanilla together. Let sit for a couple of minutes to dissolve.

Step 5

Add the coconut manna and coconut oil to the maple syrup/coconut sugar/vanilla mixture and mix well.

Step 6

Add the dry ingredients to the wet ingredients and stir until it becomes a dough.

Step 7

Fold in the chocolate or carob chips.

Step 8

Line the baking sheet with parchment paper. Form the cookies (roughly tablespoon) into a ball and gently flatten onto the baking sheet.

Step 9

Bake for roughly 11 minutes and let cool before serving. The gelatin will set as the cookies cool so wait to transfer the cookies until they are firmer.
The Open Cookbook is a participant in the Amazon Services LLC Associates Program, an affiliate advertising program, designed to provide a means for sites to earn advertising fees by advertising and linking to Amazon.com. The Open Cookbook may receive a small referral commission if you make a purchase using one of the website links, at no additional cost to you.