---
Made with crushed plantain chips, these AIP Chicken Nuggets are crispy and juicy paired with a deliciously tangy Banana Ketchup dipping sauce.
A childhood favorite of mine, I couldn't be more excited to share this recipe for gluten-free, egg-free, and nut-free chicken nuggets along with a dipping sauce that is reminiscent of honey mustard or a sweet and sour sauce but made with AIP ingredients. The combination really takes me back and is truly magical!
What is Banana Ketchup?
A classic Filipino condiment, banana ketchup (a simple mix of mashed bananas, vinegar, sugar, and spices) was invented in the 1930s by María Orosa, a food scientist, humanitarian, and war heroine in the Philippines. In 1942, banana ketchup was commercially produced due to a nationwide tomato shortage. Today, it is commonly used in the Philippines and it has become more well-known internationally due to the fast-food chain Jollibee.
This AIP and nightshade-free version of banana ketchup is inspired by the original as well as BonAippetit's recipe. The flavor is nice and tangy, slightly sweet, with a pinch of cinnamon to tie the flavors together.
---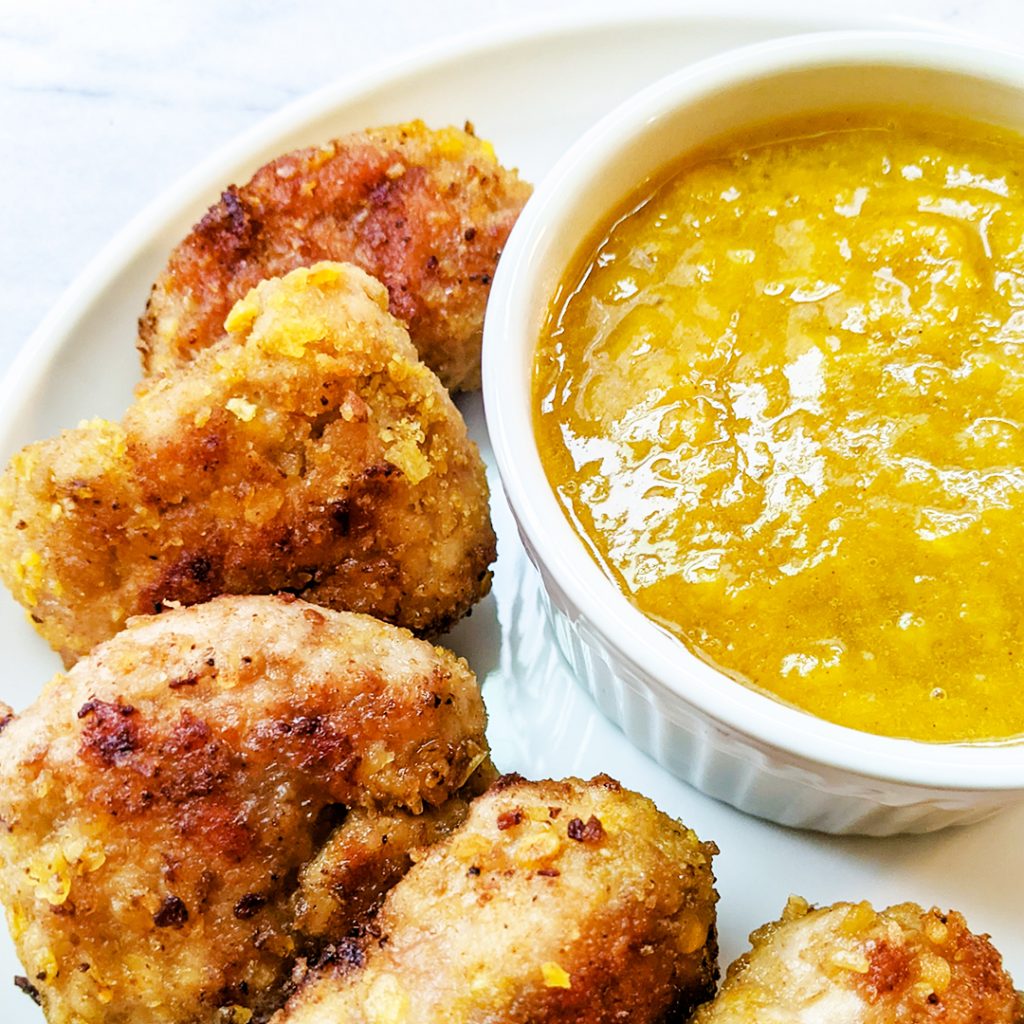 Ingredients for AIP Chicken Nuggets

:
Ground chicken (or ground turkey)
Sea salt
Avocado oil
Ingredients for Tangy Banana Ketchup

:
Bananas
Apple cider vinegar
Coconut aminos
Maple syrup (eliminate for Whole30)
Turmeric
Cinnamon
Sea salt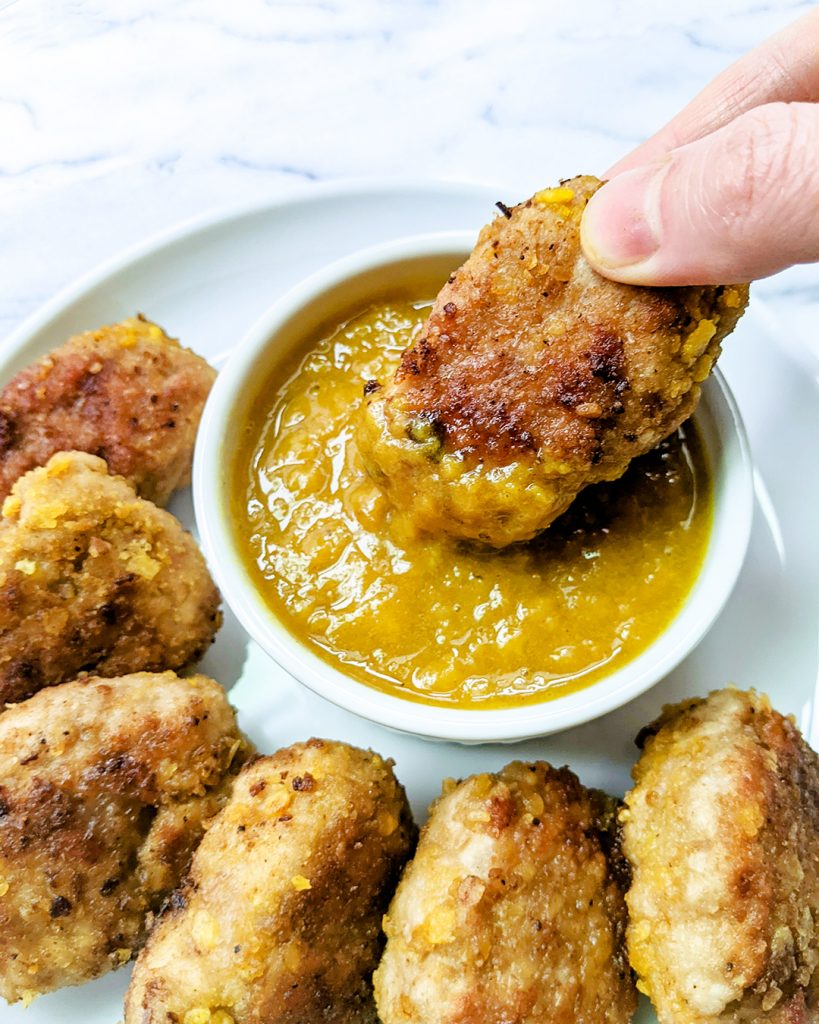 ---
RECOMMENDATIONS
For the plantain chip breading, the brand I recommend is

Inka

but feel free to use the brand you enjoy or what you have on hand.
If you prefer, you can swap the ground chicken for ground turkey – tastes just as good.
I highly recommend trying out the AIP Banana Ketchup recipe included below as a nice tangy dipping sauce (reminds me of honey mustard or a sweet and sour sauce) but there are some other great AIP condiments you can try like

AIP Ketchup

or AIP Barbeque Sauce.
Store the chicken nuggets in an air-tight container in the fridge for 3-5 days or freeze for up to 3 months.
The banana ketchup keeps well for 3-5 days in the fridge or store in the freezer for up to 3 months.
OTHER GROUND MEAT RECIPES TO CHECK OUT:
---
AIP Chicken Nuggets with Banana Ketchup
: 11 nuggets
: 15 min
: 35 min
: 40 min
Made with crushed plantain chips, these AIP Chicken Nuggets are crispy and juicy with a deliciously tangy Banana Ketchup dipping sauce.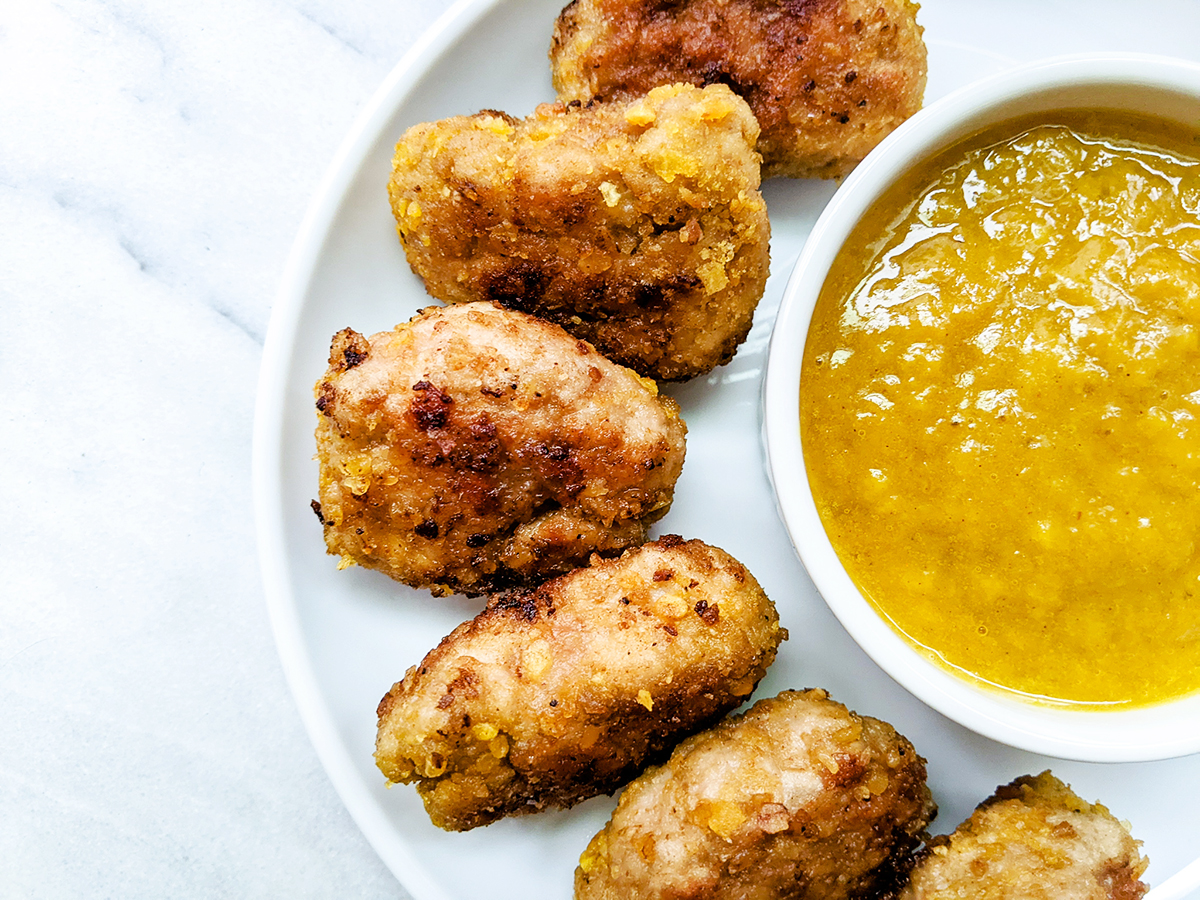 Ingredients
Chicken Nugget Ingredients
1 lb ground chicken (or turkey)
2 tsp coconut amino
1/2 tsp sea salt
2/3 cup ground plantain chips (roughly 3 oz before grinding)
2 tbsp avocado oil (for frying)


Banana Ketchup Ingredients
2 medium bananas (ripe for sweeter flavor)
1/4 cup apple cider vinegar
1/4 cup filtered water
1 tbsp coconut aminos
1 tsp maple syrup (eliminate for W30)
1/4 tsp turmeric
1/8 tsp ground cinnamon
1/2 tsp sea salt
Directions
Step 1

In a large bowl, add the ground chicken, coconut aminos, and sea salt. Mix ingredients well and let sit while making the plantain breading.

Step 2

In a food processor, add roughly 3 ounces of crushed plantain chips. Using the grind feature, pulse the plantain chips until they form a panko-like texture. Once the plantain chips are ground up, pour onto a large plate.

Step 3

Using your hands, form roughly 1 inch balls of ground chicken mixture and make them into a nugget shape, placing onto a clean plate. There should be roughly 11 nuggets.

Step 4

Take each chicken nugget and dip into the ground plantains, coating evenly on all sides.

Step 5

In a medium frying pan, heat up the avocado oil on medium-high and once it is hot, place 4-6 chicken nuggets onto the pan – be sure to not overcrowd since they will need to be flipped. Immediately turn down heat to medium.

Step 6

Cook the chicken nuggets for 3-4 minutes on each side (use a thermometer to confirm internal temperature of 165° F). Repeat until all the nuggets have been fully-cooked and serve warm.

Step 7

AIP Banana Ketchup Instructions

Step 8

In a small saucepan on medium heat, place mashed bananas, apple cider vinegar, filtered water, coconut aminos, and maple syrup. Mix together ingredients. Add the turmeric, ground cinnamon, and sea salt and stir well.

Step 9

Let simmer on low heat for 10-15 minutes until sauce is thickened and then remove from heat.

Step 10

Using an immersion blender, blend mixture until smooth or once cool enough to handle, use a blender.
The Open Cookbook is a participant in the Amazon Services LLC Associates Program, an affiliate advertising program, designed to provide a means for sites to earn advertising fees by advertising and linking to Amazon.com. The Open Cookbook may receive a small referral commission if you make a purchase using one of the website links, at no additional cost to you.