---
These easy baked Kale & Turkey Meatballs are a perfect weeknight meal for the whole family. Just pair them with your favorite roasted veggies or gluten-free pasta and you are all set for a tasty well-balanced meal.
Meatballs are one of my top go-to meals — they are so versatile and filling. Plus, they freeze really well, making them ideal for whenever you are crunched on time.
---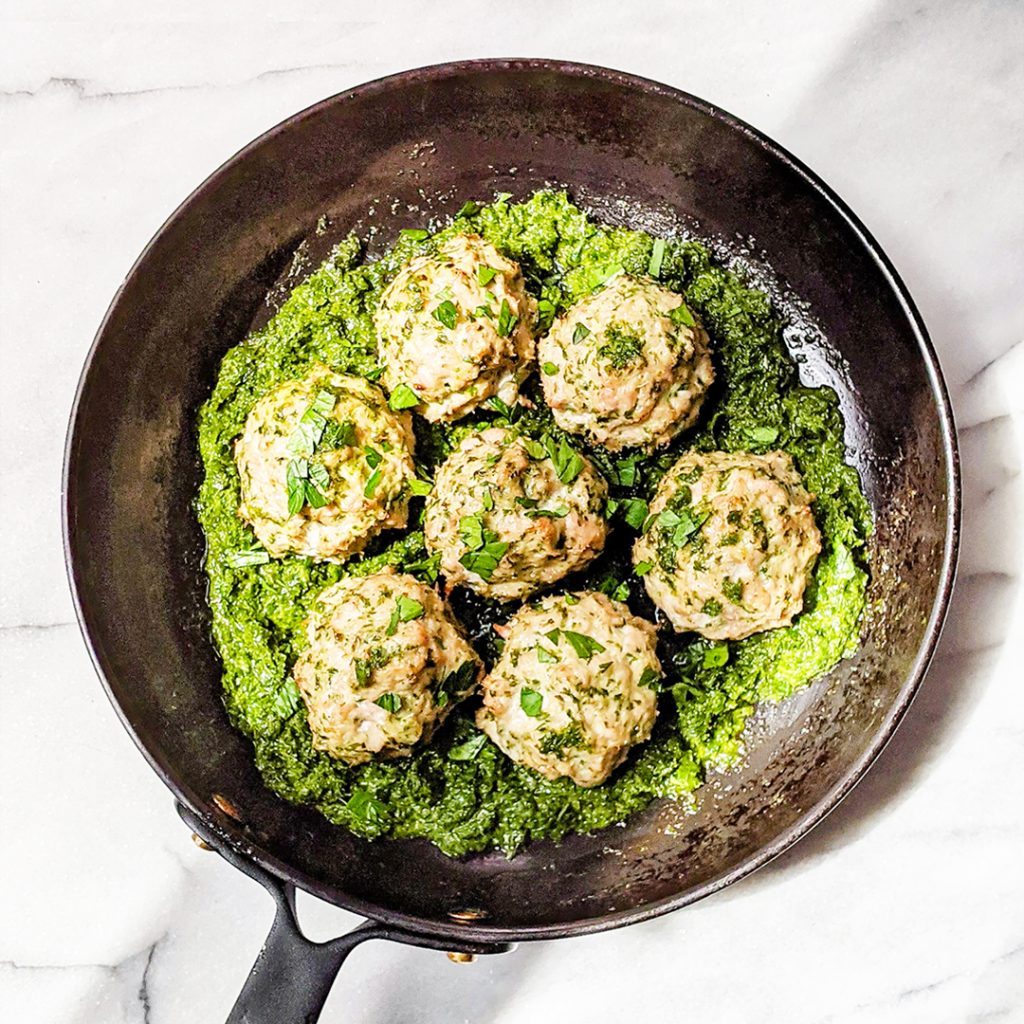 Ingredients for Easy Baked Kale & Turkey Meatballs:
Kale
Scallions (green top for low-FODMAP)
Ground turkey (or chicken if preferred)
Extra-virgin olive oil
Sea salt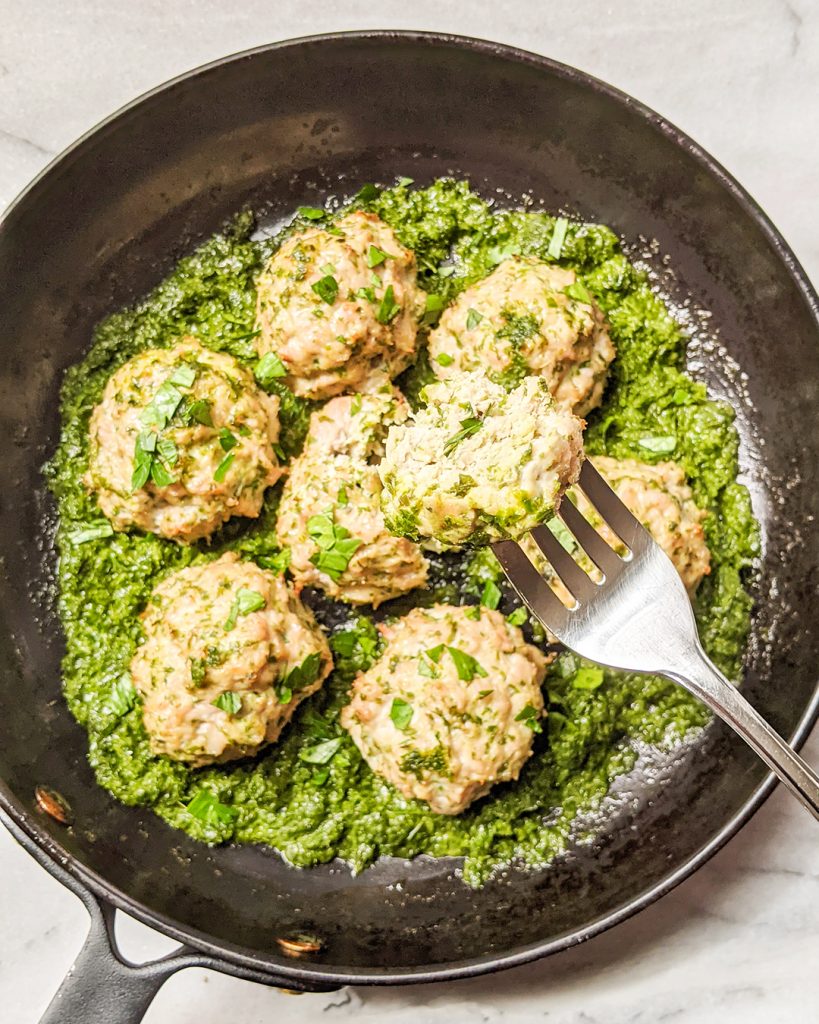 ---
RECOMMENDATIONS
Feel free to make extra kale puree — it makes a delicious sauce to top the turkey meatballs or mix with some other veggies like zucchini or sweet potato.
These meatballs taste great paired with your favorite veggies (I like mixing them with some sautéed zucchini and extra kale sauce) or with

gluten-free pasta

.
If you prefer, you can swap the turkey for ground chicken. Both are great options!
For a low-FODMAP option, be sure to only use the green stems of the scallions.
Store the meatballs in an air-tight container in the fridge for 3-5 days or 2-3 months in the freezer.
---
Some other easy & tasty ground meat recipes:
---
Easy Baked AIP Kale & Turkey Meatballs
: 11-12 meatballs
: 5 min
: 20 min
: 25 min
These easy baked Kale & Turkey Meatballs are a perfect weeknight meal for the whole family.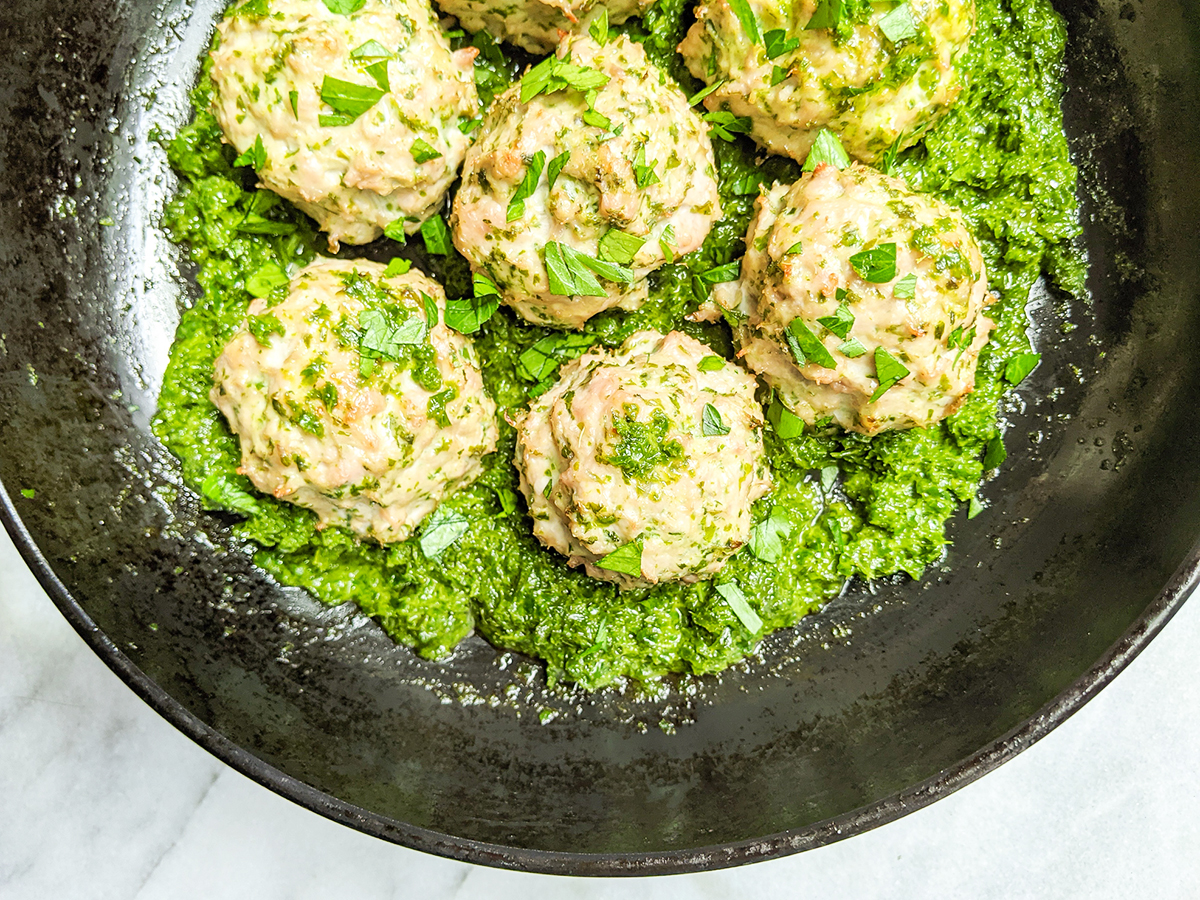 Ingredients
4 cups curly kale, destemmed & chopped
1 bunch scallions, thinly sliced
1-2 tbsp extra-virgin olive oil
5 tbsp, filtered water
1 lb ground turkey
1 tsp sea salt, divided
Directions
Step 1

Preheat the oven to 375°F. Line a baking sheet with parchment paper.

Step 2

Thoroughly clean, destem, and chop the kale. Set aside 4 cups.

Step 3

Thinly slice one bunch of scallions and set aside. Use the green tops only if low-FODMAP.

Step 4

In a medium frying pan, heat up the olive oil on high and once it is hot, add in the kale. Immediately turn down heat to medium and saute the kale. Add 1/2 tsp of salt to the kale. After about 5 minutes or when the kale is thoroughly cooked, remove from heat.

Step 5

In a blender or food processor, add the sauteed kale, scallions, and water. Blend until a smooth paste texture forms. If it is too thick, add a little extra water at a time.

Step 6

In a large bowl, combine the ground turkey, kale, and 1/2 tsp salt. Mix thoroughly until the kale and turkey are fully combined.

Step 7

Using your hands, form 1-1/2 inch diameter meatballs and place onto the baking sheet with parchment paper. Brush the tops of the meatballs with olive oil.

Step 8

Place the baking sheet into the oven. Bake for 15 minutes or until the meatballs have reached an internal temperature of 165°F on an instant read thermometer.

Step 9

Once done, remove from the oven and serve.