---
This is a flexible meal that I prepare almost on a weekly basis. My mom is also a convert and dubbed it "Everything Goes"! It requires very little thought and energy, but provides a nutrient-dense meal in only 30 minutes.
It is pretty simple — any type of ground meat (chicken, turkey, beef, bison, lamb) and add whatever vegetables you prefer with a seasoning of your choice. My favorite version of "Everything Goes" includes ground turkey, squash, zucchini, carrots, scallions, and turmeric for seasoning. This meal also helps me reduce food waste and it a great way to use any vegetables that you might have leftover in the fridge.
I also find this to be an excellent meal option for EoE, dysphasia, and other GI-motility dysfunction disorders. The vegetables can be cooked to be quite soft and ground meat is much easier to digest.
---
Interested in my template for making balanced skillet meals?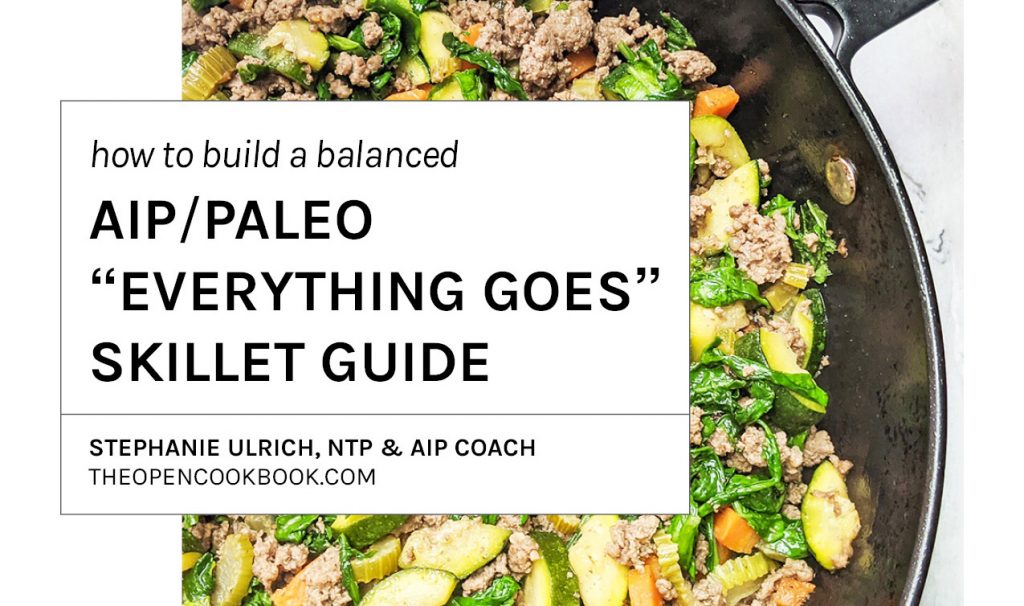 Download your FREE guide – this includes some fun budget-friendly recipe ideas to get started.
---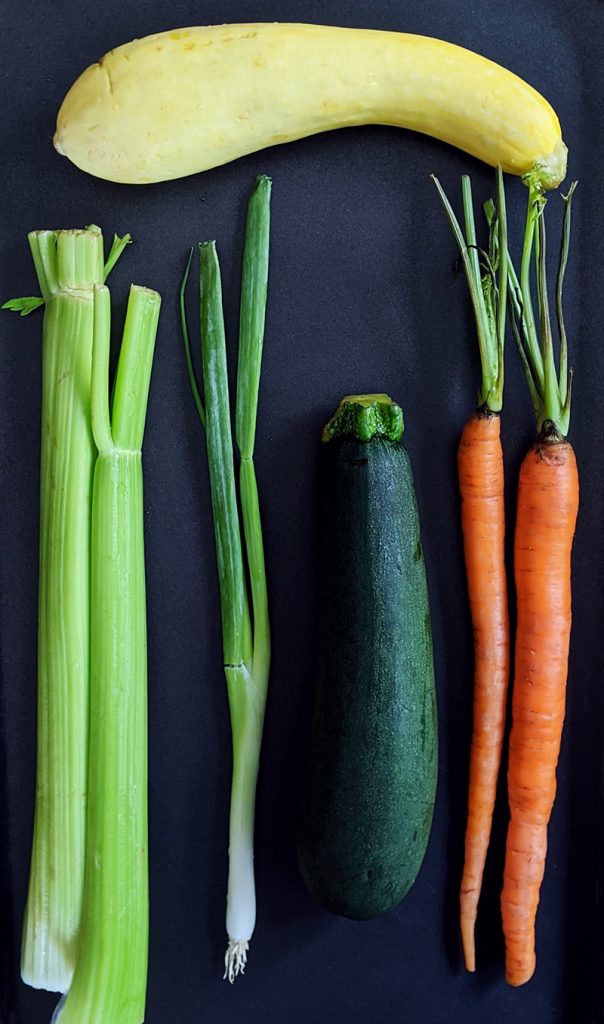 My fridge stock:
Summer Squash, Zucchini, Carrots, Celery, Scallions
---
RECOMMENDATIONS
This recipe is just my version of "Everything Goes" but you can use any produce/ground meat that you have available or that works with your specific food allergies. See

link

to download a free guide for recipe ideas and tips on how to make a balanced skillet.
For seasoning, I typically switch between using turmeric with coconut oil or coconut aminos. Again, this is totally up to your preference.
I can't tolerate garlic and onion (except for scallions) but recommend including these ingredients if they work for you.
It is great to always have ground meat on hand in the freezer. I will buy a pound of ground meat of choice and cook it all at once and then freeze half of it for future use.
This skillet recipe pairs great with a side of roasted sweet potatoes, quinoa, or rice for a more substantial meal.
---
EVERYTHING-GOES SKILLET
: 3-4
: 10 min
: 20 min
: 30 min
This is a quick and flexible nutrient-dense meal that allows for easy customization. Diet Type: SFED, AIP, Paleo, W30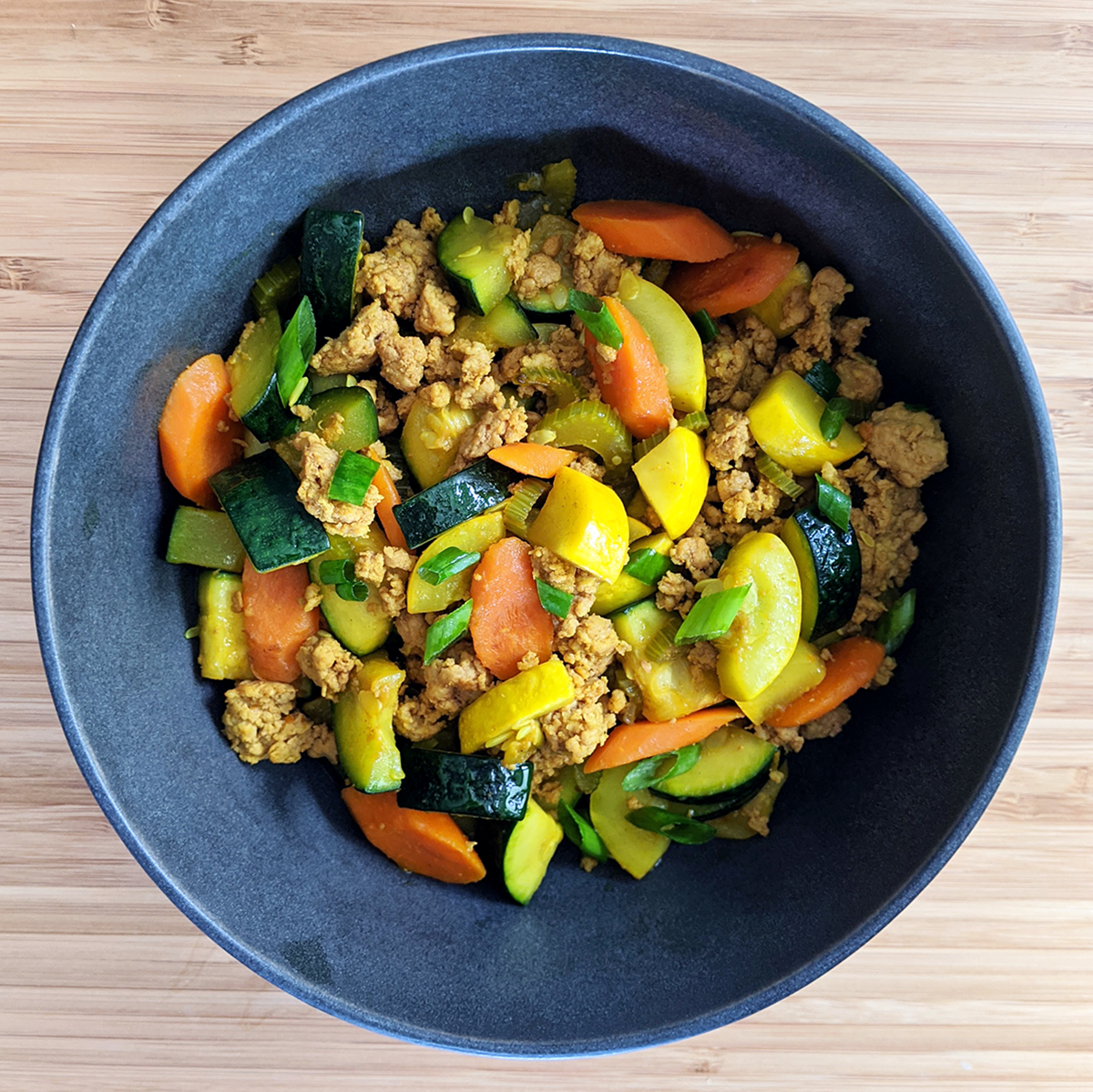 Ingredients
2 tbsp coconut oil (or oil of your choice)
1/2 lb ground turkey (or your meat of choice)
2 medium carrots, bias cut
2 celery stalks, sliced
1 medium summer squash, quartered and sliced
1 medium zucchini, quartered and sliced
1 tsp turmeric powder
1 tsp apple cider vinegar (optional)
1/2 tsp salt
1 bunch scallions, sliced
Directions
Step 1

Heat a large pan over medium heat and lightly coat with oil.

Step 2

Add the ground meat to the skillet and break into pieces. As the ground meat continues to cook, keep breaking it into smaller pieces. Once the meat has finished cooking, remove from the pan and set to the side.

Step 3

Add 1 tbsp of coconut oil to a large skillet.

Step 4

Once the oil is hot, add in the carrots and celery. Stir and cook for about 5 minutes.

Step 5

Add in the squash, zucchini, turmeric powder, apple cider vinegar, salt, and remaining 1 tbsp coconut oil.

Step 6

Combine the ingredients well and make sure the turmeric fully coats the vegetables.

Step 7

Continue to stir occasionally and cook for another 5 minutes or until vegetables have softened.

Step 8

Add in the ground meat and combine well. Let simmer for another 5 minutes.

Step 9

Toss in the scallions and serve warm.