---
Warm, filling, and nourishing, this AIP/Paleo and low-FODMAP Ground Bison and Vegetable Stew is perfect for cold winter days. This hearty and flavorful stew is one of my family's favorite meals and the bison . The white sweet potatoes, carrots, kale, and pureed butternut squash are such a great complement to the ground bison.
If following a low-FODMAP diet, this stew is compliant at one serving size.
---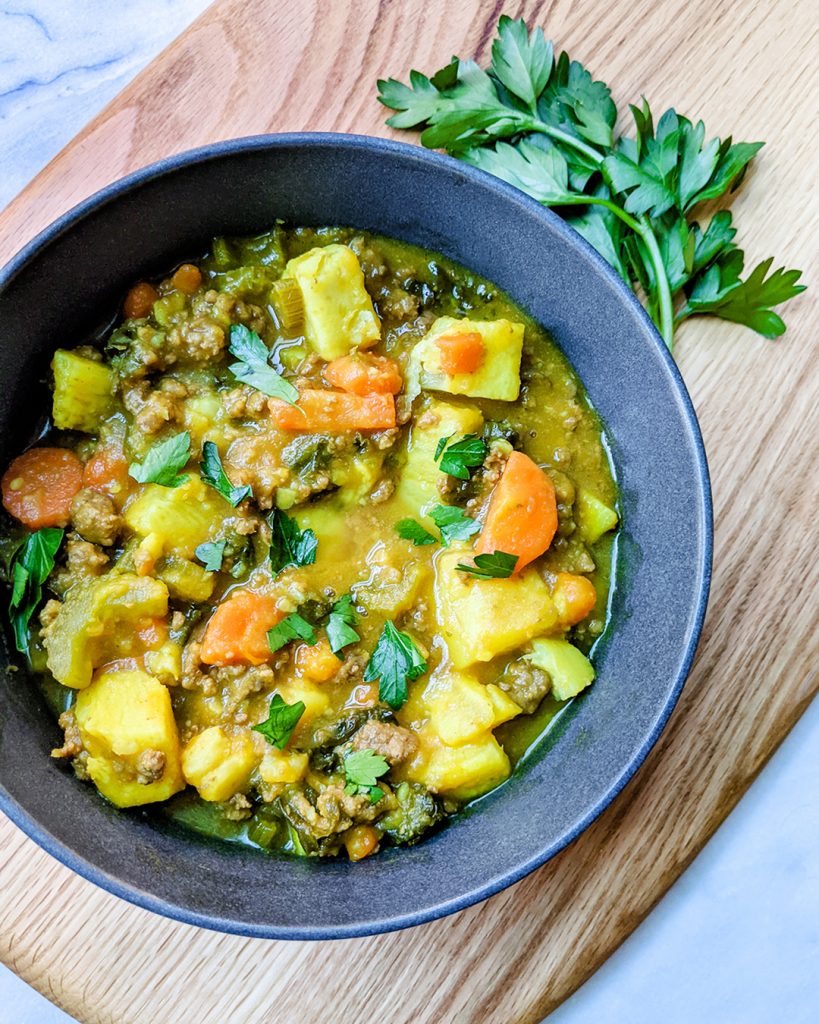 Why do I love rotating between bison and beef?
Bison is not only significantly lower in saturated fat compared to beef, but it is higher in protein. I find the lower fat content makes it much easier to digest.
Bison is very high in omega-3 fatty acids, perfect if you are allergic to other high omega-3 food sources, such as salmon.
I honestly really love the taste. It isn't gamey at all and has a slightly sweet, almost smoky flavor.
---
RECOMMENDATIONS
If you don't have any access to ground bison, feel free to replace the meat with ground beef or your preferred ground meat.
For the pureed butternut squash, I recommend purchasing canned butternut squash puree. This saves a lot of time — the brand I recommend is Farmers Market Foods. If you buy canned butternut squash, make sure it doesn't include any additives.
If following a low-FODMAP diet, this stew is compliant at one serving size.
I like to massage the kale with avocado oil and salt before adding it to the stew — this helps if you have a sensitive stomach since it helps break down the kale. However, this step is definitely not necessary since cooking the kale will already soften it up.
---
Ground Bison & Vegetable Stew
: 5-6
: 10 min
: 55 min
: 65 min
Warm, filling, and nourishing, this allergy-friendly bison stew is perfect for cold winter days. Diet Type: SFED, AIP, Paleo, W30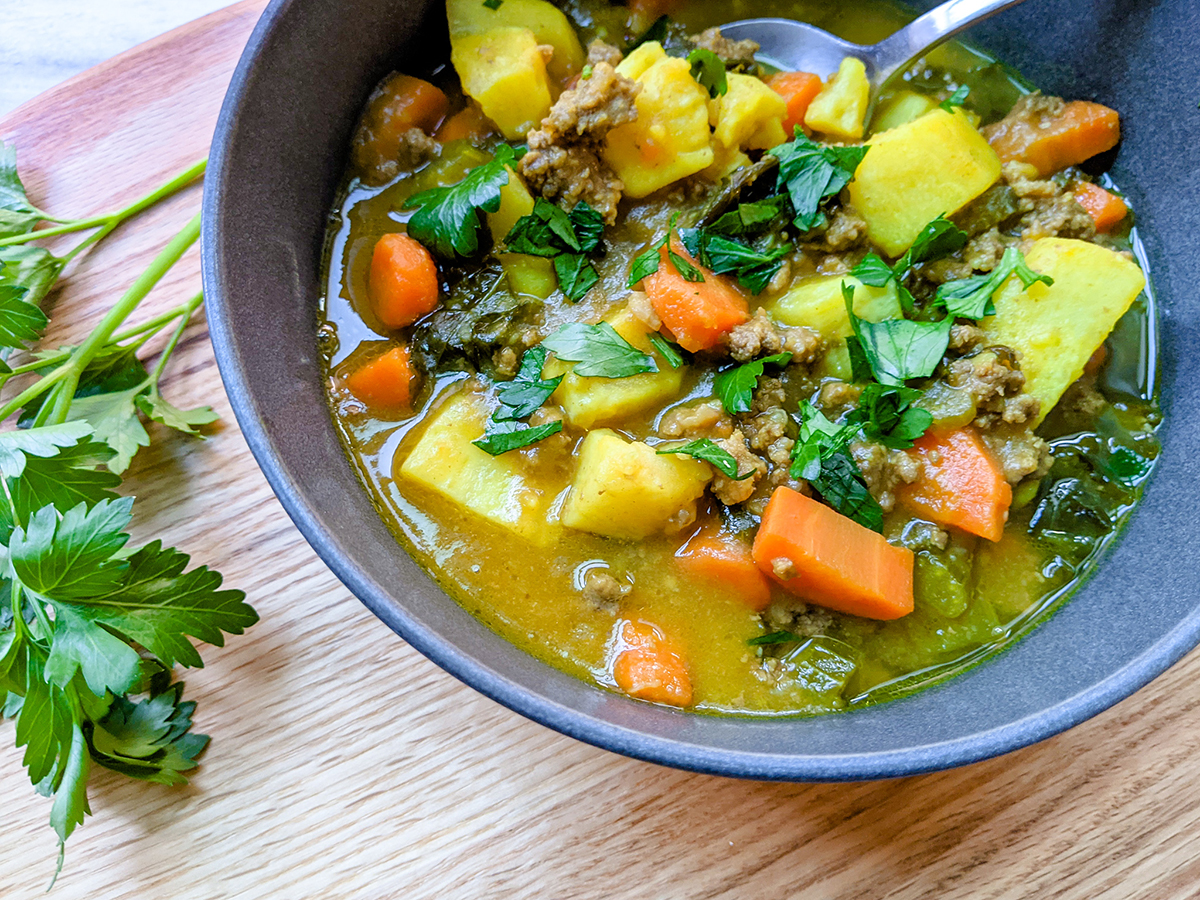 Ingredients
1 lb ground bison
1-2 tbsp avocado oil
3 large carrots (2 cups), chopped
3 celery stalks (1 cup), sliced
2 large white sweet potatoes (2 cups), chopped
1/2 tsp salt
2 tsp turmeric
3 cups chicken broth
1 1/2 cups butternut squash, pureed
3 cups kale, chopped
Fresh parsley, topping (optional)
Directions
Step 1

Heat a large pan over medium heat and add the ground bison, breaking into pieces. Once the meat has finished cooking, remove from the pan and set to the side.

Step 2

Heat the avocado oil in a large stock pot on medium heat. Once hot, add the chopped carrots and celery. Saute for about 8 minutes.

Step 3

Add the white sweet potatoes, salt and turmeric and combine ingredients. Continue cooking the ingredients over medium heat, stirring periodically, for another 10 minutes or until the vegetables have softened a bit.

Step 4

Add in the broth, pureed butternut squash, kale, and bison. Stir all ingredients together and set to low-medium heat, letting the stew simmer for roughly 30 minutes.

Step 5

Once the stew is ready, serve warm and top with fresh parsley if desired.