---
These vegan Chia Hemp Seed Cookies are grain-free, nut-free, and sugar-free Paleo cookies that are packed with delicious seeds. They have a nice fluffy texture and the dark chocolate chips are a perfect complement to all those seeds!
As someone who is allergic to fish and shellfish, I am always trying to increase my omega-3s and now that I have reintroduced chia and hemp seeds, I have been experimenting with them in just about everything! In addition to being a great source of omega-3s (ALA), chia seeds are packed with fiber (1 oz = 10g fiber) while hemp seeds are actually a plant-based complete protein source.
---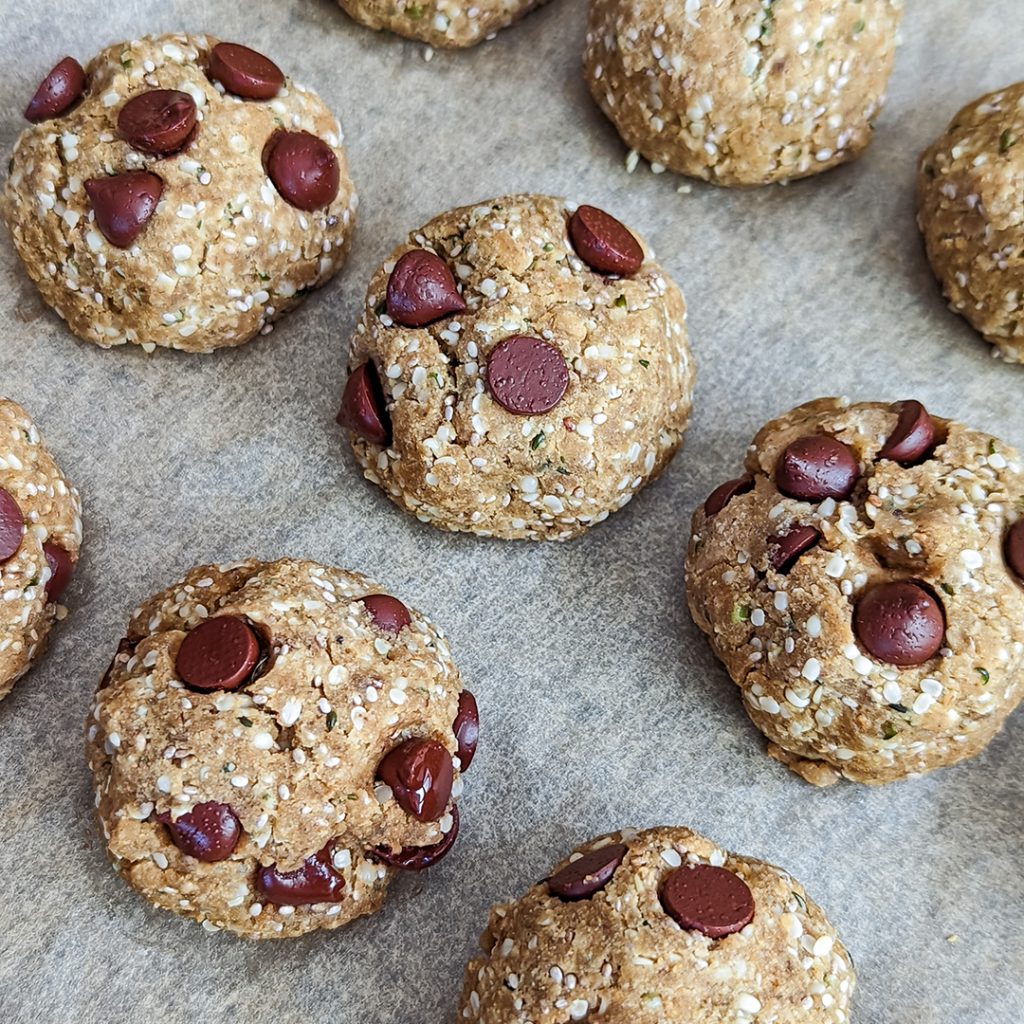 What if I follow AIP?
If you are following AIP, chia seeds, hemp seeds, and chocolate are removed during the initial Elimination Phase. However, dairy-free, soy-free, and nut-free chocolate can be reintroduced during Stage 1 (I recommend dark chocolate Pascha) while chia and hemps seeds are part of Stage 2 Reintroductions.
If you are looking for an AIP recipe that is a bit similar without seeds, check out these sugar-free Coconut Banana Macaroons. You can swap the chocolate for a carob sauce to keep it AIP Elimination Phase compliant.
Ingredients for Paleo Chia Hemp Seed Cookies:
Banana
Tigernut flour
Arrowroot powder
Coconut flour
Chia seeds
Hemp hearts
Baking soda
Sea salt
Vanilla extract
Coconut oil

Dark chocolate chips

(sugar-free) or

carob chips

for AIP Elimination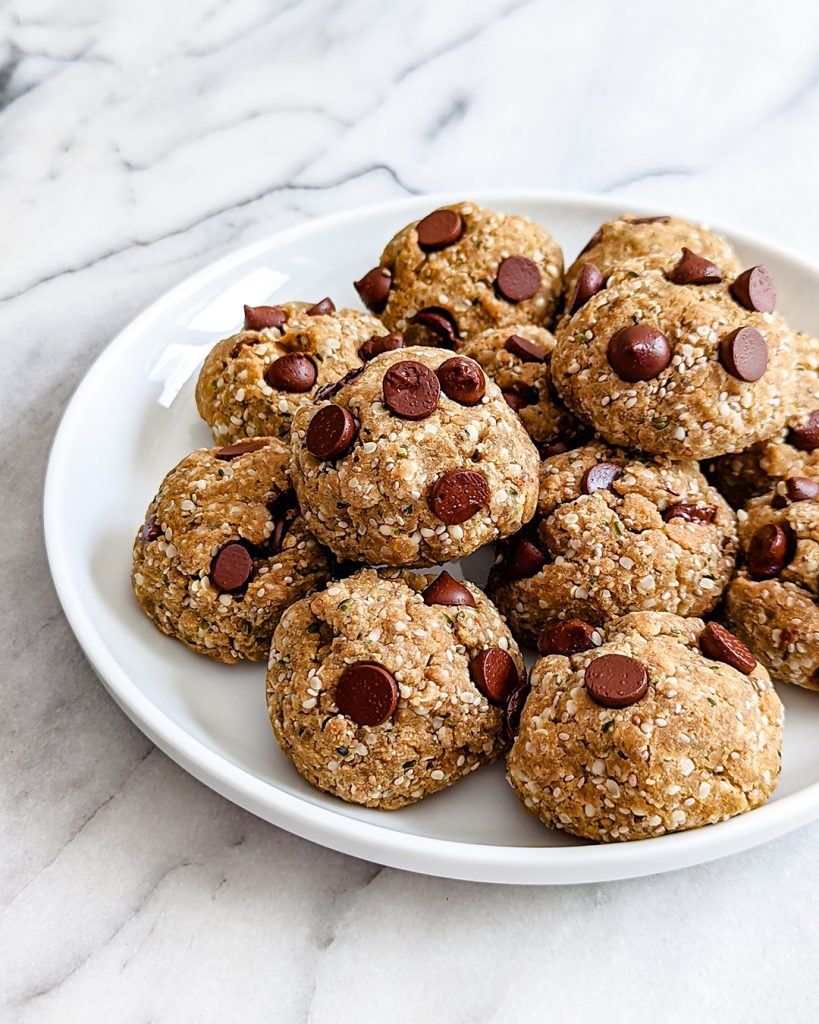 RECOMMENDATIONS
I have tested and included an Air Fryer option in the recipe instructions if you prefer this over the oven (great for the summer).
Store in an airtight container on the counter for no more than 2 days or in the fridge for up to 5 days. You can also freeze the cookies for up to 3-4 months.
Check out more AIP & Paleo cookies:
---
Paleo Chia Hemp Seed Cookies (Vegan, Top 8 Free)
: 8-9 cookies
: 10 min
: 10 min
: 20 min
These vegan Chia Hemp Seed Cookies are grain-free, nut-free, and sugar-free Paleo cookies that are packed with delicious seeds.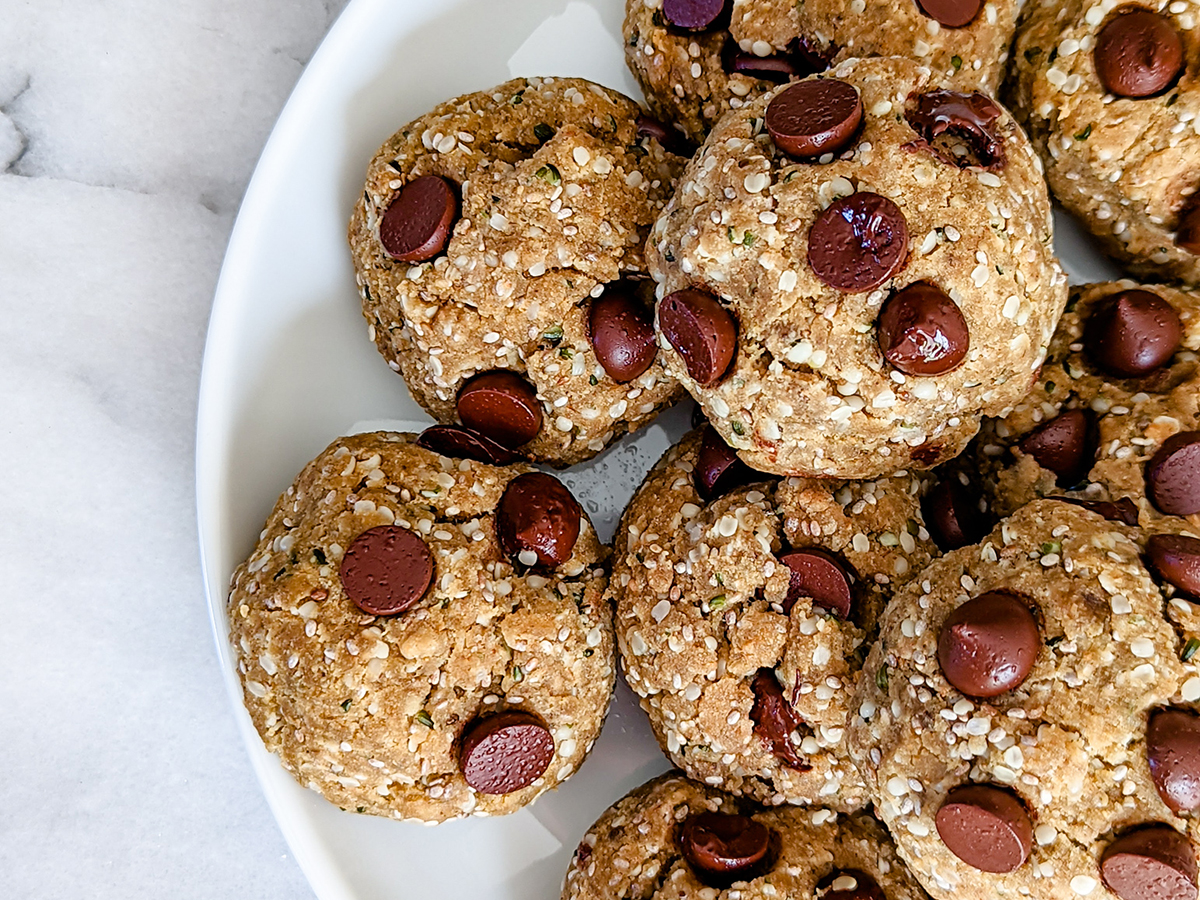 Ingredients
1 medium banana, mashed
2/3 cup tigernut flour
1/4 cup arrowroot powder
1 tbsp coconut flour
2 tbsp chia seeds
3 tbsp hemp hearts
1/4 tsp baking soda
1/2 tsp sea salt
2 tsp vanilla extract
1/4 cup coconut oil, melted
1/4 cup dark chocolate chips or carob chips
Directions
Step 1

Preheat the oven to 350°F. Line a baking sheet with parchment paper.

Step 2

In a medium bowl, mash a banana until fairly smooth. Add tigernut flour, arrowroot powder, coconut flour, chia and hemp seeds, baking soda, and sea salt. Mix well.

Step 3

Add in the vanilla extract and melted coconut oil. Stir until fully combined. Let sit for 5 minutes and then add in the chocolate chips.

Step 4

Using your hands, form 1.5" diameter balls and gently place on the baking sheet. This recipe should have about 8-9 cookies. Don't press the cookies down – the texture is best if you just let them bake without flattening them.

Step 5

Place the baking sheet into the oven and bake for 10-11 minutes. Air fryer option: bake at 300°F for 5 minutes and let sit in the air fryer for another 5 minutes.

Step 6

Once done, remove from the oven and let cool for 20 minutes and enjoy.
The Open Cookbook is a participant in the Amazon Services LLC Associates Program, an affiliate advertising program, designed to provide a means for sites to earn advertising fees by advertising and linking to Amazon.com. The Open Cookbook may receive a small referral commission if you make a purchase using one of the website links, at no additional cost to you.