---
Super soft in texture, these Marbled Chocolate Cookies are a fun AIP and Top 8 Free cookie that everyone will love. I mean, who doesn't love a marbled cookie?
I'll admit that I was a bit intimidated by the idea of making a marbled cookie but I quickly realized it couldn't be easier. These allergy-friendly and vegan cookies will definitely impress! Plus, they have a nice balance of chocolate flavor (or swap cocoa for carob powder) without the melted mess of chocolate chips.
---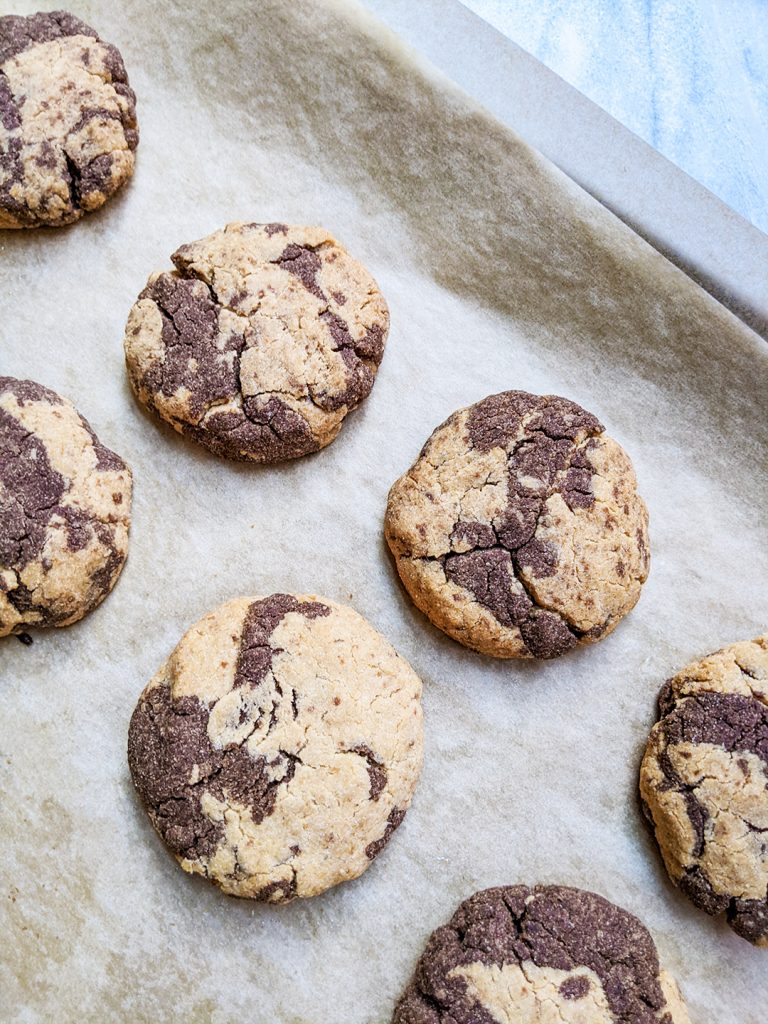 Ingredients for AIP Marbled Chocolate Cookies

:
Cassava flour
Coconut flour
Baking soda
Sea salt
Maple syrup
Coconut sugar
Coconut oil
Cocoa powder or carob powder (AIP elimination phase)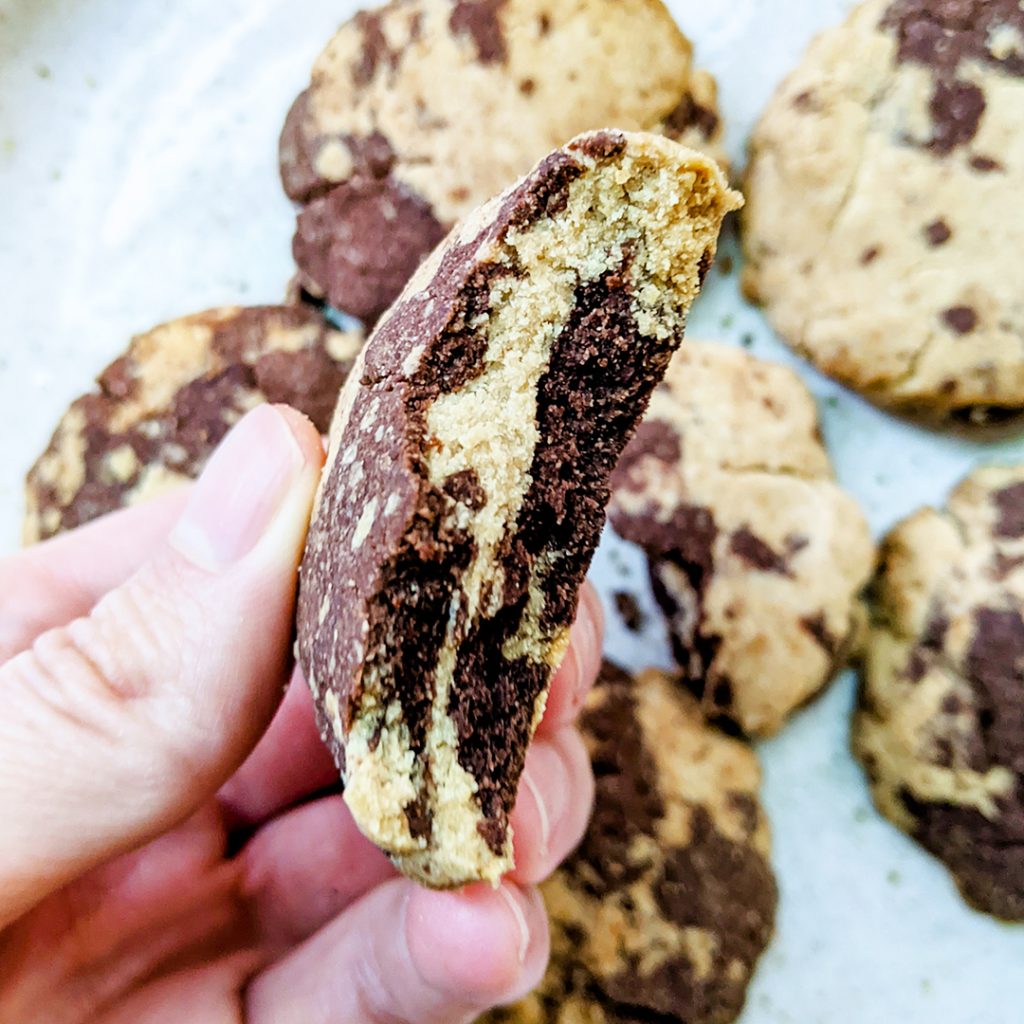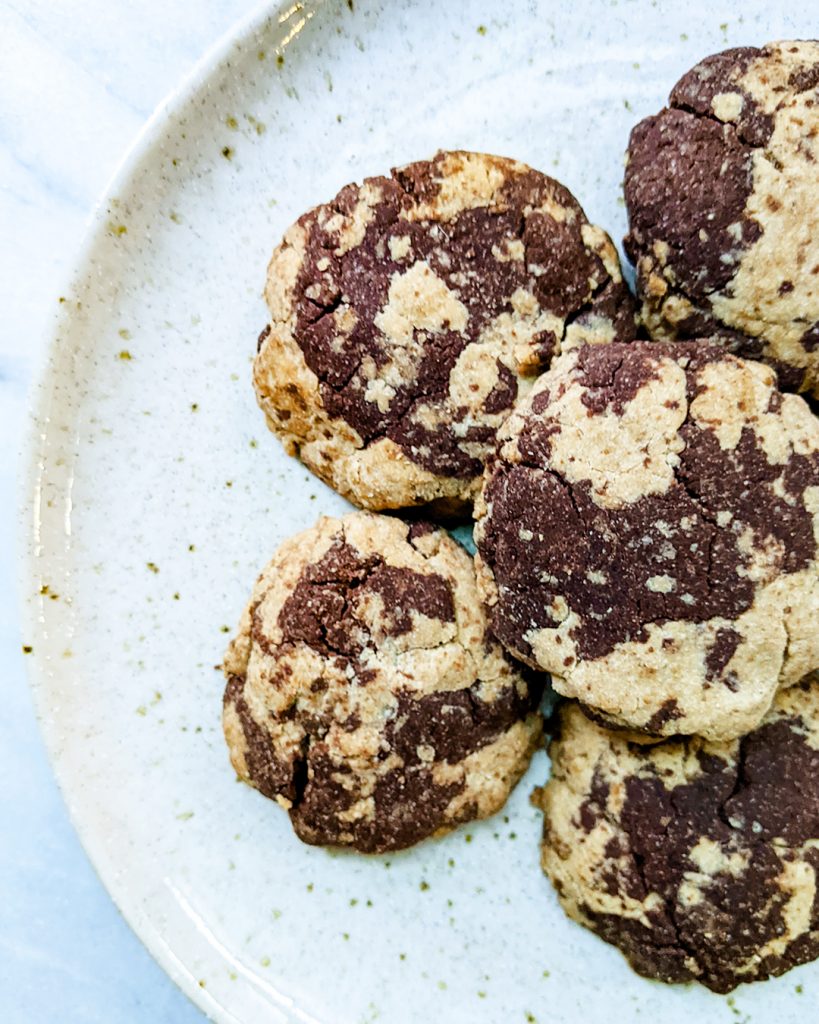 ---
RECOMMENDATIONS
If following the AIP elimination phase, swap the cocoa powder for carob powder. Make sure to use unsweetened carob powder. I recommend the brands

Terrasoul

or

Soleil

.
For the cassava flour, I only recommend the brand Otto's Naturals.
Store in an airtight container on the counter for 3-4 days or freeze for up to 3-4 months.
Check out more AIP carob recipes:
---
Marbled Chocolate Cookies (AIP, Top 8 Free)
: 8 cookies
: 10 min
: 10 min
: 20 min
Super soft in texture, these Marbled Chocolate Cookies are a fun AIP and Top 8 Free cookie that everyone will love.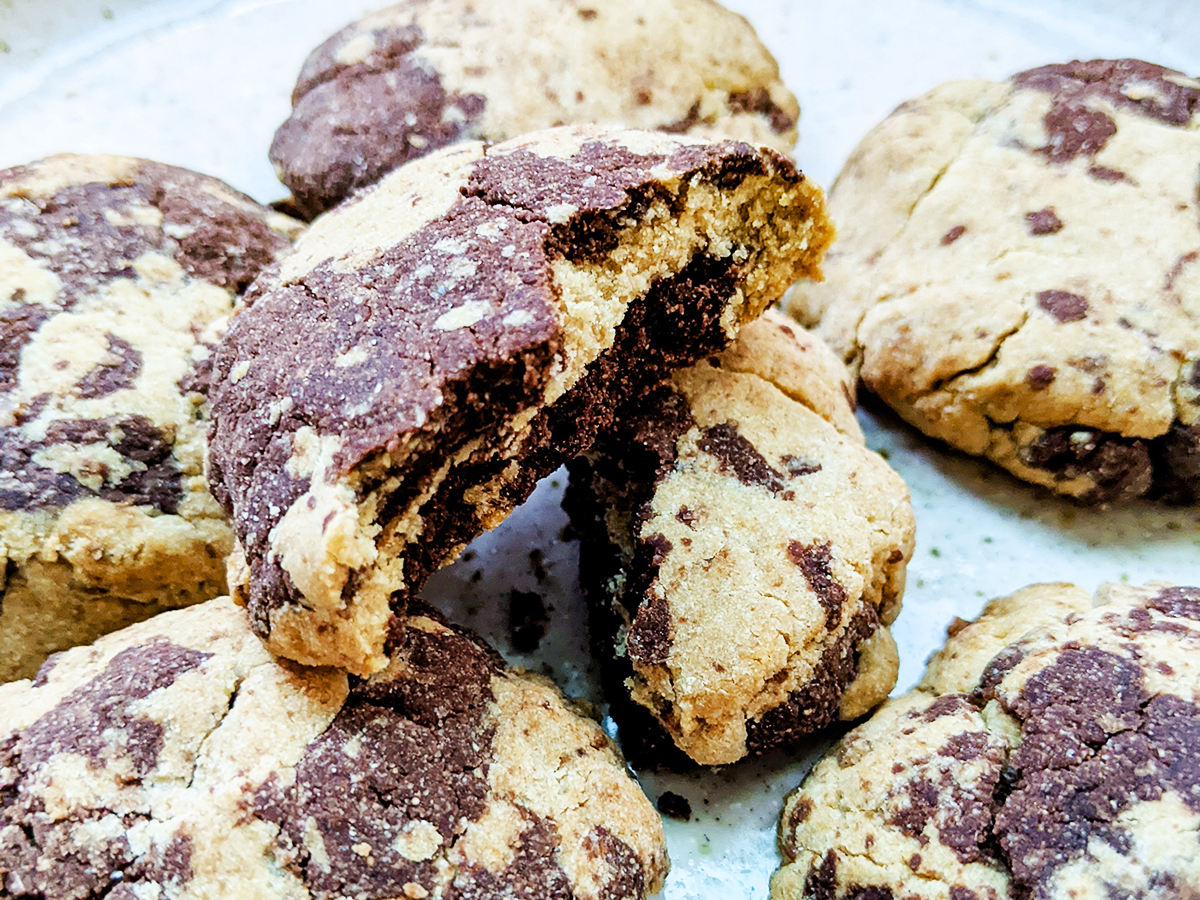 Ingredients
3/4 cup cassava flour
1/4 cup coconut flour
1 tsp baking soda
1/2 tsp sea salt
1/3 cup maple syrup
2 tbsp coconut sugar
2/3 cup coconut oil, melted
2 tbsp cocoa powder or carob powder
Directions
Step 1

Preheat the oven to 350°F. Line a baking sheet with parchment paper.

Step 2

In a small mixing bowl, whisk together the cassava flour, coconut flour, baking soda, and sea salt.

Step 3

In a separate medium-sized mixing bowl, mix the maple syrup and coconut sugar together. Let sit for a couple of minutes to dissolve. Once dissolved, add the coconut oil to the wet mixture and mix well.

Step 4

Gradually add the flour mixture to the wet ingredients. Once fully combined, divide the batter into two parts and transfer half the batter to another bowl.

Step 5

Add in the cocoa or carob powder to the remaining batter. Stir until fully combined.

Step 6

Divide each portion into 8 equal balls. Using your hands, take one plain ball and one cocoa/carob ball and form one bigger ball with the two types of batter. Using your fingers, fold the batter 3-4 times into each other to form a marbled pattern, pressing down to form a cookie shape. Place the marbled cookies onto the baking sheet.

Step 7

Bake for 10 minutes and let cool before serving. The cookies will be very soft at first but they will become firmer as they cool. Wait roughly 15 minutes to transfer the cookies to a cooling rack.