---
If you are looking for an easy coconut banana macaroon recipe that is vegan, gluten-free, and sugar-free, this is made for you. Naturally sweetened with banana, this macaroon recipe is perfect if you are keeping added sugar to a minimum.
Made with only five ingredients, these macaroons couldn't be easier to make. Plus, the vegan chocolate drizzle makes the macaroons extra special – a fun holiday or celebration treat.
---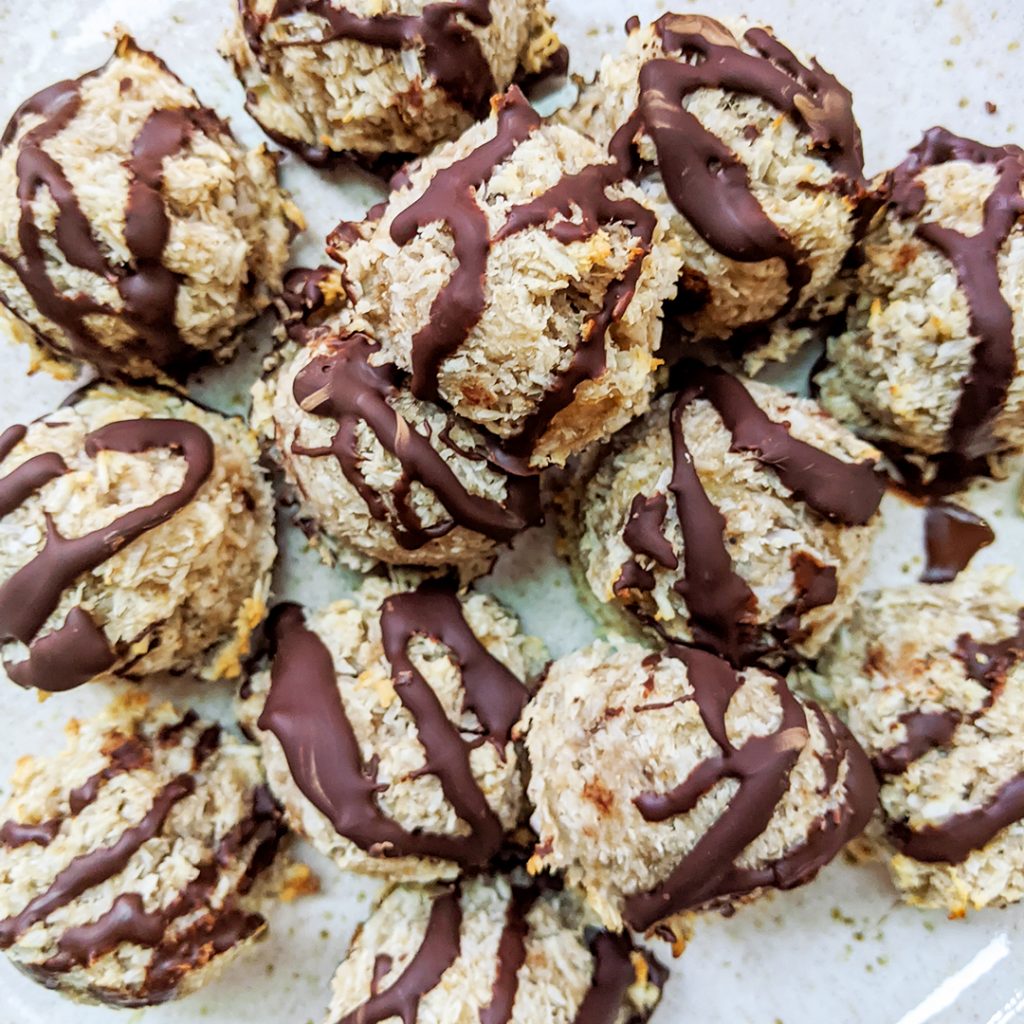 Five Ingredients for Vegan Coconut Banana Macaroons

:
Unsweetened coconut flakes (fine-textured)
Tigernut flour
Ripe bananas

Dark chocolate chips

(100% dark for sugar-free or carob for AIP elimination phase)
Coconut oil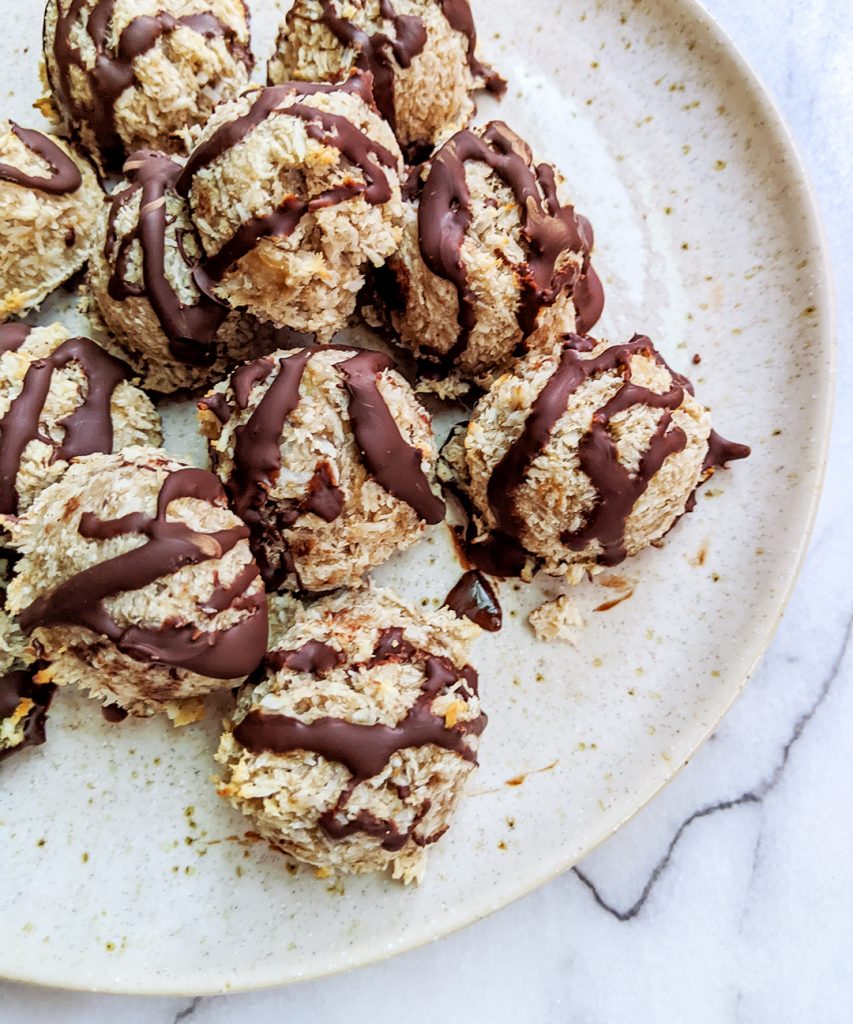 ---
RECOMMENDATIONS
While the chocolate drizzle is not necessary, it definitely makes it extra special! For a sugar-free macaroon, be sure to use unsweetened vegan dark chocolate. I recommend these

sugar-free dark chocolate chips

.
If you are in the AIP elimination phase, swap out the dark chocolate chocolate drizzle for a carob drizzle made with carob powder. I recommend this recipe for the

carob sauce

.
Store in an airtight container in the fridge for 3-4 days or freeze for up to 3-4 months.
My favorite chocolate treats:
---
Vegan Coconut Banana Macaroons (sugar-free, gluten-free)
: 14 macaroons
: 5 min
: 45 min
: 50 min
If you are looking for an easy coconut banana macaroon recipe that is vegan, gluten-free, and sugar-free, this is made for you.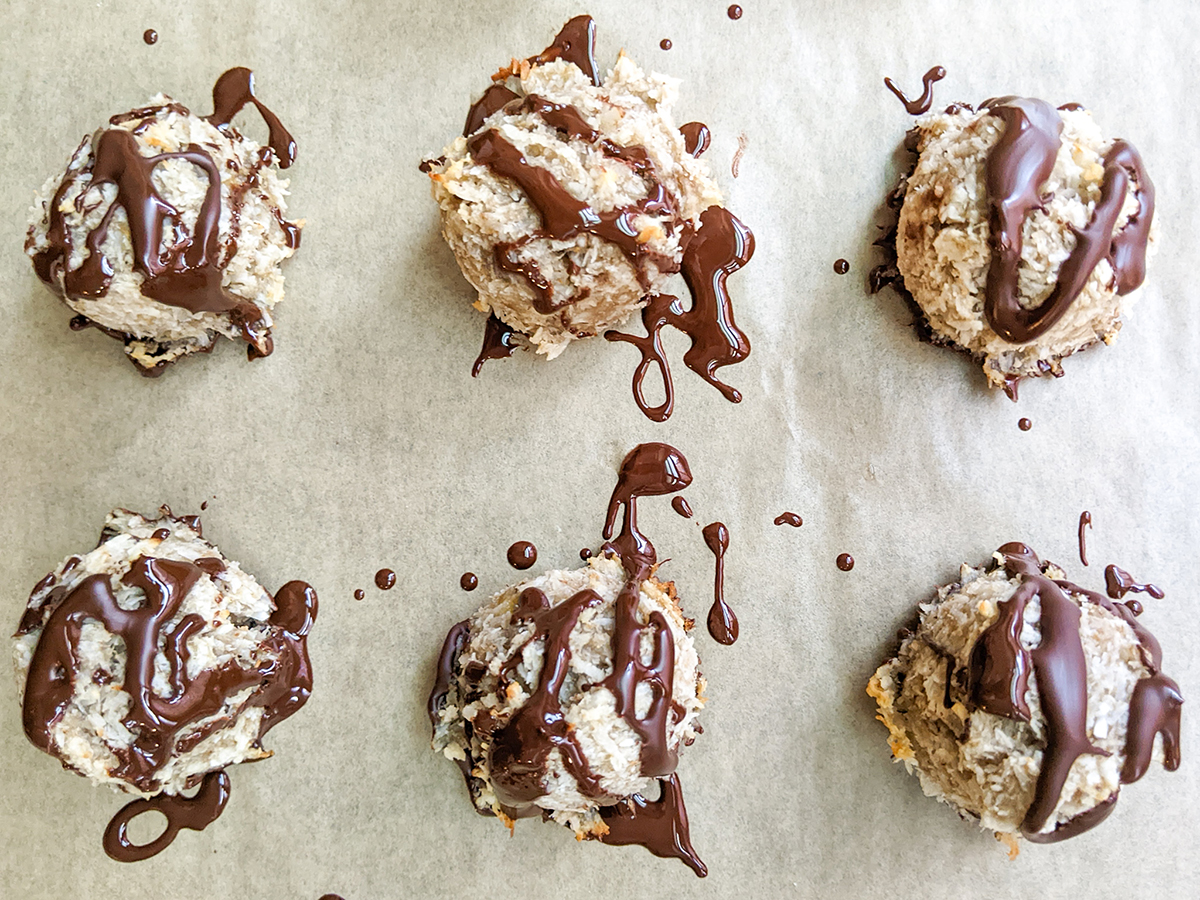 Directions
Step 1

Preheat the oven to 350°F. Line a baking sheet with parchment paper.

Step 2

In a medium bowl, add peeled bananas and mash with a fork until smooth.

Step 3

Add in the coconut flakes, tigernut flour, and salt. Mix until well-combined.

Step 4

Using a #50 cookie scoop (4 tsp), gently place the dough onto the baking sheet with parchment paper. If you don't have a cookie scoop, form the dough into roughly 1.5 inch diameter balls. This recipe should bake around 14 macaroons.

Step 5

Bake for roughly 15-16 minutes and let cool before adding chocolate.

Step 6

While the macaroons are cooling, prepare the chocolate or carob sauce.

Step 7

For the chocolate sauce, in a microwave safe small bowl, add the chocolate chips and coconut oil. Heat in the microwave in 30-second increments, heating and stirring until smooth. See ingredients for carob sauce recommendation.

Step 8

Dip the bottoms of the macaroons into the chocolate sauce and carefully set back (chocolate is facing up) onto the parchment paper/baking sheet. Place the macaroons into the fridge to let the chocolate harden. Wait about 20-30 minutes and remove from the fridge.

Step 9

Flip the macaroons so the chocolate bottom is facing down. Using a small spoon, drizzle the chocolate sauce on top of each macaroon.

Step 10

Place the macaroons back into the fridge to let the chocolate drizzle harden.

Step 11

Ready to eat once the drizzle has set (15-20 minutes). Enjoy!
The Open Cookbook is a participant in the Amazon Services LLC Associates Program, an affiliate advertising program, designed to provide a means for sites to earn advertising fees by advertising and linking to Amazon.com. The Open Cookbook may receive a small referral commission if you make a purchase using one of the website links, at no additional cost to you.