---
This refreshing Whole30 and Paleo Tortilla Soup is a vegetable-loaded meal that is perfect year-round. It is free from all nightshades, beans, dairy, and corn but still has a delicious flavor reminiscent of tortilla soup, topped with crispy plantain tortilla strips, sliced avocado, and a dairy-free coconut crema.
While growing up in Texas, tortilla soup was one of my absolute favorite meals. I will never forget the first time I enjoyed my first bowl and begged my parents to take me to the grocery store to pick up a can of tortilla soup the next day. I was seriously hooked!
---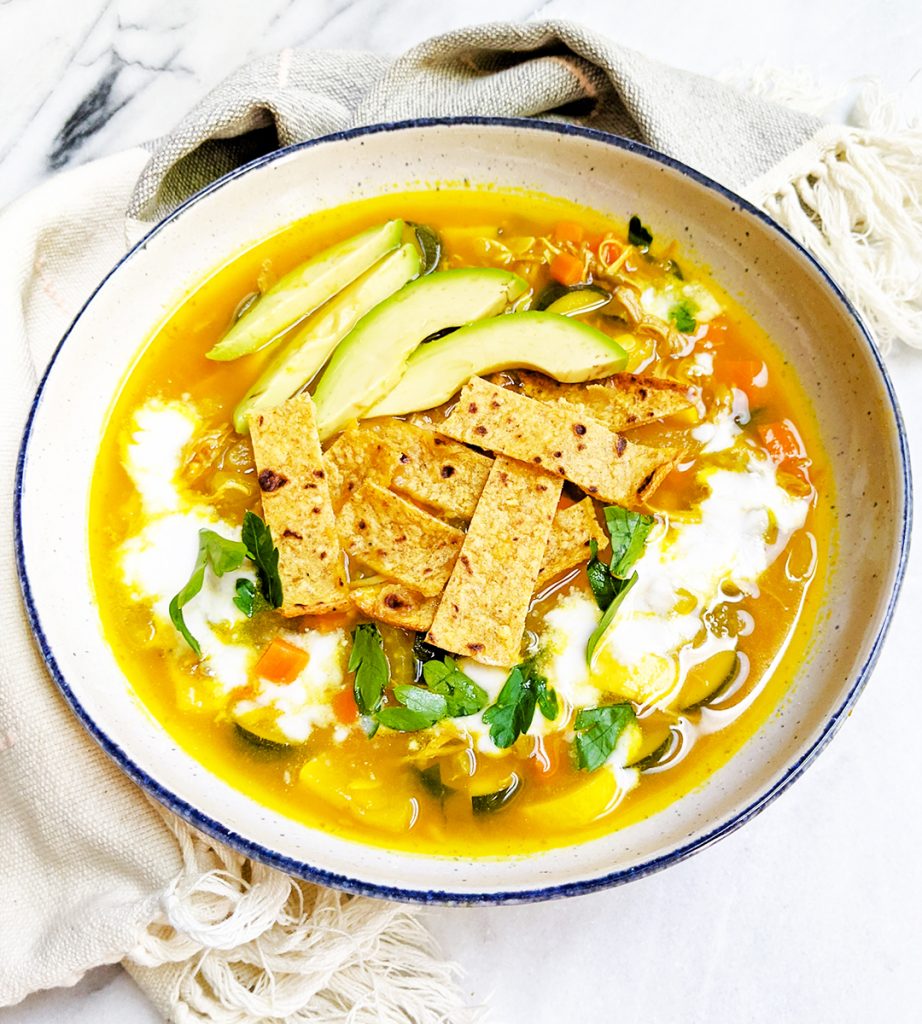 Ingredients for Paleo Tortilla Soup:
Carrots
Celery
Zucchini
Summer squash
Butternut squash puree
Scallions
Parsley
Turmeric
Shredded Turkey or Chicken
Plantain tortillas (see recommendations below)
Chicken Broth
Sea Salt
Extra-virgin olive oil
Coconut yogurt
Lime juice (optional for garnish)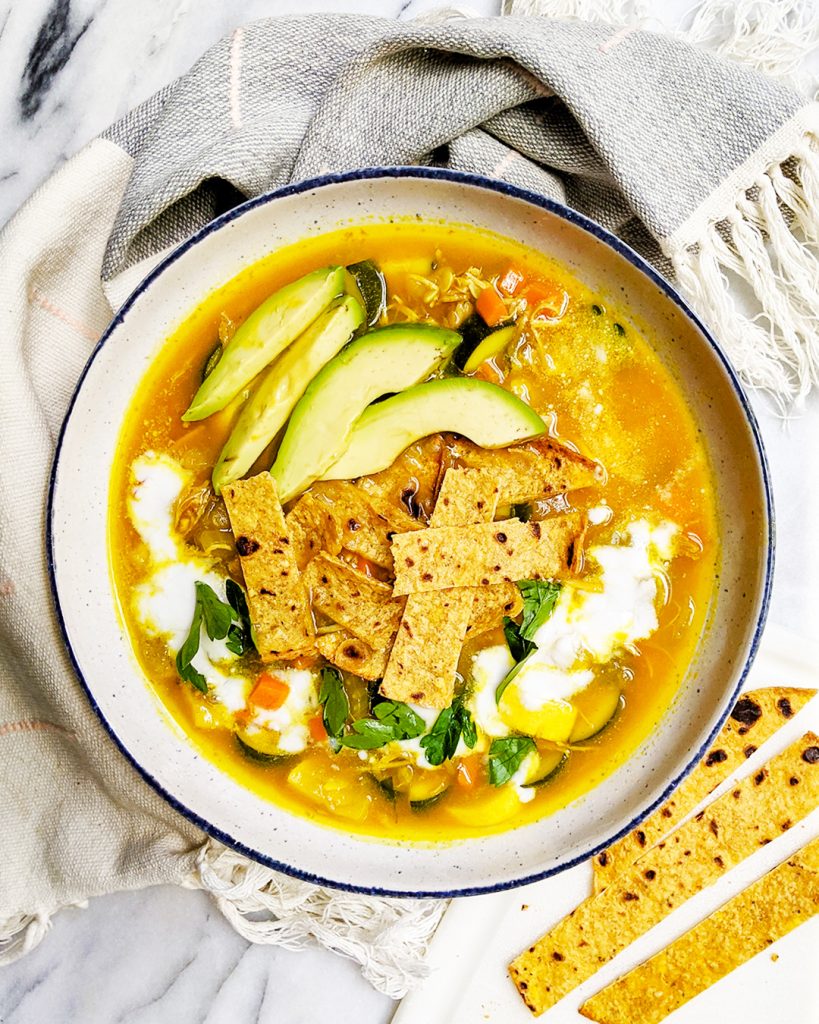 ---
RECOMMENDATIONS
I highly recommend

Positively Plantain

tortillas for this soup recipe and any other paleo tortilla needs. They are the absolute best vegan, paleo, and allergy-friendly tortillas that are free form gluten, corn, nuts, and soy. **Be sure to use the code OPENCOOKBOOK for 15% off your next

Positively Plantain

order.**
For the shredded meat, feel free to use chicken or turkey, depending on your preference. I used shredded turkey and prepped it ahead of time by roasting it and shredding it once cooked.
To make the coconut crema, use a coconut yogurt that has a thick texture in order to get the right consistency and flavor. My favorites are

Anita's

or

Cocojune

.
For the pureed butternut squash, feel free to prepare it yourself, just make sure it has a smooth texture. Or, I recommend purchasing canned butternut squash puree. This saves a lot of time — the brand I recommend is

Farmers Market Foods

. If you buy canned butternut squash, make sure it doesn't include any additives.
Store the tortilla soup (without toppings and garnish) in an air-tight container in the fridge for 3-5 days. Top with avocado, coconut crema, and crispy plantain tortilla strips right before eating. The soup also keeps well in the freezer for up to 3 months.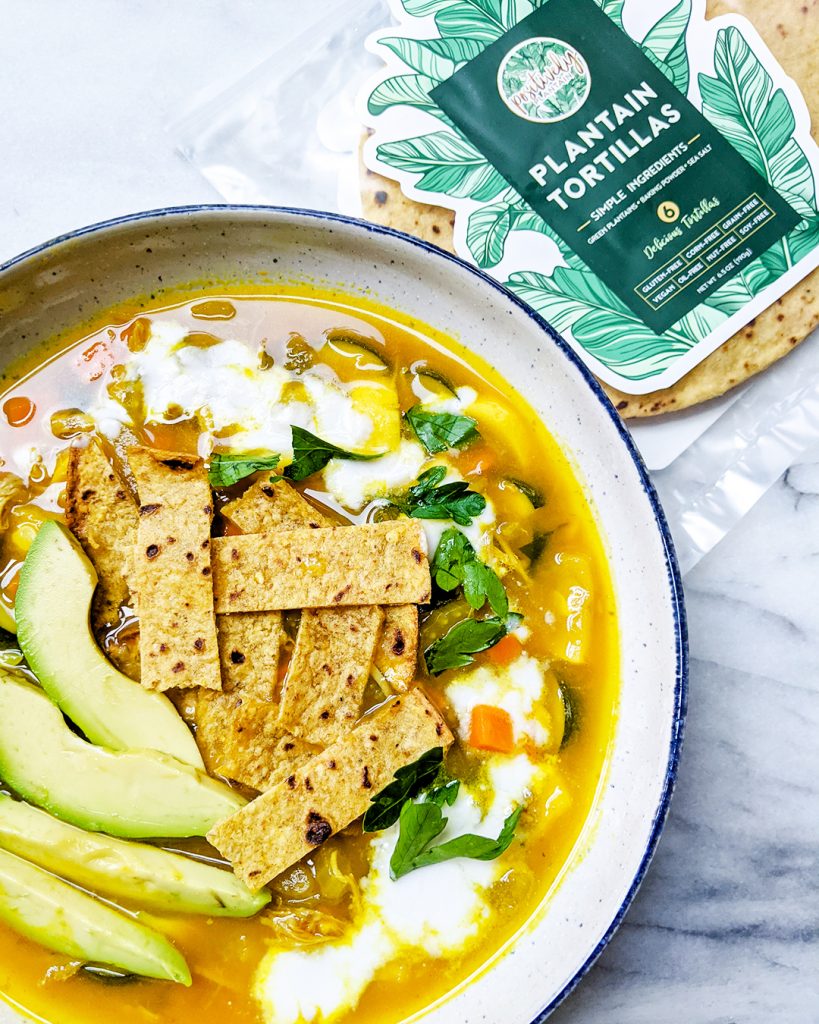 ---
LOOKING FOR MORE WARM & COMFORTING MEALS?
---
Paleo Tortilla Soup (Whole30 & Top 8 Free)
: 4-5
: 15 min
: 60 min
: 75 min
This refreshing allergy-friendly Paleo Tortilla Soup is a vegetable-loaded soup that is perfect year-round.
Ingredients
1-2 tbsp extra-virgin olive oil
1 bunch scallions, thinly sliced
1 1/2 cups carrots, diced
3 celery stalks, thinly sliced
1 1/2 cups zucchini, quartered and sliced
1 1/2 cups summer squash, quartered and sliced
1/2 tsp turmeric
1/2 tsp sea salt
4 cups chicken broth
1 1/2 cup butternut squash, pureed
2 cups shredded turkey or chicken (pre-cooked)
2 tbsp fresh parsley, chopped
Plantain tortilla, baked and sliced
Avocado, sliced for topping
Squeeze of lime (optional)
Parsley or cilantro, fresh and chopped for topping (optional)


Coconut Crema
2 tbsp coconut yogurt (see recommendations)
2-3 tsp filtered water
Pinch of sea salt
Directions
Step 1

Heat the extra-virgin olive oil in a large stock pot on medium heat. Once hot, add the sliced scallions and stir for a few minutes. Add the carrots and celery and saute for about 10 minutes.

Step 2

Add the zucchini and summer squash and mix until fully combined. Add the turmeric and sea salt and stir ingredients together. Saute for 10-12 minutes.

Step 3

Add in the broth, butternut squash puree, and shredded turkey or chicken. Let simmer for 30-35 minutes.

Step 4

While the soup is simmering, heat up a plantain tortilla in a toaster oven or regular oven for roughly 10 minutes at 350°F. Check the tortilla every few minutes to ensure it doesn't burn. Bake the tortilla until it is nice and crispy. Once the tortilla is ready, remove from the oven and let cool. When safe to touch, slice into 1/4 to 1/2 inch strips.

Step 5

In a small cup or bowl, prepare the coconut crema. Add the coconut yogurt and filtered water to the cup or bowl and stir until well combined. Adjust the water accordingly to the desired texture. Add a pinch of salt to taste.

Step 6

To the stock pot, add the chopped parsley, stir to combine. Let simmer for another 5 minutes.

Step 7

Serve the soup hot, topped with the plantain tortilla strips, coconut crema, sliced avocado, and fresh parsley or cilantro. Add a squeeze of fresh lemon juice if desired.