---
My dad's beef stroganoff was one of my favorite meals growing-up. Every Christmas, I would look forward to enjoying the creamy mushroom dish with my parents and it became our family tradition. As a kid, I was also a sour cream addict, so beef stroganoff was obviously perfect for me!
This year, I knew I had to recreate my dad's recipe and I am thoroughly enjoying this Paleo, AIP, and Top 8 allergen-free adaptation. This dish is as equally comforting as the original. Traditionally, beef stroganoff is made with onions, sour cream, butter, and flour. However, this version swaps out all of those ingredients to make a low-FODMAP version with scallions, coconut cream, and arrowroot powder to thicken the sauce.
If following a low-FODMAP diet, I know mushrooms can be really tricky. There are two easy ways to make this recipe low-FODMAP. Option 1 – swap the cremini mushrooms for oyster mushrooms. Option 2 – use canned mushrooms instead of fresh! For reasons not totally known, the canning process reduces the FODMAPS found in mushrooms.
---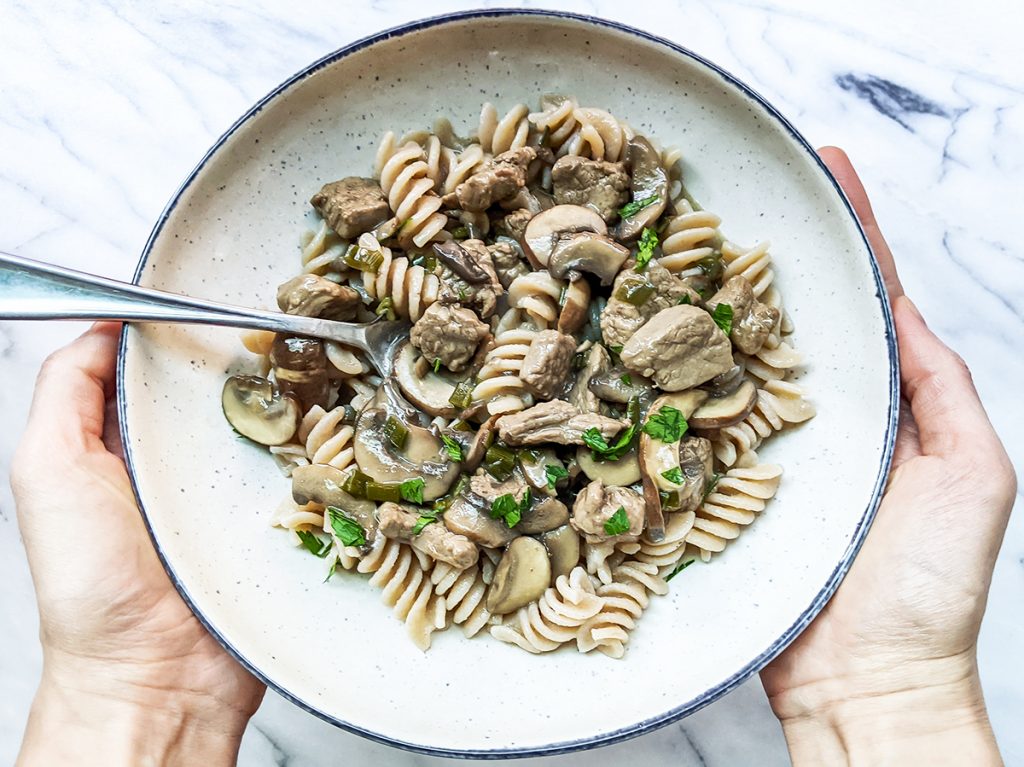 What ingredients do I need to make Paleo Beef Stroganoff?
Beef sirloin or flank steak (ground beef will also work)
Cremini or oyster / canned mushrooms (low-FODMAP option)
Scallions (green top only)
Coconut cream
Broth (beef or preferred low-FODMAP broth)
Apple cider vinegar
Coconut Aminos
Arrowroot Powder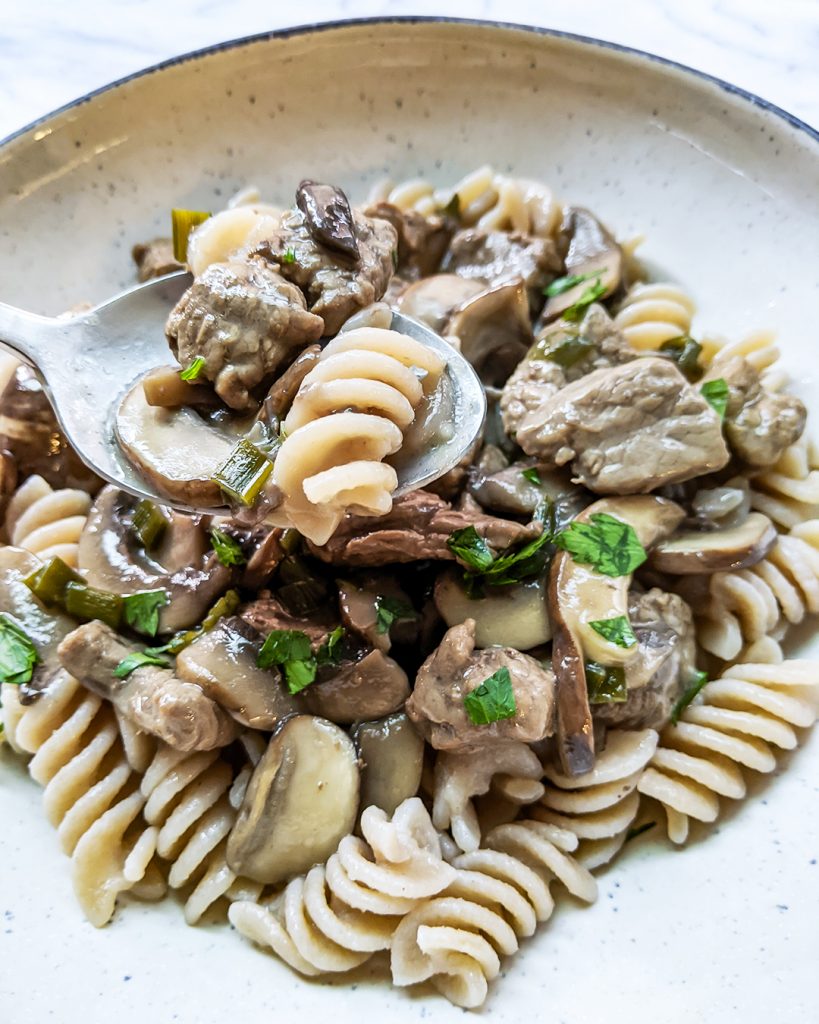 ---
RECOMMENDATIONS
If you prefer, ground beef will also work as a steak replacement or feel free to use your allergy-safe meat of choice.
For the coconut cream, I recommend putting a can of gum-free/full-fat coconut milk in the fridge overnight before making the recipe. This will separate the coconut cream from the liquid. You can save the remaining liquid for smoothies or other recipes.
For a low-FODMAP option, be sure to swap the cremini mushrooms for oyster mushrooms.
This recipe calls for arrowroot powder as a thickening agent for the sauce. Be sure to make a "slurry" of the arrowroot powder and water in a small cup, mixing until dissolved. I recommend adding 1 tbsp at a time to the stroganoff sauce, stirring over a medium heat, until you have your desired thickness.
I enjoy eating the stroganoff with Jovial's cassava pasta but feel free to enjoy with your preferred grain-free/gluten-free pasta. Other ideas — try serving over mashed white sweet potatoes or rice (AIP reintro).
---
Easy Paleo Beef Stroganoff (AIP & low-FODMAP)
: 4-5
: 15 min
: 20 min
: 35 min
This beef stroganoff is an allergy-friendly version of the classic dish and is perfect for a comforting and filling meal. Diet Type: SFED, AIP, Paleo, W30, low-FODMAP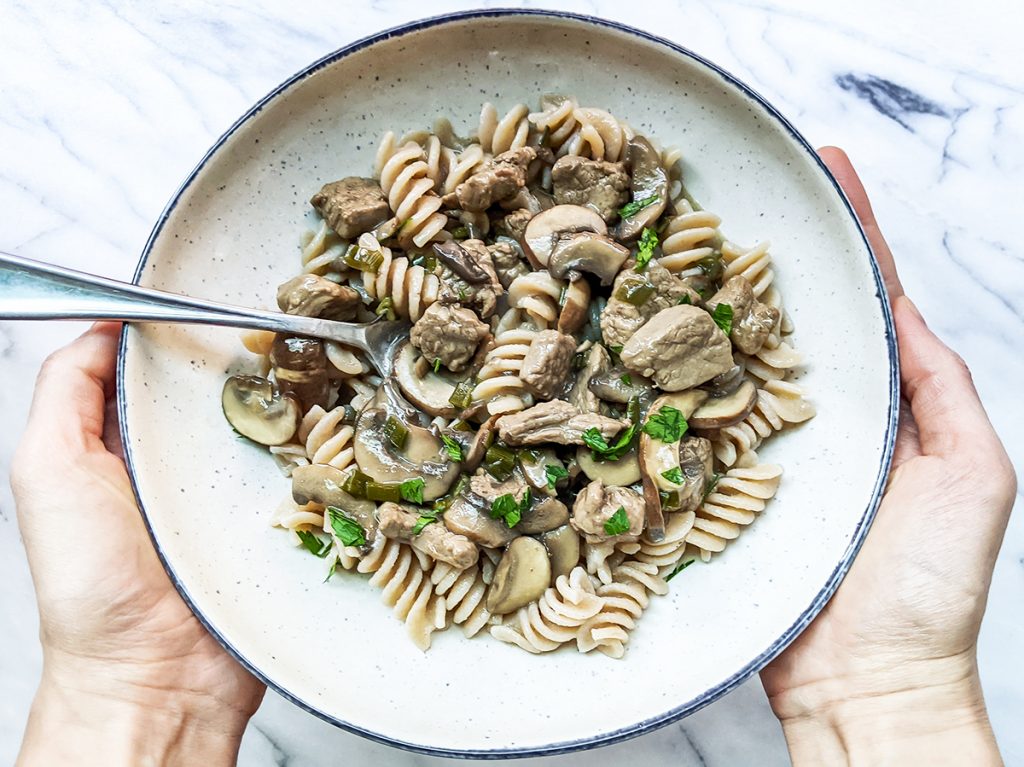 Ingredients
1 lb sirloin or flank steak, sliced
1 tsp salt, divided
2 tbsp avocado oil, divided
1/2 cup scallions (green top), sliced
5 cups cremini (for low-FODMAP 8 oz oyster mushrooms or canned mushrooms), sliced
3/4 cup coconut cream (see recommendations)
1 cup beef or chicken broth (low-FODMAP)
1 tbsp coconut aminos
2 tsp apple cider vinegar
4 tbsp arrowroot powder + 4 tbsp water (add slurry gradually)
Fresh parsley, chopped (optional)
Directions
Step 1

Slice scallions (green top only) and mushrooms and set aside.

Step 2

Salt steak and slice into strips and cut into bite size pieces. Be sure to slice across the grain.

Step 3

In a medium pan, add 1 tbsp avocado oil and heat over medium heat. Add the steak pieces to the pan and lightly sear for 4-5 minutes. Remove the steak from the pan and set aside on a plate.

Step 4

In a large pan, add 1 tbsp avocado oil and saute the scallions and mushrooms over medium heat. Saute for 3-4 minutes until mushrooms have softened.

Step 5

Add the coconut cream and broth to the scallion and mushroom mixture. Stir until well combined and add the coconut aminos, apple cider vinegar, and 1/2 tsp salt.

Step 6

Begin to prepare the arrowroot slurry by mixing together 1 tbsp arrowroot powder with 1 tbsp water. Once the mixture has dissolved, add to the sauce and stir for a minute. Continue adding the arrowroot slurry 1 tbsp at a time. The sauce will gradually thicken with each tbsp of arrowroot slurry.

Step 7

Add the steak into the sauce and stir until well combined. Let simmer for 4-5 minutes.

Step 8

Serve over grain-free/gluten-free pasta. Top with chopped parsley if desired.