---
This Shredded Leftover Turkey and 'Rice' Soup is incredibly comforting, soothing, and delicious. Made with cassava orzo instead of white rice, it is AIP, Paleo, and Whole30 compliant. The classic combination of carrots and celery with shredded turkey is a perfect hearty meal for fall and winter.
For the shredded turkey, I roasted turkey drumsticks or wings in advance with rosemary and extra-virgin olive oil and used the leftovers to make a nourishing turkey bone broth.
---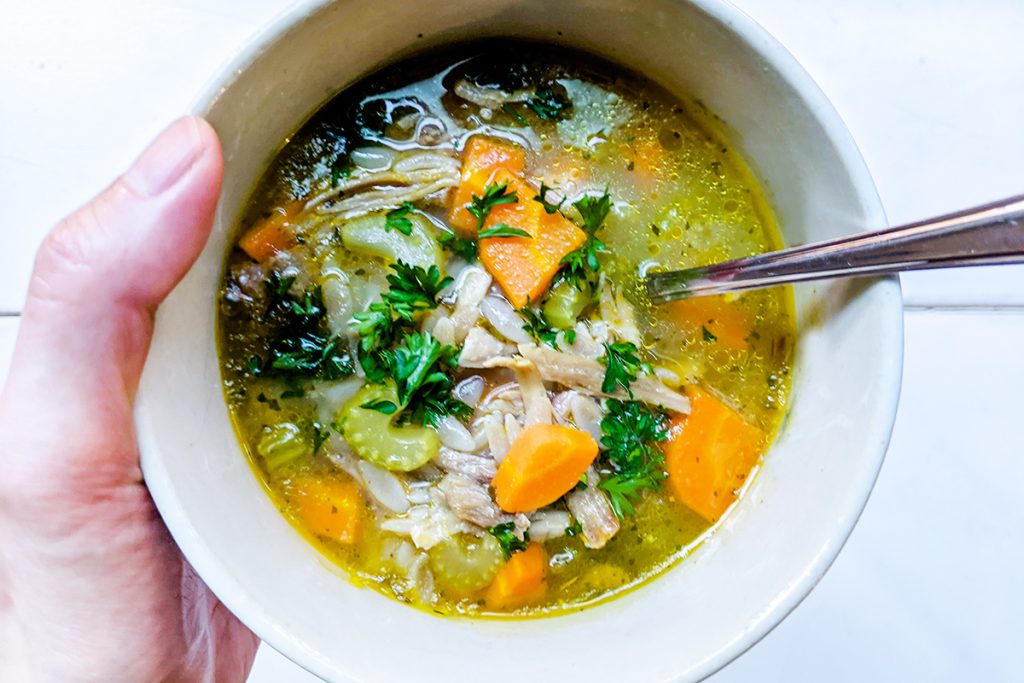 I prefer using drumsticks or wings over breast meat so the meat is a bit juicier, but either will work perfectly. The bone broth was made in a slow cooker — I used one large drumstick with some leftover wings that I had available in the freezer, slow cooking the bones with filtered water, chopped celery, apple cider vinegar, and salt for roughly 18-20 hours.
Aren't leftovers just wonderful?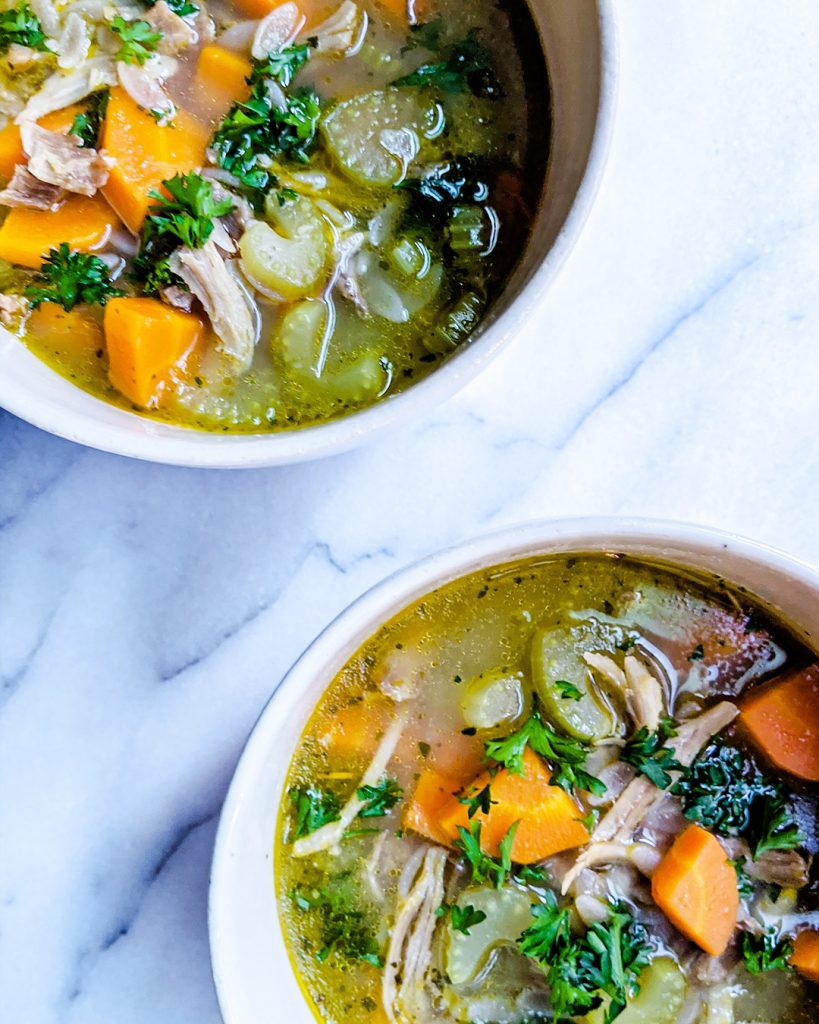 ---
RECOMMENDATIONS
If you don't have any shredded turkey available, you can substitute the shredded turkey for ground turkey. Ground meat is always great to have on hand in the freezer plus it tends to be easier to digest.
Bone broth is optional — you can use whatever broth you prefer. Be sure to check out this link to learn the difference between bone broth vs. meat stock.
Cauliflower rice would make a great alternative to the cassava orzo if you don't have any grain-free orzo on hand.
The soup keeps well in the fridge for 3-4 days or in the freezer for up to 3-months. When reheating the soup, additional broth might be required since the cassava orzo soaks up some of the liquid.
---
Shredded Leftover Turkey & 'Rice' Soup
: 5-6
: 10 min
: 30 min
: 40 min
Comforting, soothing, and delicious -- a perfect hearty soup for fall and winter. Diet Type: SFED, AIP, Paleo, W30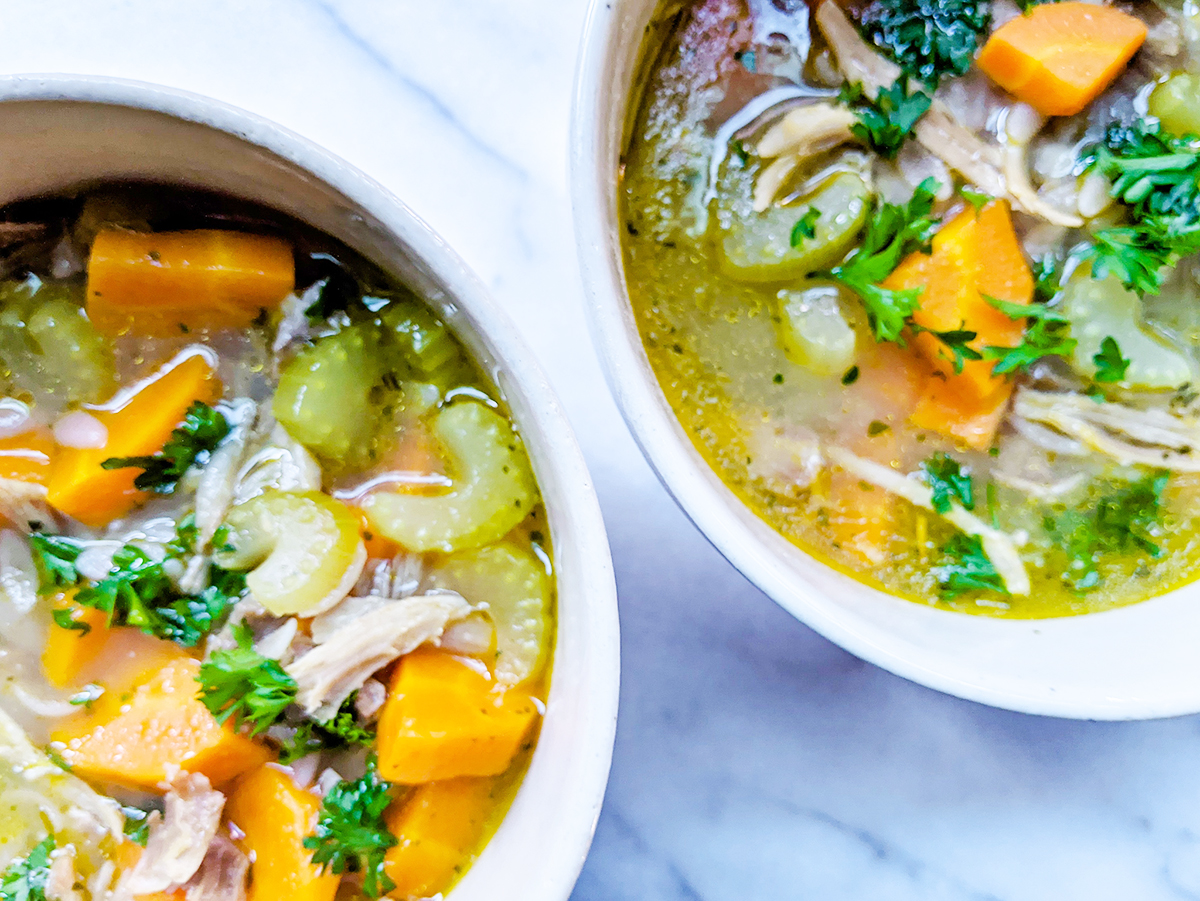 Ingredients
2 tbsp extra-virgin olive oil or avocado oil
2 large carrots (3 cups), chopped
4 stalks celery, chopped
8 cups turkey or chicken bone broth (or preferred broth)
1 cup cassava orzo (recommend Jovial brand)
3 cups leftover roasted turkey, shredded
2 tbsp fresh parsley, chopped
Salt to taste
Directions
Step 1

Heat the extra-virgin olive oil in a large stock pot on medium heat. Once hot, add the chopped carrots and celery. Saute for about 8 minutes.

Step 2

Add in the broth and cassava orzo. While orzo is cooking in the broth, shred the leftover roasted turkey.

Step 3

Let simmer for about 10-12 minutes and then add in the shredded turkey. Simmer for another 5-8 minutes.

Step 4

Add in the chopped parsley, stir to combine, and serve hot. Add additional fresh parsley on top if desired..