---
A warm and filling meal, this hearty AIP Plantain & Yuca Stew is inspired by Sancocho, a traditional stew found in various Latin American cuisines. The ingredients of Sancocho vary, but typically the stew is made with a mix of meats, paired with starchy vegetables such as plantain, yuca, and taro.
After my husband made a version of Sancocho the other day, I was inspired to make an AIP recipe that is free of corn and nightshades. This allergy-friendly stew is full of flavor with a bit of sweetness from the yellow plantain and squash balanced by the beef, turkey or chicken, and yuca. As a bonus, the starchy vegetables naturally thicken the broth, leaving you with a rich and nourishing stew.
---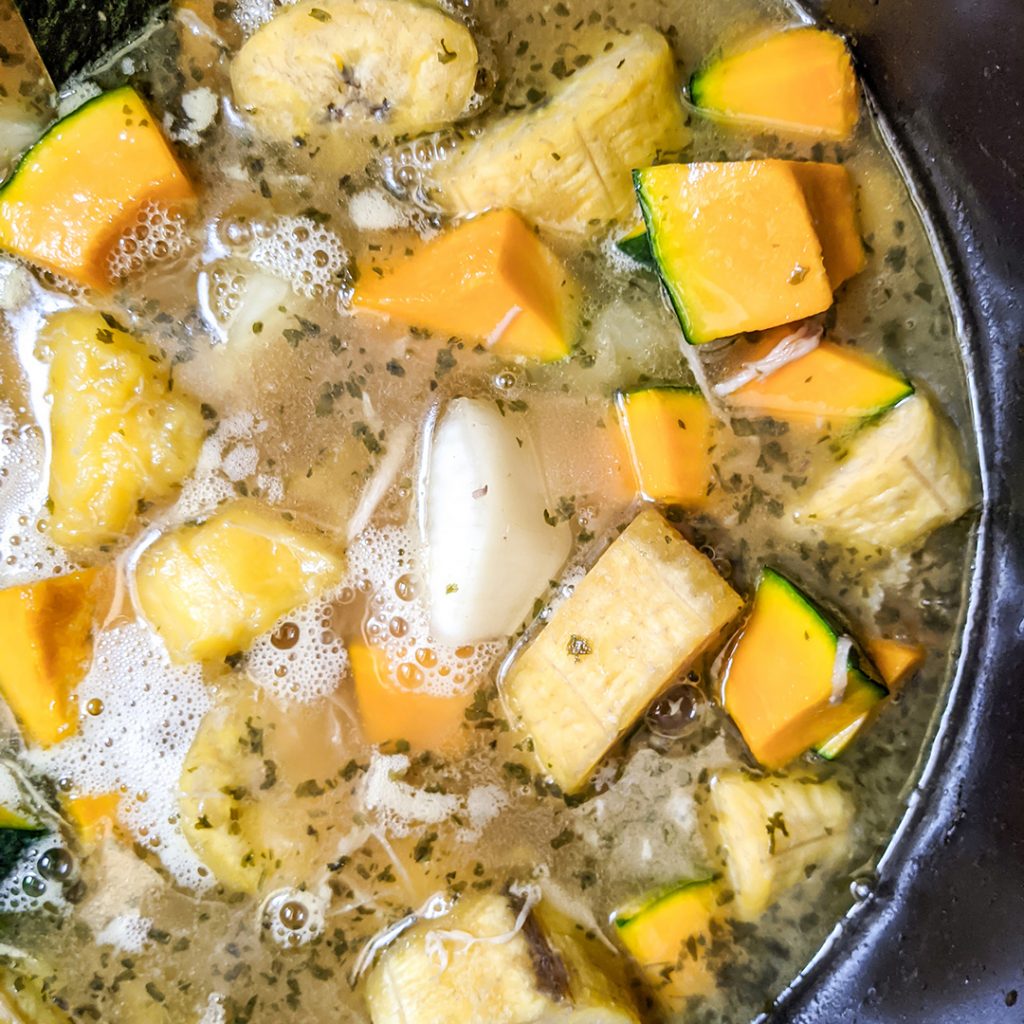 Ingredients for Hearty Plantain & Yuca Stew:
Green and Yellow Plantains
Yuca
Kabocha Squash
Butternut Squash (puree)
Scallions
Parsley
Coconut Aminos (eliminate for coconut-free)
Beef Stew Meat
Shredded Turkey or Chicken
Beef or Chicken Broth
Sea Salt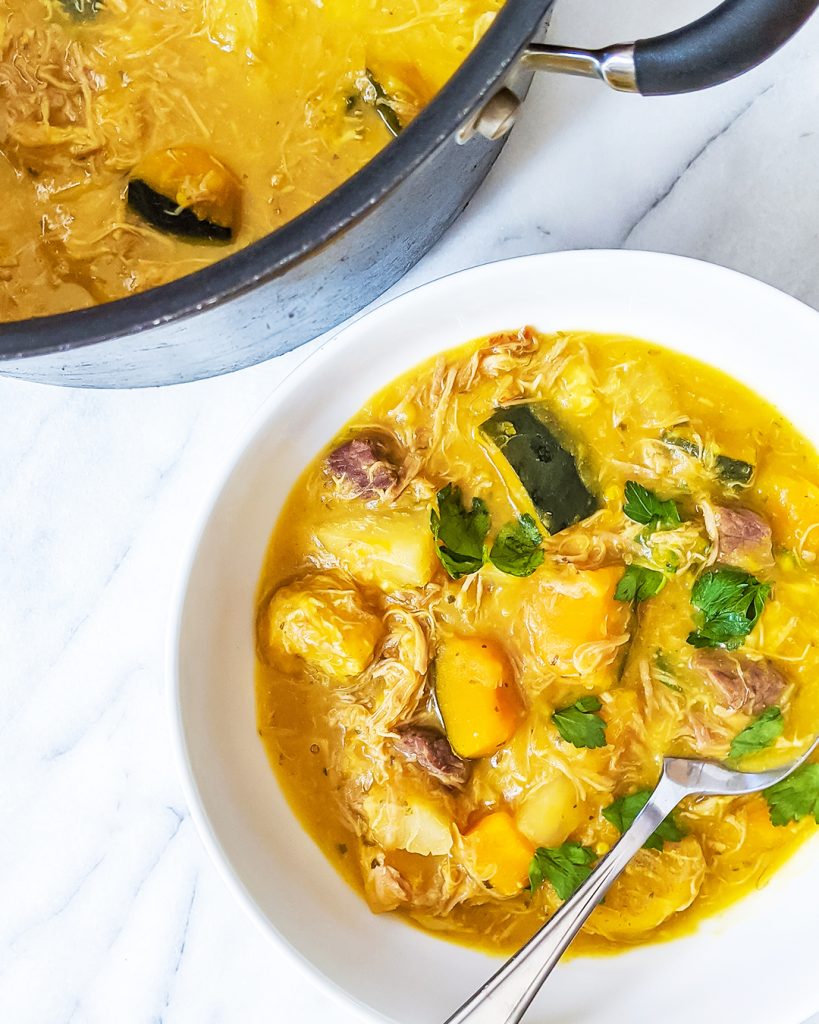 ---
RECOMMENDATIONS
If you have difficulty sourcing fresh yuca or want to avoid peeling it on your own (it can be challenging), try the frozen section for pre-cut and peeled frozen yuca.
I used shredded turkey and prepped it ahead of time by roasting it and shredding it once cooked. This can be substituted for chicken if preferred.
For the butternut squash puree, you can either make your own from scratch or purchase canned butternut squash puree. I use canned puree since it saves time — the brand I recommend is Farmers Market Foods. If you buy canned butternut squash, make sure it doesn't include any additives.
As an alternative to butternut squash puree, you can substitute pureed sweet potato.
The soup keeps well in the fridge for 3-4 days or in the freezer for up to 3 months. When reheating the soup, additional broth might be required since the starchy vegetables soak up some of the liquid.
---
Some additional hearty meal ideas:
---
Hearty Plantain & Yuca Stew (AIP/Paleo)
: 5-6 servings
: 20 min
: 60 min
: 80 min
A warm and filling meal, this hearty allergy-friendly Plantain & Yuca Stew is inspired by Sancocho, a traditional stew found in multiple Latin American cuisines.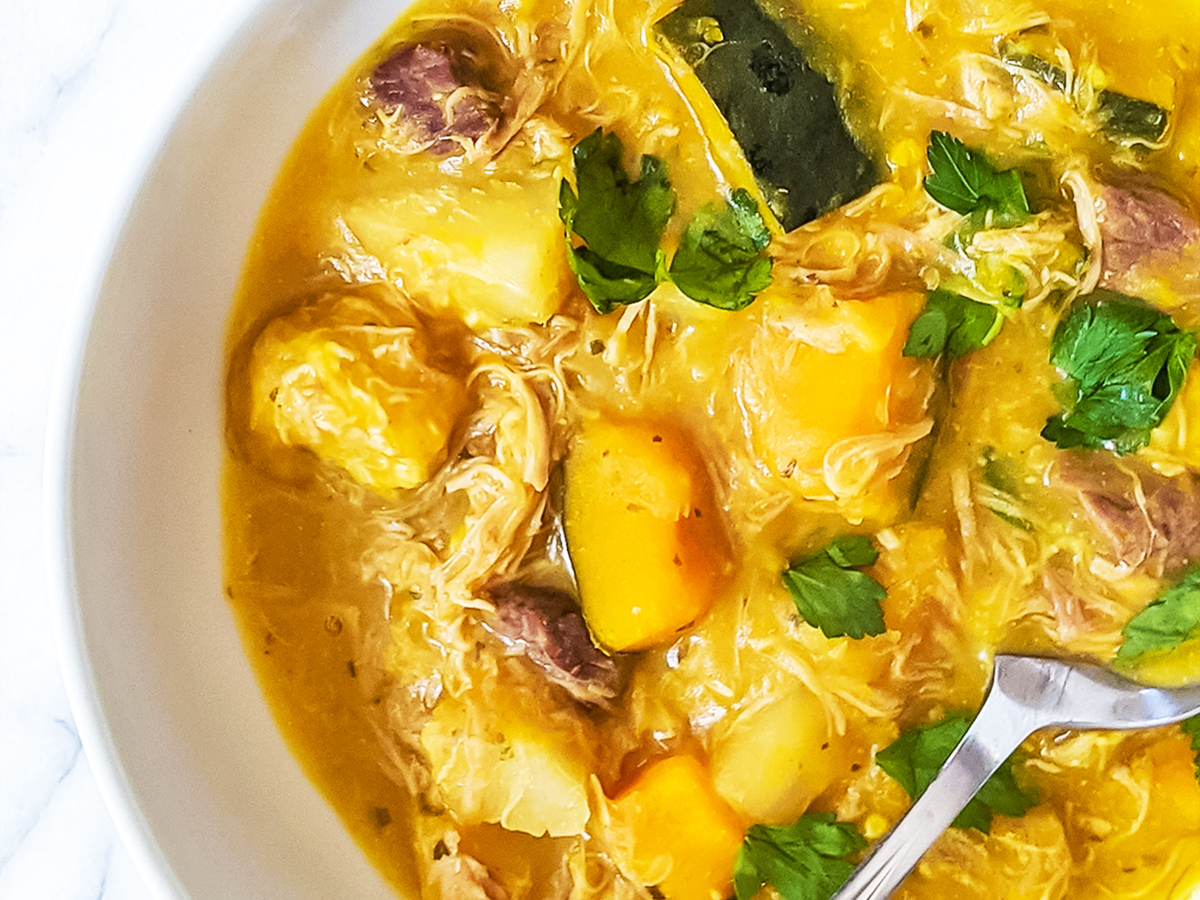 Ingredients
3 cups yuca, peeled and chopped
1 green plantain, peeled and sliced
1 yellow plantain, peeled and sliced
4 cups kabocha squash, chopped
1/2 lb beef stew meat, cut into bite-sized pieces
2 cups shredded turkey or chicken (pre-cooked)
1-2 tbsp extra-virgin olive oil
1/4 cup scallions, sliced
3/4 cup butternut squash, pureed
7 cups broth
1 tbsp coconut aminos (eliminated if coconut-free)
1 tbsp sea salt
1 tbsp dried parsley
Parsley, fresh and chopped for topping (optional)
Directions
Step 1

Peel and chop the yuca and slice the plantains into 1 inch pieces. Chop the kabocha squash into 1 inch pieces (feel free to peel the squash if you prefer but the skin is soft and edible). Place into separate bowls of cold water to prevent from turning brown.

Step 2

Cut beef stew meat into bite-sized pieces and season with sea salt.

Step 3

In a large stockpot, add 1 tbsp olive oil and heat at medium-high. Add the beef stew meat and lightly brown on both sides (4-5 minutes each side). Once finished, remove the beef from the stockpot with a slotted spoon and set aside.

Step 4

Keeping the stockpot at medium-high, add the sliced scallions. Let the scallions heat up for 3 minutes and add the butternut squash puree, stirring continuously for 5 minutes, letting the puree and scallions soak up the olive oil and beef juices.

Step 5

Add the beef stew meat back and pour in the broth and coconut aminos into the stockpot. Add the salt and bring to a boil. Once simmering, reduce heat to medium-low and let simmer for 10-15 minutes.

Step 6

First, add in the yuca, cooking for 5 minutes. Add in the plantains, kabocha squash, and dried parsley. Finally, add in the shredded turkey or chicken. Stir ingredients together and let simmer on medium-low for 30 minutes.

Step 7

Once the vegetables are tender, the stew is ready to be served. Serve warm and top with chopped fresh parsley if desired.