---
Fudgy and perfectly moist, these AIP and vegan carob brownies are a delicious treat without any refined sugar, gluten, eggs or dairy. In fact, most of the sweetness and decadence comes naturally from a secret ingredient – sweet potato!
Made with carob powder instead of cocoa, these brownies are a perfect chocolate replacement during the AIP elimination phase or if you have a sensitivity to cocoa or caffeine. I recently discovered that my body doesn't respond well to cocoa so carob has been a really great swap for me to satisfy my chocolate cravings these past few months.
What is carob powder?
Carob powder, known as a cocoa powder alternative, comes from the carob tree which is native to the Mediterranean region. Carob powder is made from roasting and grinding the sweet pulp found inside carob pods. Unlike chocolate, carob powder is caffeine-free and is actually high in fiber. It has a mild sweet flavor and is not bitter like dark chocolate. I like to describe the flavor as a mix of a very mild chocolate and nutmeg.
Note: based on testing by Monash University, carob powder is a high-FODMAP food. If following a low-FODMAP diet and/or SIBO protocol, carob might need to be avoided until symptoms have resolved.
---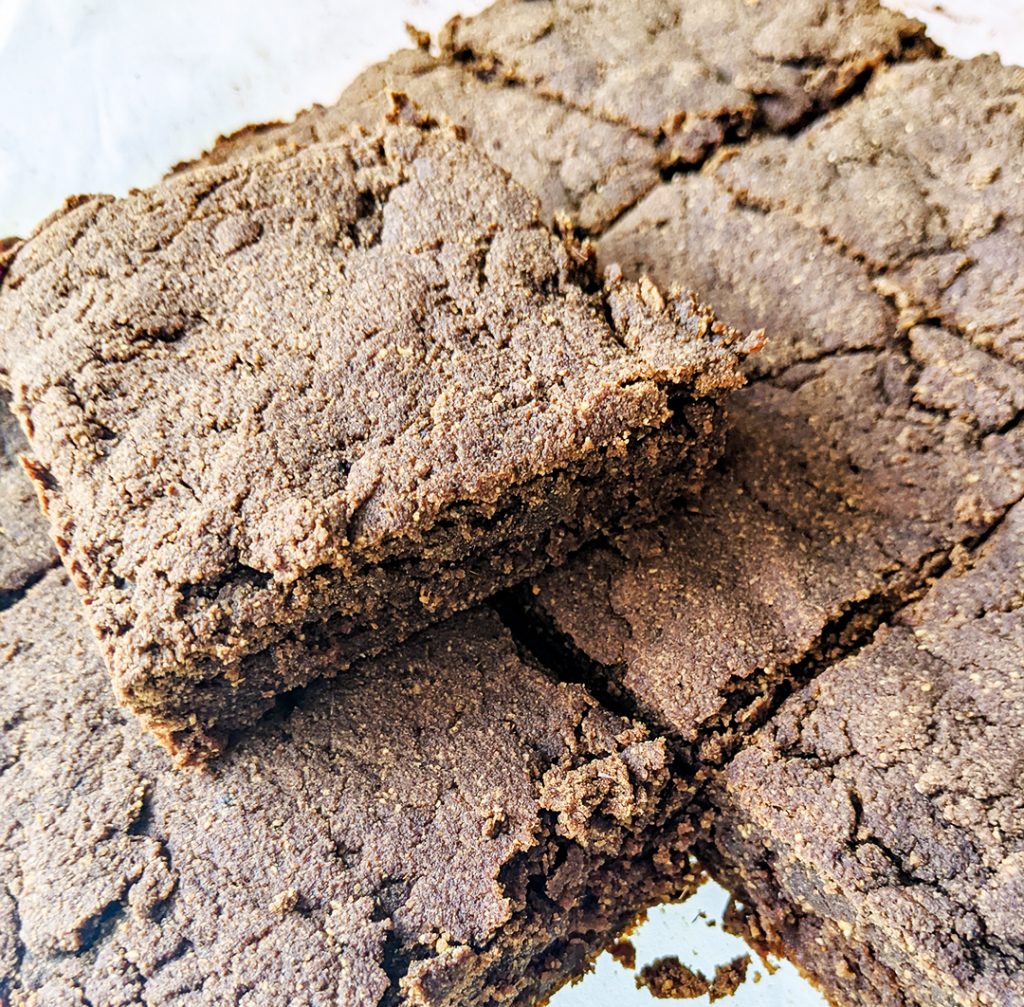 Ingredients for AIP & Vegan Fudgy Carob Brownies

:
Tigernut flour
Coconut flour
Arrowroot powder
Carob powder
Baking soda
Cream of tartar
Sweet potato puree
Coconut oil
Maple syrup
Vanilla extract
Sea salt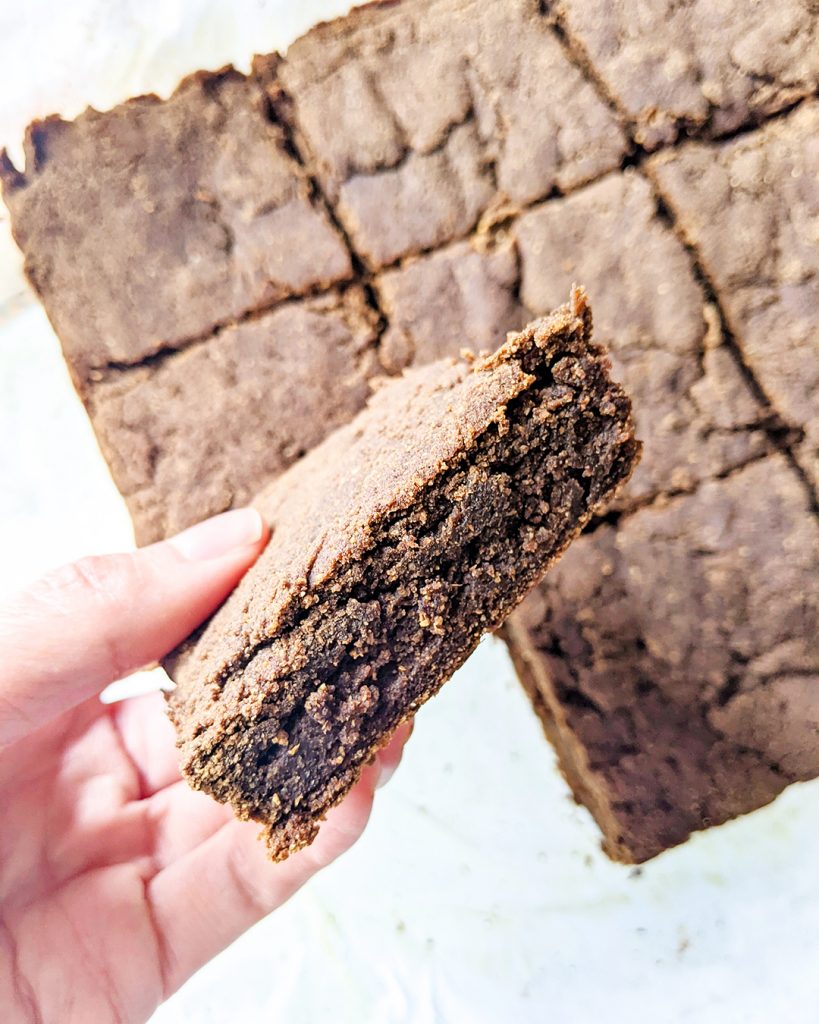 ---
RECOMMENDATIONS
I recommend an 8 x 8 inch square baking pan lined with parchment paper for easy removal.
To save time, I use canned 100%

sweet potato puree

(alternatively, you can use pumpkin puree). If making sweet potato puree from scratch, I recommend making the puree in advance so it is ready to go before making the brownies. Try to make the sweet potato puree as smooth as possible.
Store in an airtight container in the fridge for 3-4 days or freeze for up to 3-4 months.
Check out more AIP carob recipes:
---
Fudgy Carob Brownies (AIP & Vegan)
: 12-16
: 10 min
: 30 min
: 40 min
Fudgy and perfectly moist, these AIP and vegan carob brownies are a delicious treat without any refined sugar, gluten, eggs or dairy.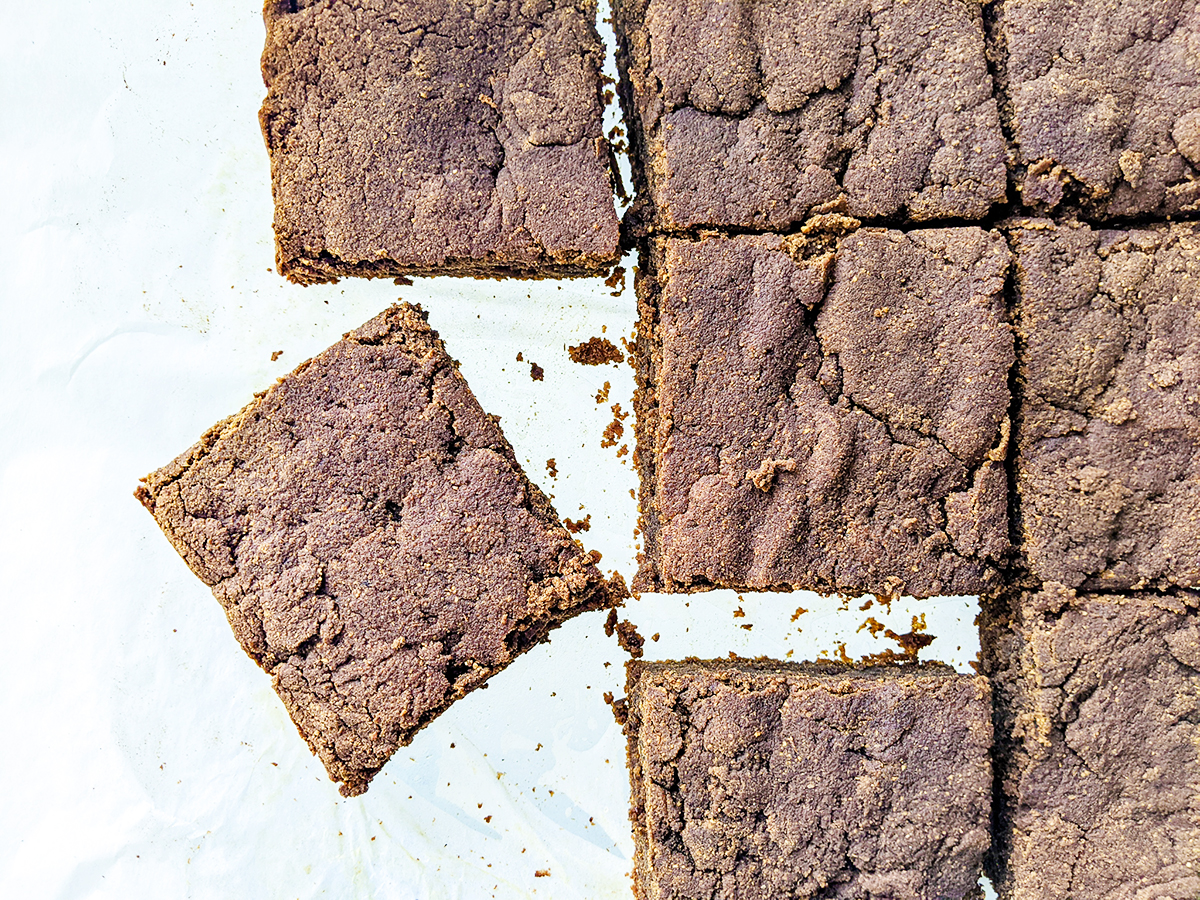 Ingredients
Dry Ingredients
1 cup tigernut flour
1/2 cup coconut flour, lightly packed
1/4 cup arrowroot powder
4 tbsp carob powder (or cocoa powder if preferred)
1 1/2 tsp baking soda
1 tsp cream of tartar
1/2 tsp sea salt


Wet Ingredients
1 1/2 cup sweet potato puree (or pumpkin puree)
1/4 cup coconut oil, melted
1/4 cup maple syrup
1/2 tbsp vanilla extract
Directions
Step 1

Preheat the oven to 350°F. Line an 8 x 8 inch square pan with parchment paper or lightly grease with coconut oil.

Step 2

In a large bowl, combine the dry ingredients. Set aside.

Step 3

In a medium bowl, fully combine wet ingredients.

Step 4

Add the wet ingredients to the dry ingredients. Stir to fully combine. The batter will be very thick.

Step 5

Using a large spoon, gently scoop the batter into the square pan, spreading the batter as evenly as possible.

Step 6

Place the pan into the oven. Bake for 30 minutes.

Step 7

Once done, remove from the oven. Let cool completely before removing from the pan and slicing into 12 or 16 pieces.
The Open Cookbook is a participant in the Amazon Services LLC Associates Program, an affiliate advertising program, designed to provide a means for sites to earn advertising fees by advertising and linking to Amazon.com. The Open Cookbook may receive a small referral commission if you make a purchase using one of the website links, at no additional cost to you.