---
This vegan nut-free pesto is one of my favorite allergy-friendly sauces that is quick and easy to make. While a traditional pesto includes pine nuts to help thicken the sauce, this recipe uses arrowroot powder, a great alternative if you are unable to eat nuts and seeds. The recipe does call for the basil sauce to be cooked very briefly on the stove top to thicken the sauce, but it retains all of the intense basil flavor since the heat is low and it is only cooked for a minute or two.
I love using this pesto as a dipping sauce for roasted potatoes, mixed with gluten-free pasta, and using it on the Pesto Pizza with Fennel, Zucchini & Squash recipe.
---
RECOMMENDATIONS
This recipe specifies arrowroot powder to thicken the sauce.
I slowly stir the arrowroot powder into the blended basil mixture on the stove top until I achieve the desired thickness.
The recipe calls for garlic but this is optional. I am unable to tolerate garlic and do not include it when I make the basil sauce for myself, but I enjoy it just as much.
---
VEGAN NUT & SEED FREE PESTO
: 2
: 5 min
: 2 min
: 7 min
This vegan pesto is free of all nuts and seeds. It is an easy and flavorful alternative to a traditional pesto. Diet Type: SFED, AIP, Palo, W30, Vegan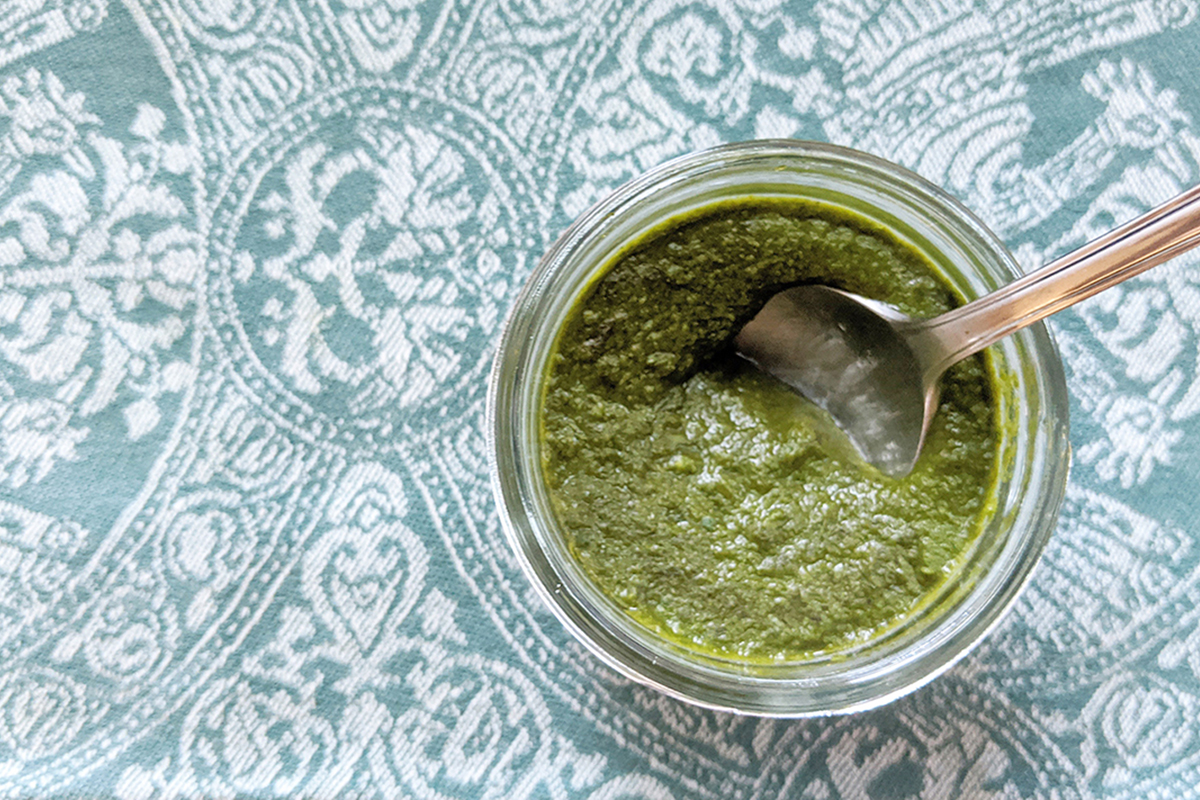 Ingredients
2 cups fresh basil
1-2 garlic cloves, roughly chopped (optional)
1 tbsp avocado oil
1/2 tsp apple cider vinegar or 1 tsp lemon juice
1 tsp arrowroot flour
4 tbsp water
1/2 tsp salt
Directions
Step 1

In a blender or food processor, combine the basil, garlic, apple cider vinegar or lemon, avocado oil, water, and salt until well-combined and smooth.

Step 2

Pour blended mixture into a small saucepan and set on low heat.

Step 3

In a small cup, mix the arrowroot powder with a few drops of water and stir to full combine.

Step 4

Gradually add in the arrowroot flour slurry to the basil mixture on the stove top, stirring to combine. The sauce will thicken as the arrowroot and basil mixture heats up.

Step 5

Remove from heat and serve or let cool. Store the pesto in a sealed container in the fridge.