---
These colorful baked turmeric plantain chips are a healthy and tasty homemade snack for when you are craving something crispy and salty. They taste great on their own or with a side of guacamole.
---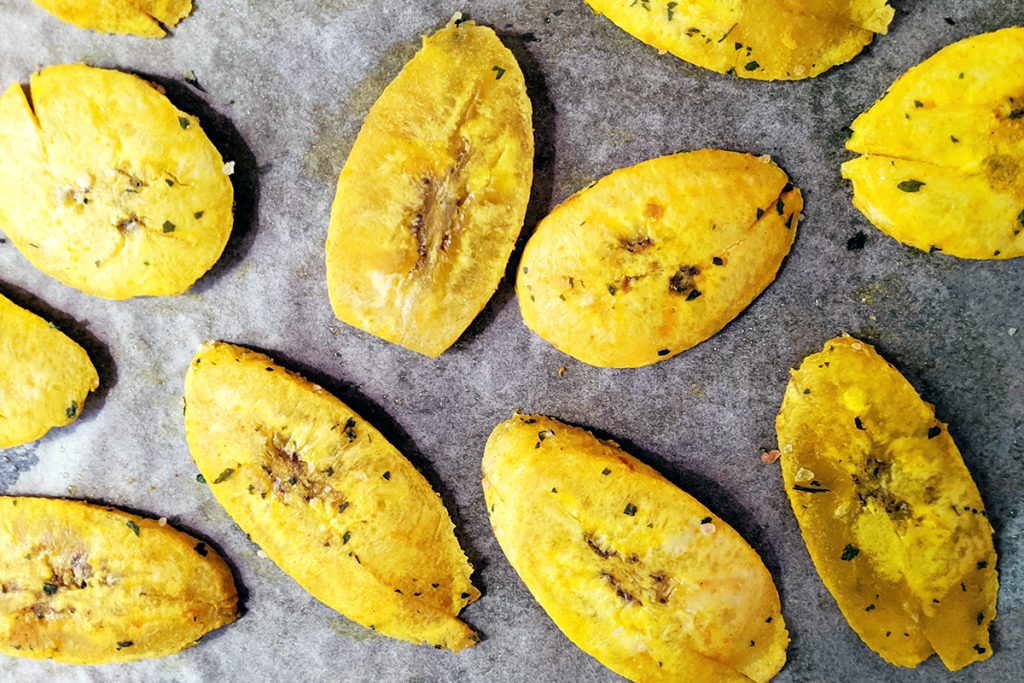 This recipe calls for green plantains (unripe). As plantains ripen and become sweet, they turn yellow and eventually black.
To peel the plantains, first cut off the ends. Then, slice the plantain peel lengthwise along a couple of the ridges.
For slicing the plantains, you can either use a mandoline or cut them into thin slices (1/8″ thick) with a sharp knife.
---
BAKED TURMERIC PLANTAIN CHIPS
: 3
: 10 min
: 30 min
: 40 min
These baked turmeric plantain chips are a healthy and tasty homemade snack. Diet Type: SFED, AIP, Paleo, W30, Vegan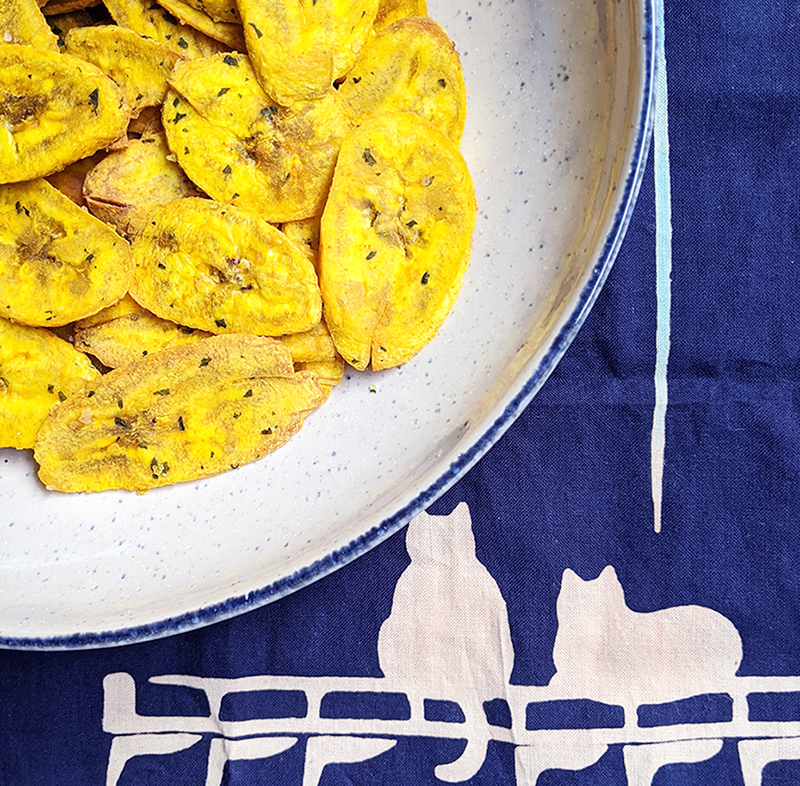 Ingredients
2 green plantains
1 tbsp avocado oil
1/2 tsp turmeric powder
1/2 tsp dried parsley (or herb/spice of your choice)
1/2 tsp salt or to taste
Directions
Step 1

Preheat the oven to 350°F and line a baking sheet with parchment paper.

Step 2

Remove the peels from the plantains by cutting off the ends and slicing the peel lengthwise to peel it back.

Step 3

Carefully slice the plantains into 1/8″ slices (I like a bias cut) or on a mandoline.

Step 4

Place the sliced plantains into a bowl and add the avocado oil, turmeric powder, dried parsley, and salt. Combine well and make sure the turmeric is evenly coated on the plantain slices.

Step 5

Lay the plantain slices onto the baking sheet and make sure they don't overlap.

Step 6

Bake in the oven for about 13-15 minutes and then flip the plantains to the other side. Bake for another 13-15 minutes.

Step 7

Serve and enjoy once the plantain slices are golden and crispy.