---
Easy to make, this Caramelized Banana Upside Down Cake is a beautiful AIP and vegan dessert that I have been baking for every special occasion.
The best way for me to describe the cake is if banana bread and bananas foster had a baby. It is basically a fancy banana bread that will be sure to impress! The cake only uses banana for a natural sweetness, with a light caramelized coconut sugar and banana topping that really pulls it all together. To make it extra special, this cake would taste amazing warmed up with a scoop of coconut ice cream!
I find upside down cakes so pretty and impressive (while being really easy to pull off). Plus, they are a great option if you don't have amazing frosting skills like me but want to share a beautiful cake for the holidays or a special occasion.
---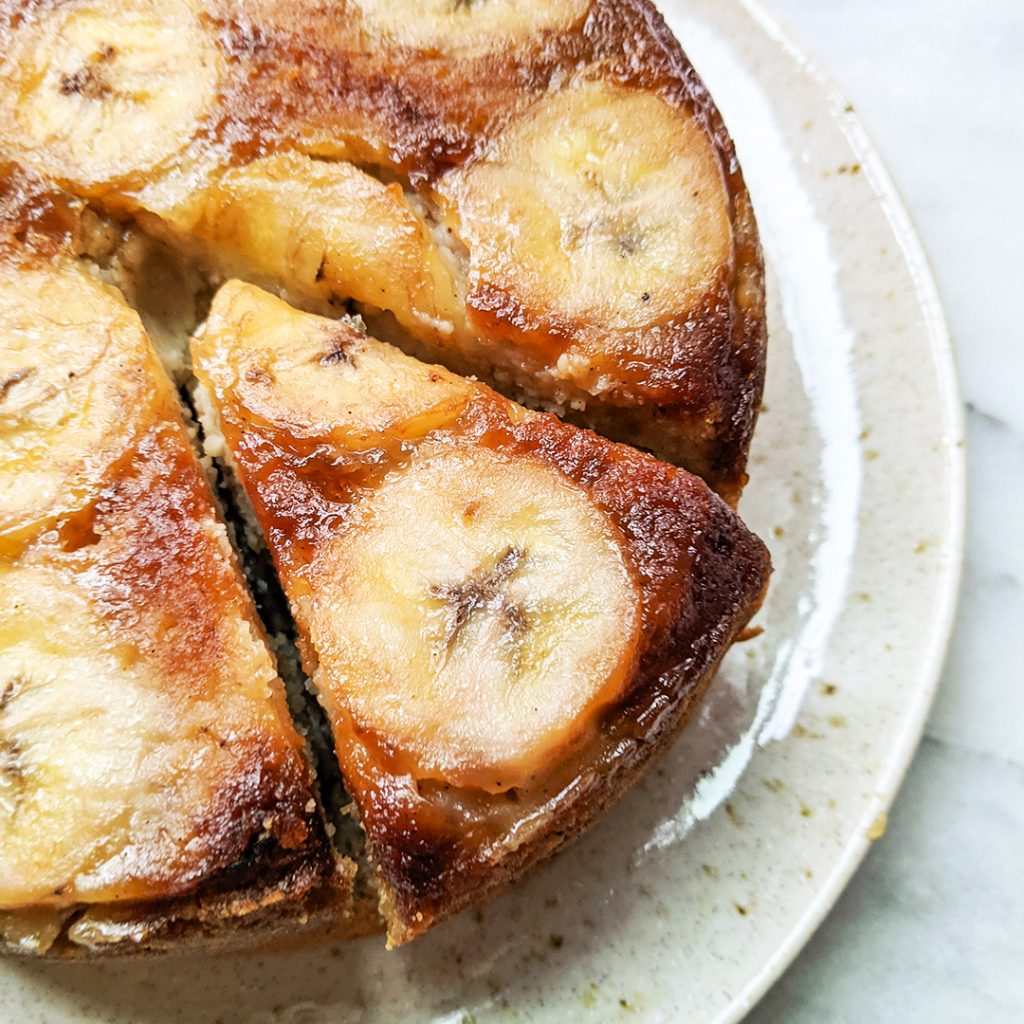 Ingredients for AIP Caramelized Banana Upside Down Cake

:
Bananas
Coconut flour
Arrowroot powder
Tigernut flour
Coconut oil
Full-fat coconut milk
Coconut sugar
Baking soda
Vanilla powder or extract
Apple cider vinegar
Sea salt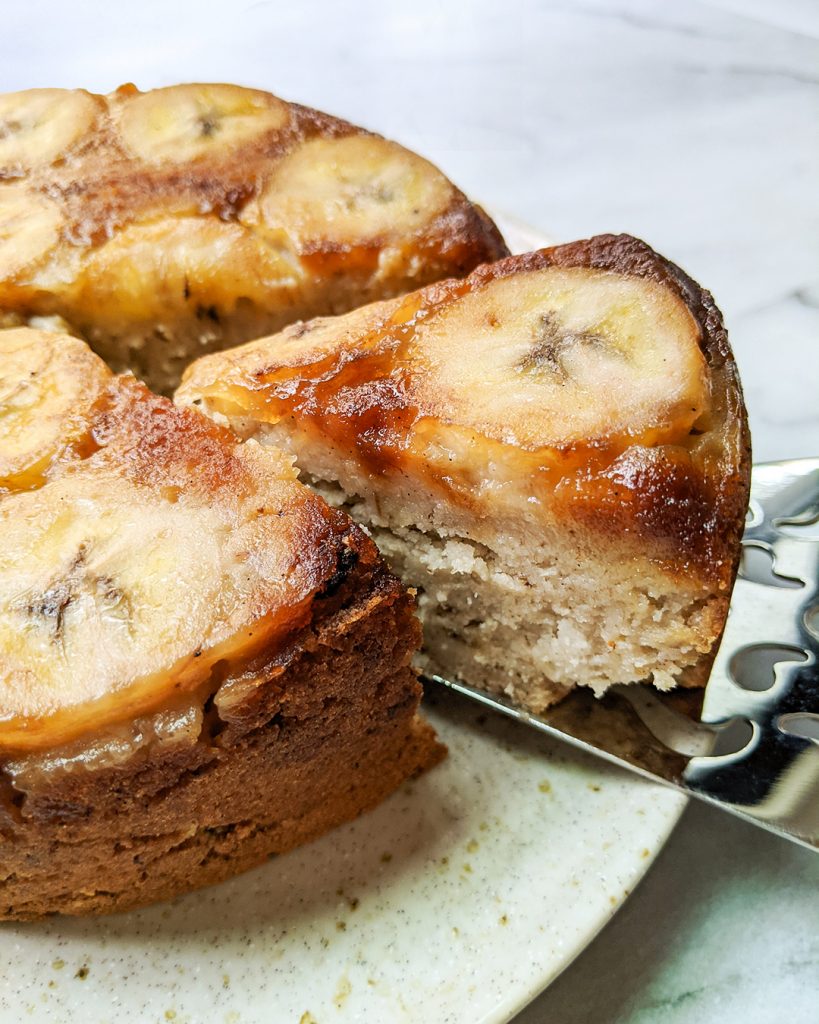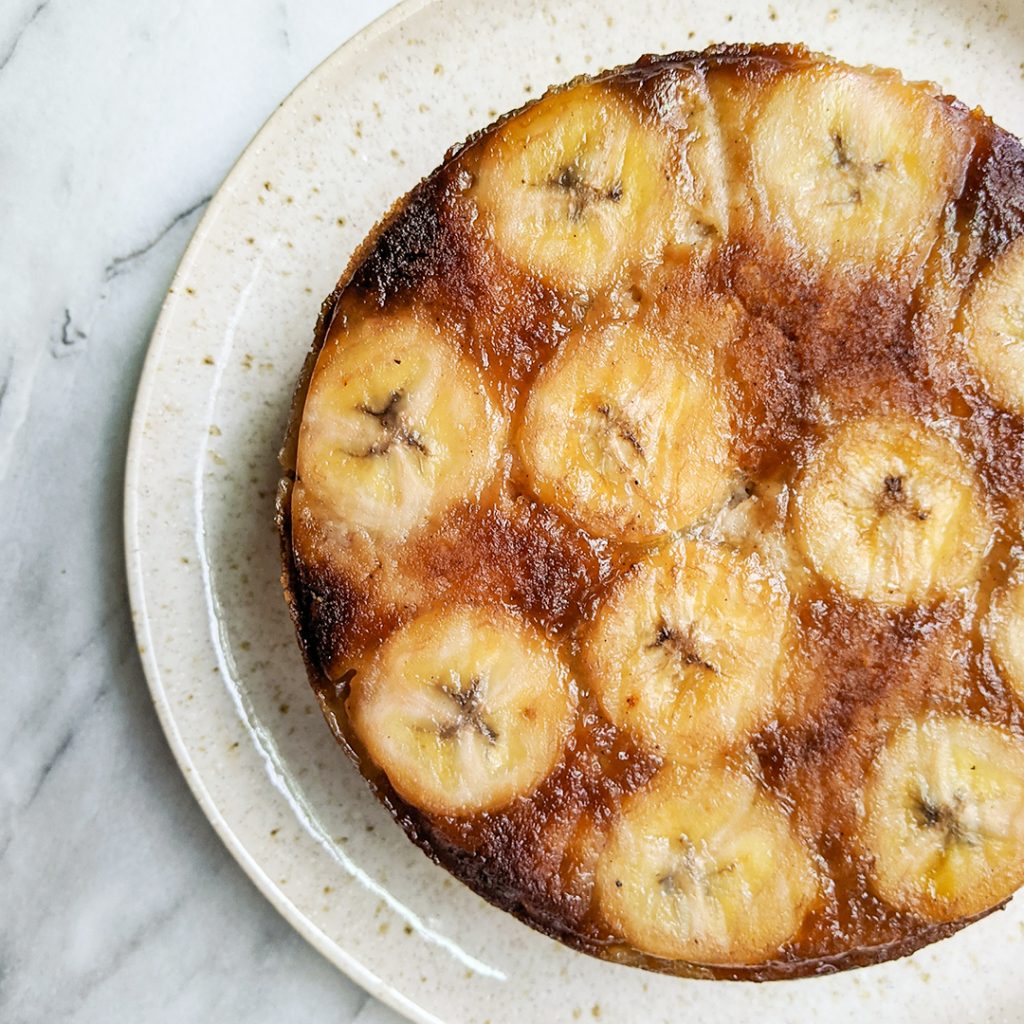 ---
RECOMMENDATIONS
I recommend using a

6-inch springform cake pan

– this makes the inverting process seamless and so easy. If you don't have a springform cake pan, I recommend adding parchment paper to the bottom of the pan and lightly greasing the sides with coconut oil.
For the most consistent results, I recommend weighing the tigernut, coconut, and arrowroot flours on a kitchen scale.
This cake is low-sugar, getting natural sweetness from the banana itself. If you prefer a sweeter cake, try adding 2 tbsp of coconut sugar to the cake batter.
The cake batter is very thick so I recommend carefully spooning it into your cake pan or even using your hands to scoop the batter in.
Store in an airtight container on the counter for 2-3 days, 1 week in the fridge, or freeze for up to 3-4 months.
Looking for more easy AIP/Paleo banana recipes?
---
Caramelized Banana Upside Down Cake (AIP & Vegan)
: 6-8
: 15 min
: 45 min
: 60 min
Easy to make, this Caramelized Banana Upside Down Cake is a beautiful AIP and vegan dessert, perfect for the holidays or a special occasion.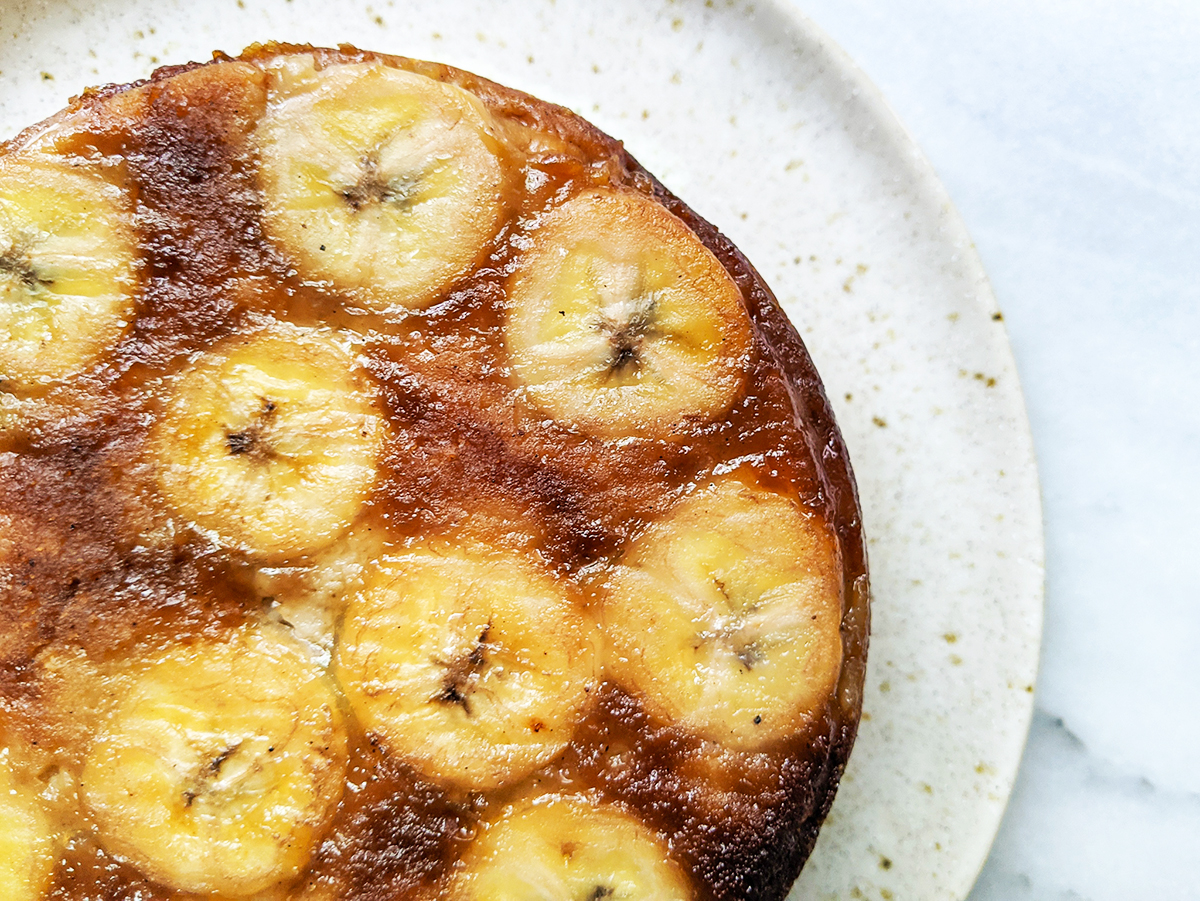 Ingredients
Caramelized Topping
4 tsp coconut oil, measured solid and then melted
2 tsp coconut sugar
1 banana, sliced


Cake Batter
1 cup coconut flour , lightly packed (112g)
1/4 cup arrowroot powder (28g)
1/4 cup tigernut flour (28g)
1 tsp baking soda
1/2 tsp vanilla powder or 1 tsp vanilla extract
1/4 tsp sea salt
1 1/4 cup full-fat coconut milk
1/4 cup coconut oil, melted
1 medium banana (avg. 7 inches), mashed
1 tbsp apple cider vinegar
Directions
Step 1

Preheat the oven to 350°F. In a 6-inch springform cake pan, add a circular cut-out piece of parchment paper to line the bottom and lightly grease the sides with coconut oil.

Step 2

In a small bowl, mash one medium-sized banana until smooth. Set aside.

Step 3

To prepare the caramelized topping, melt 2 tbsp coconut oil in a small bowl and stir in the coconut sugar until well-combined. Pour the coconut oil/sugar mixture into the bottom of the cake pan and make sure it is spread evenly.

Step 4

Slice a banana into 1/4″ slices and place the banana slices on top of the coconut oil/sugar mixture in the bottom of the pan. Set aside and prepare the cake batter.

Step 5

In a medium bowl, combine the coconut flour, arrowroot powder, tigernut flour, baking soda, vanilla powder, and sea salt. Stir to fully combine.

Step 6

Pour the full-fat coconut milk, melted coconut oil, mashed banana, and apple cider vinegar into the dry ingredients. Mix well to fully combine. The batter will be very thick.

Step 7

Using a large spoon or your clean hands, gently scoop the cake batter into the pan, on top of the sliced bananas, keeping the top of the batter as even as possible..

Step 8

Place the cake pan into the oven. If using a springform cake pan, I recommend placing a sheet of aluminum foil under the pan as some of the coconut sugar might drip out. Bake for 40-45 minutes. Check around 40 minutes, testing with a toothpick.

Step 9

Once done, remove from the oven and let cool for 15 minutes to set. Once cool, carefully invert onto the serving platter. Let the cake cool for another 30 minutes before serving to let the cake texture firm up and settle.
The Open Cookbook is a participant in the Amazon Services LLC Associates Program, an affiliate advertising program, designed to provide a means for sites to earn advertising fees by advertising and linking to Amazon.com. The Open Cookbook may receive a small referral commission if you make a purchase using one of the website links, at no additional cost to you.