---
This gluten-free and vegan Japchae recipe is packed full of a variety of vegetables, providing a filling and nutrient-dense meal. I have always been a huge fan of Japchae, a traditional Korean glass noodle stir-fry and since the sweet potato noodles are naturally gluten-free, it makes Japchae very easy to adapt into a Top 8 allergen-free dish.
---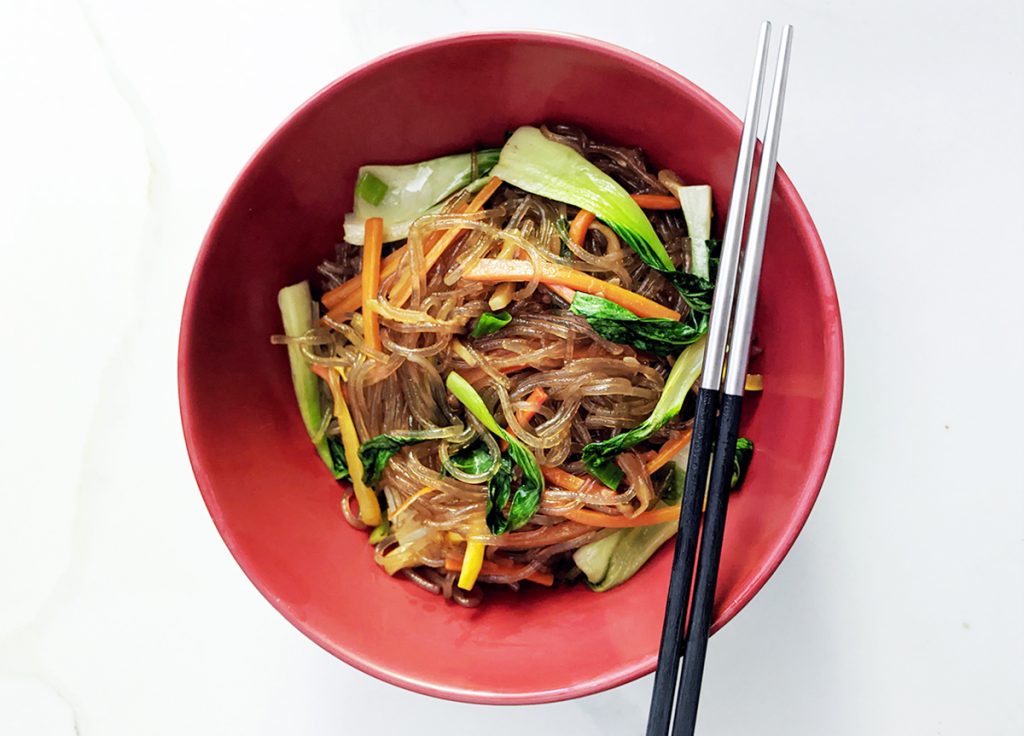 ---
VEGAN JAPCHAE WITH BOK CHOY
: 4-5
: 15 min
: 20 min
: 35 min
This recipe for Vegan Japchae (Korean sweet potato noodles) is gluten-free, soy-free, and does not contain any fish product. It is a vegetable-packed allergy-friendly and an AIP/Paleo compliant dish. Diet Type: SFED, AIP, Paleo, W30, Vegan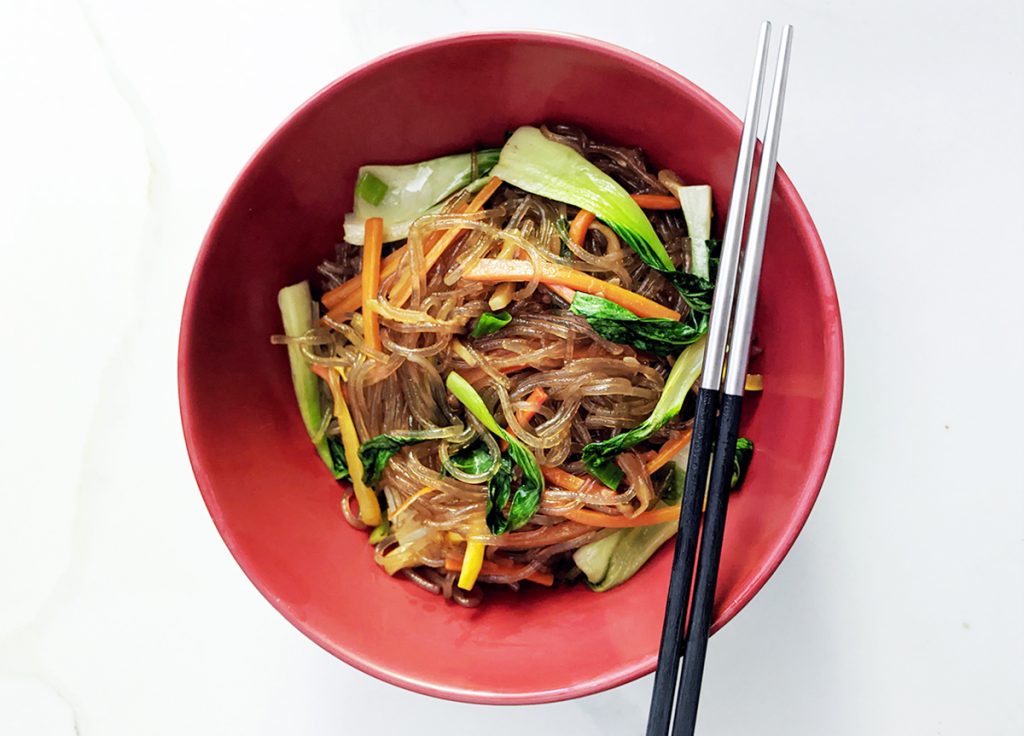 Ingredients
7 oz / 200g sweet potato noodles
1-2 tbsp avocado oil
3 medium carrots, julienned
1 medium squash, julienned
2 heads of baby bok choy, sliced into strips
1 bunch of scallions, sliced
1/2 cup coconut aminos
1 tsp apple cider vinegar
1/2 tsp coconut sugar (optional)
Salt to taste
Directions
Step 1

Bring a large pot of water to a boil and cook sweet potato noodles following the directions on the package. While noodles are cooking, prepare the vegetables.

Step 2

Once the noodles are cooked, drain and rinse with cold water. Add a light coating of avocado oil to the noodles in a bowl. Using scissors, cut the noodles a few times to reduce length.

Step 3

Add some avocado oil into a large wok and bring to a medium-high heat. Once hot, add in julienned carrots and cook for about 5 minutes to soften. Add the squash and keep on medium-high heat for another 2 minutes.

Step 4

Prepare the sauce of coconut aminos, apple cider vinegar, and coconut sugar and whisk thoroughly.

Step 5

Once the carrots and squash have softened, add in the sweet potato noodles and pour over the sauce. Add in the baby bok choy and cook for an additional five minutes, stirring the ingredients.

Step 6

After the sauce, sweet potato noodles, and vegetables have fully combined and are almost ready, toss in the scallions.

Step 7

Serve warm and enjoy.