---
I've always loved oatmeal chocolate chip cookies and wanted to recreate a childhood favorite (without the oats!).
These soft, chewy, and grain-free "Oatmeal" Chocolate Chip Cookies are made with a mixture of cassava flour and tigernut flour, while the sliced tigernuts recreate the "oatmeal" texture. Not only are the cookies free of the Top 8 food-allergens, but they are also coconut-free, low-FODMAP, and Paleo.
Of course, the cookies wouldn't be complete without mini chocolate chips, but if you are following the elimination phase of the AIP diet, these can be easily swapped for carob chips.
---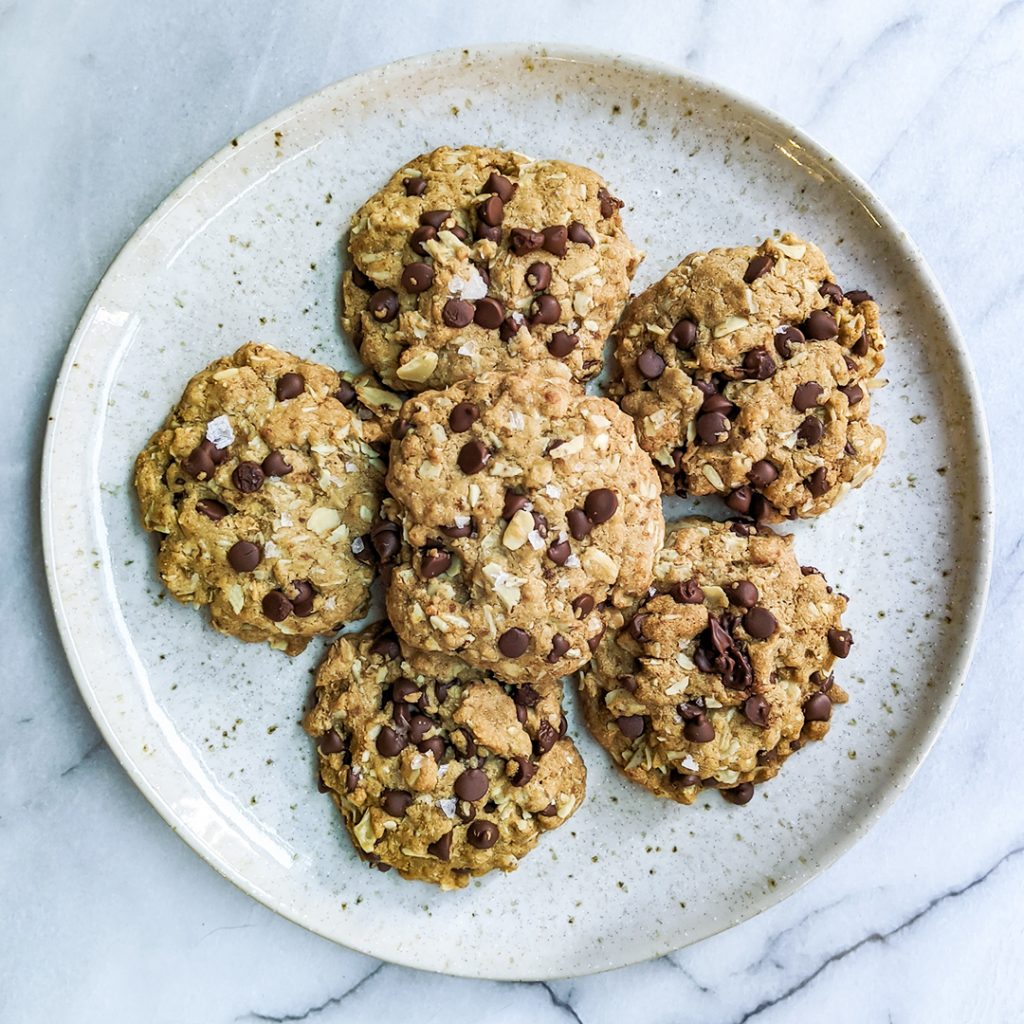 What exactly is a tigernut and why do I use it in my recipes?
Despite the name, tigernut is not a nut. It is actually a tuber that grows on one of the only edible sedges, Cyperus esculentus (Yellow Nut Grass).
Tigernuts are very rich in prebiotic fiber, a resistant starch, making them great for gut health by stimulating the growth of good gut bacteria. Plus, they are an excellent source of magnesium, calcium, and other minerals.
I love using tigernuts because they have a slightly sweet and "nutty" flavor — totally perfect for baking and they make a perfect "oatmeal" replacement.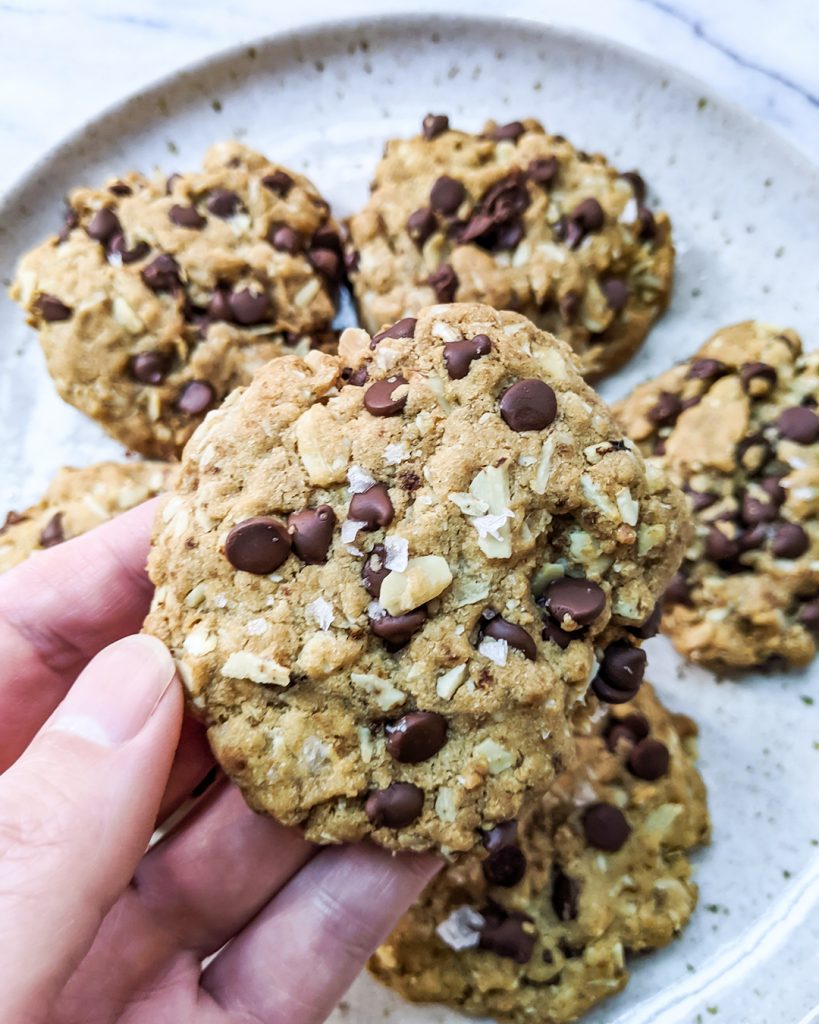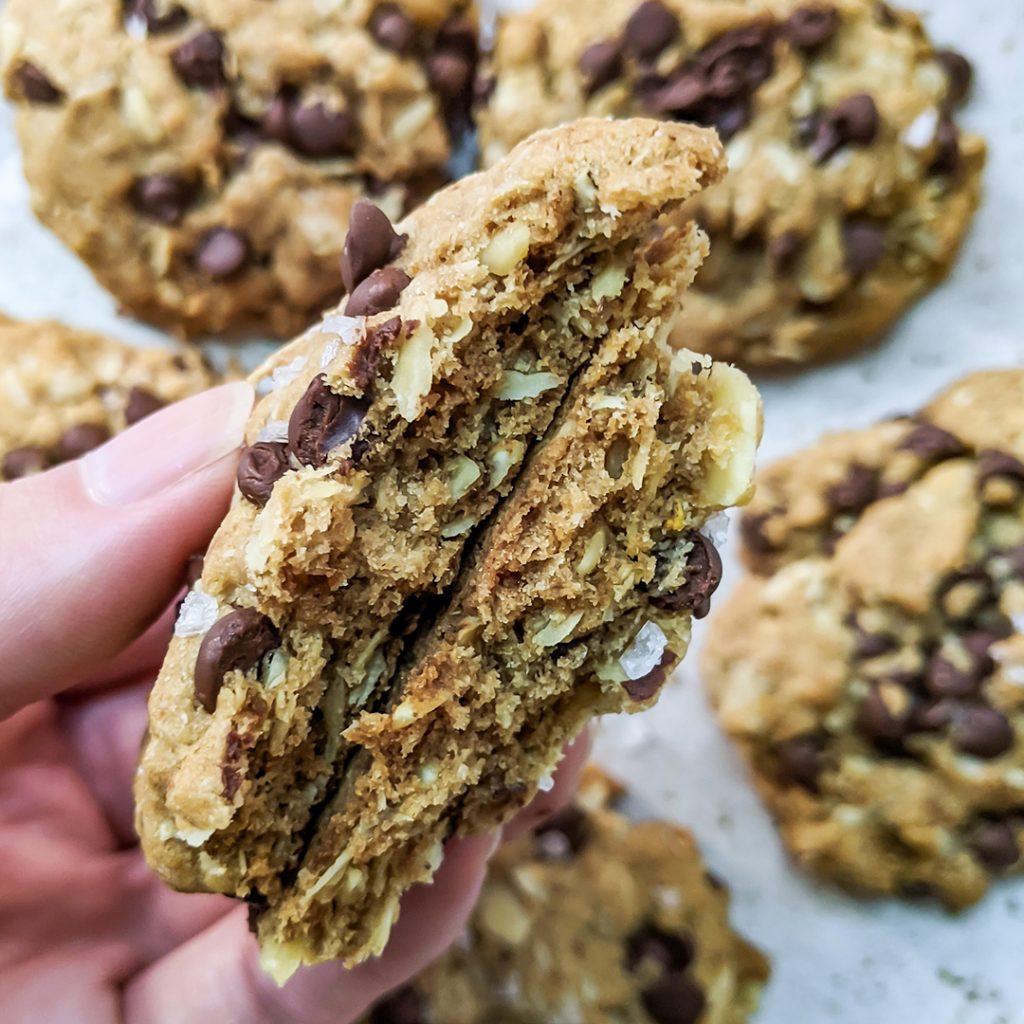 ---
RECOMMENDATIONS
If you are following the initial elimination phase of the AIP diet, you can swap the dairy-free chocolate chips for carob chips.
Due to the sliced tigernuts, the cookies are easier to form by making 1 inch balls by hand vs. using a cookie scoop.
Gently press the balls of cookie dough down a bit before baking since the cookies don't spread very much.
I love sprinkling a little bit of Maldon salt flakes on the cookies, but this step is optional.
---
Paleo 'Oatmeal' Chocolate Chip Cookies
: 10-11 cookies
: 10 min
: 10 min
: 20 min
These soft and chewy 'Oatmeal' Chocolate Chip Cookies are a grain-free recreation of the classic oatmeal cookie without the oats. Diet Type: SFED, Paleo, AIP (modified), Coconut-Free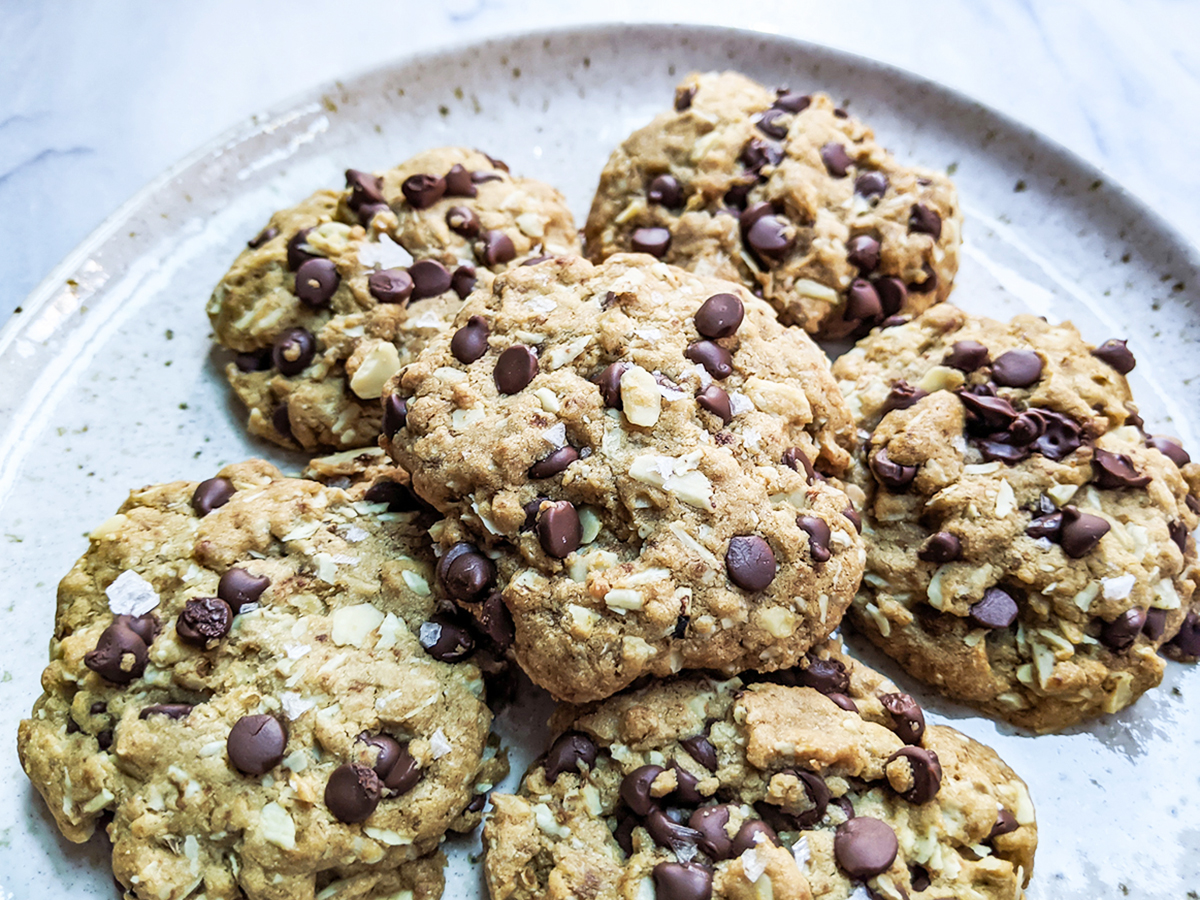 Directions
Step 1

Preheat the oven to 350°F. Set aside a baking sheet and line with parchment paper.

Step 2

In a small mixing bowl, fully mix the dry ingredients and set aside.

Step 3

In a separate medium-sized mixing bowl, mix the maple syrup, maple sugar, and vanilla together. Let sit for a couple of minutes to dissolve.

Step 4

Add the olive oil to the wet mixture and mix well.

Step 5

Gradually add the dry ingredients to the wet ingredients and stir until fully combined.

Step 6

Fold in the chocolate or carob chips.

Step 7

Form the cookies into a ball (roughly 1 inch) and gently flatten onto the baking sheet. Sprinkle lightly with Maldon salt flakes if desired.

Step 8

Bake for roughly 10 minutes and let cool before serving. The gelatin will set as the cookies cool so wait to transfer the cookies to a cooling rack until they are firmer.
The Open Cookbook is a participant in the Amazon Services LLC Associates Program, an affiliate advertising program, designed to provide a means for sites to earn advertising fees by advertising and linking to Amazon.com. The Open Cookbook may receive a small referral commission if you make a purchase using one of the website links, at no additional cost to you.