---
This tasty low-FODMAP Zucchini Olive Tapenade is a perfect easy summer sauce/dip, giving your weekly go-to meals an extra boost of flavor. Made with only four ingredients, this tapenade is AIP/Paleo, vegan, and Whole30 compliant.
After seeing "zucchini butter" recipes that are derived from Julia Child's recipe for grated zucchini in sautéed butter, I immediately had to make a low-FODMAP version. Since garlic and shallots are definitely not SIBO-friendly, I experimented with swapping those ingredients for green olives, resulting in an umami-rich flavor. This combination did not disappoint!
---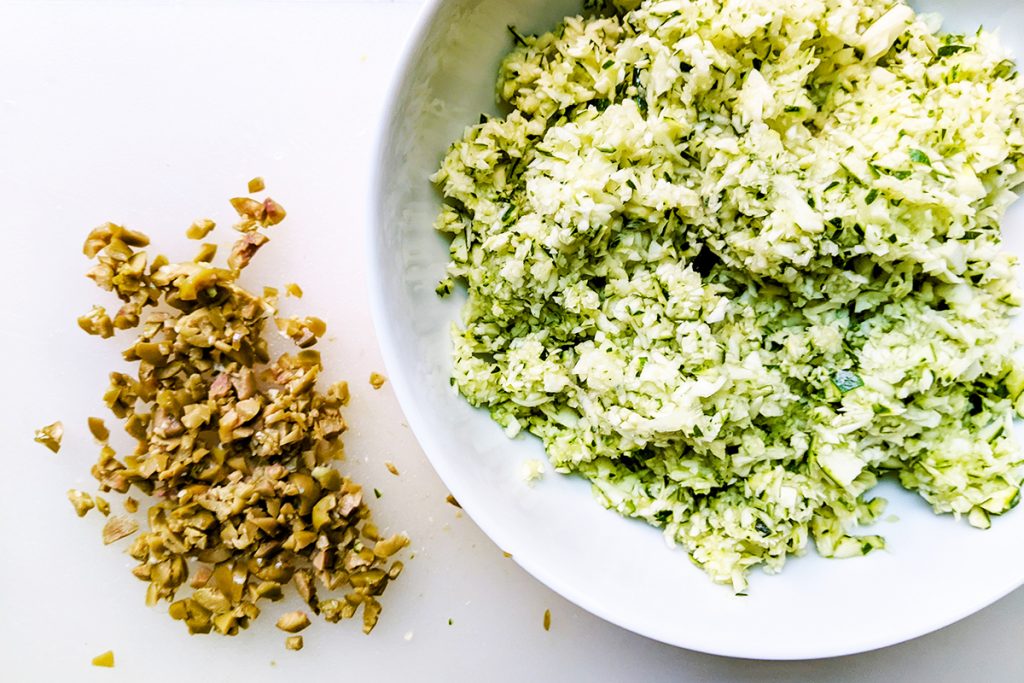 While this recipe is nothing like Julia Child's original, it is a delicious topping. Try spreading it on sweet potato toast, grilled chicken, or tossing with gluten-free pasta. My absolute favorite is mixing a spoonful with a ground meat and veggie skillet meal. The possibilities are endless!
Only 4 ingredients for low-FODMAP Zucchini Olive Tapenade:
Zucchini
Green olives
Extra-virgin olive oil
Sea salt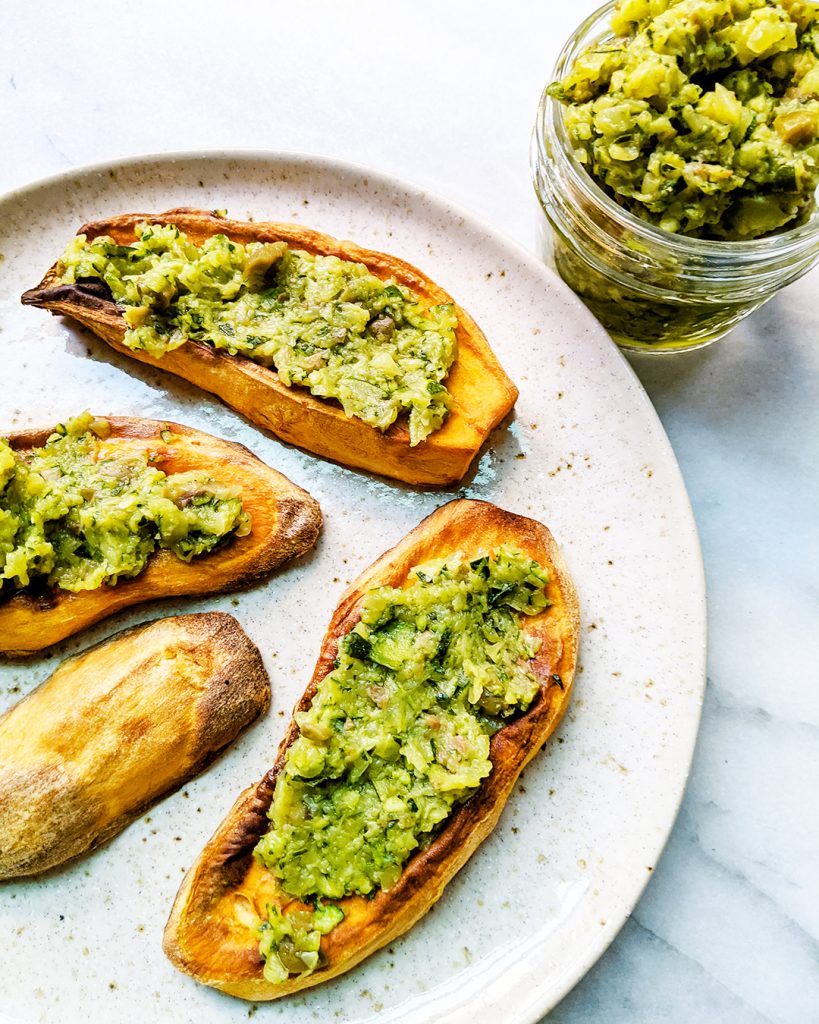 ---
RECOMMENDATIONS
If you are looking for green olives without citric or lactic acid, I highly recommend this

brand of olives

or you also purchase these

olives

from Thrive Market. Both of these options are just olives and salt!
Feel free to either grate the zucchini with a box grater or a food processor. Either method works well.
Store the tapenade in an air-tight container in the fridge. The sauce/dip should keep well for one week in the fridge or 2-3 months in the freezer.
---
Low-FODMAP Zucchini Olive Tapenade (AIP & Top 8 Free)
: 10-12 oz
: 10 min
: 30 min
: 40 min
A perfect easy summer sauce/dip, giving your weekly go-to meals an extra boost of flavor.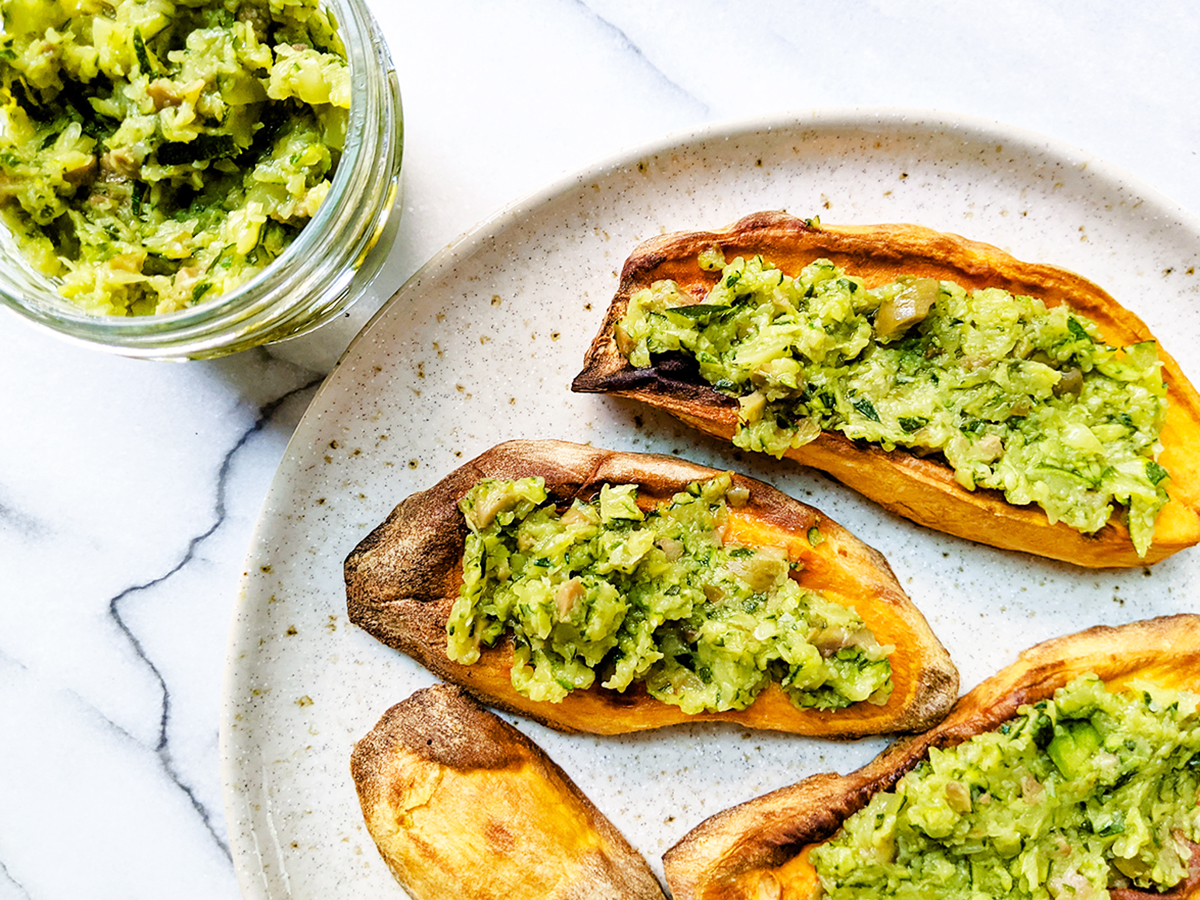 Ingredients
2 large zucchini, shredded
10 pitted green olives, finely chopped
4 tbsp extra-virgin olive oil
1/2 tsp sea salt
Directions
Step 1

Shred the zucchini using a box grater or a food processor and set aside in a medium bowl. Finely chop the green olives.

Step 2

In a large skillet, add the olive oil over medium heat. Once the oil is hot, reduce heat to medium-low and add the olives to the skillet, stirring occasionally for about 5 minutes.

Step 3

Add the shredded zucchini to the skillet and combine with the olives and olive oil. Sprinkle with salt and stir.

Step 4

Let the zucchini and olive mixture simmer for 25-30 minutes, stirring occasionally. The moisture from the zucchini will slowly evaporate and the mixture will thicken and soften.

Step 5

Remove from heat and serve or let cool. Store the tapenade in a sealed container in the fridge for up to a week.
The Open Cookbook is a participant in the Amazon Services LLC Associates Program, an affiliate advertising program, designed to provide a means for sites to earn advertising fees by advertising and linking to Amazon.com. The Open Cookbook may receive a small referral commission if you make a purchase using one of the website links, at no additional cost to you.