---
If you love basil, this gluten-free, vegan, and AIP pesto flatbread is calling your name.
The flatbread is yeast-free and infused with an allergy-friendly pesto in the dough, topped with a little flaky salt to tie it all together. It is perfect as a side to a bowl of soup or it can even be used as a pizza crust. The coconut yogurt is a secret ingredient, providing a light and soft quality to the flatbread.
---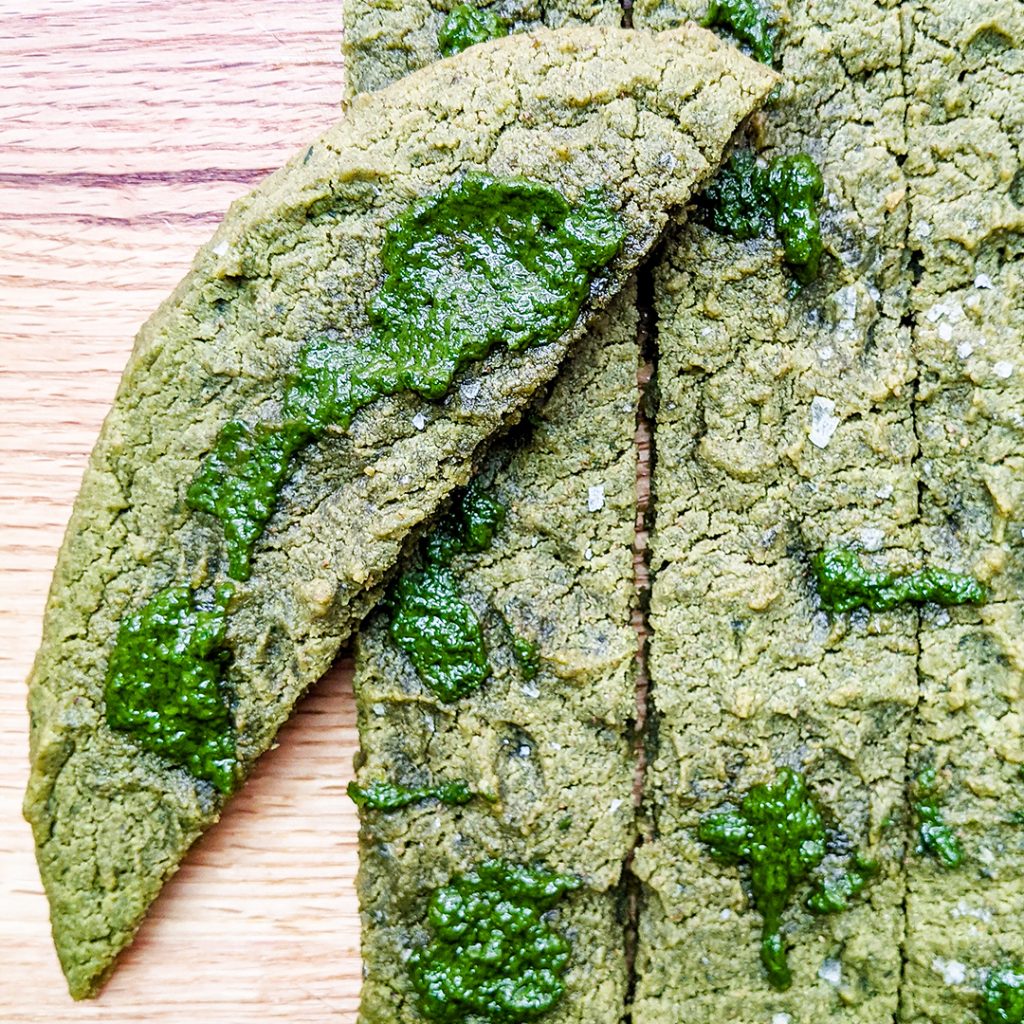 Ingredients for Gluten-Free Pesto Flatbread:
Basil
Extra-Virgin Olive Oil
Cassava Flour
Arrowroot Powder
Tigernut Flour
Baking Soda
Palm Shortening
Coconut Yogurt (no gums – see recommendations below)
Apple Cider Vinegar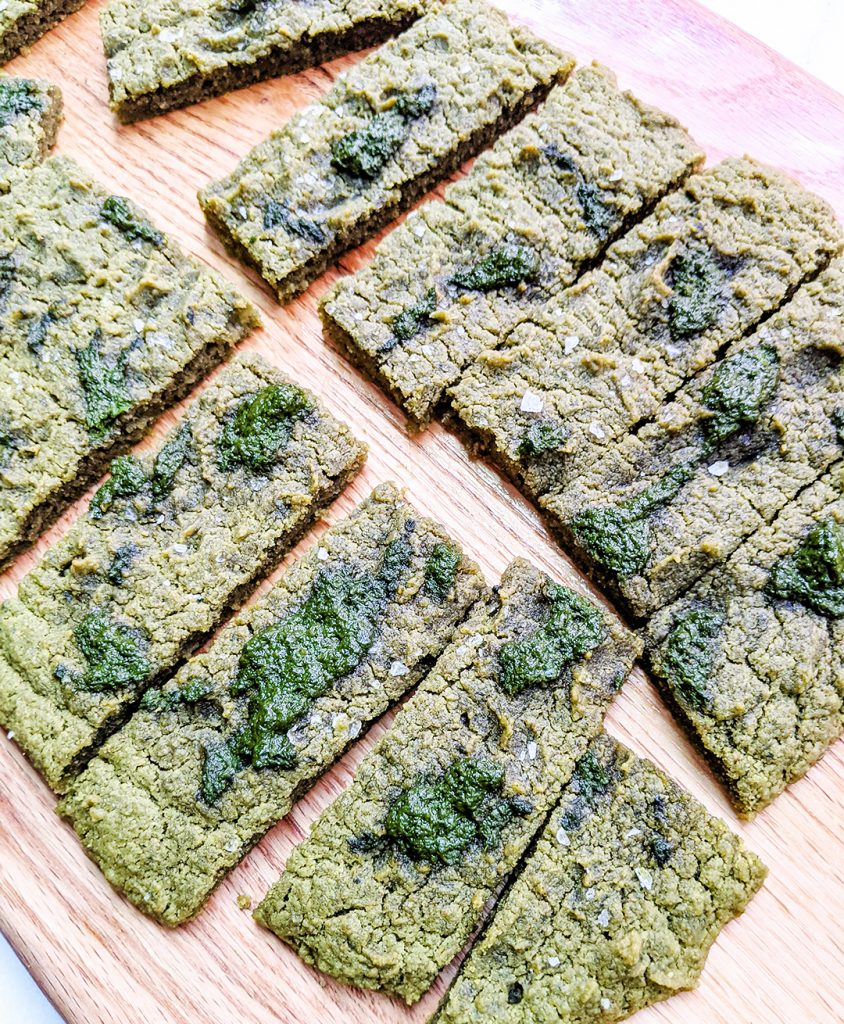 ---
RECOMMENDATIONS
For the coconut yogurt, be sure to use a brand without any additives like guar gum. My personal favorites are Cocojune and Anita's.
Store the flatbread in an air-tight container. If not topped with additional pesto, the flatbread can be kept on the counter for 2-3 days. Otherwise, store in the fridge for up to 5 days or in the freezer for up to 3 months. I love to reheat the flatbread in a toaster oven before enjoying.
---
Gluten-Free Pesto Flatbread (AIP & Yeast-Free)
: 4-5
: 15 min
: 25 min
: 40 min
This AIP, yeast-free and allergy-friendly pesto flatbread is perfect with a bowl of soup or can be used as a pizza crust.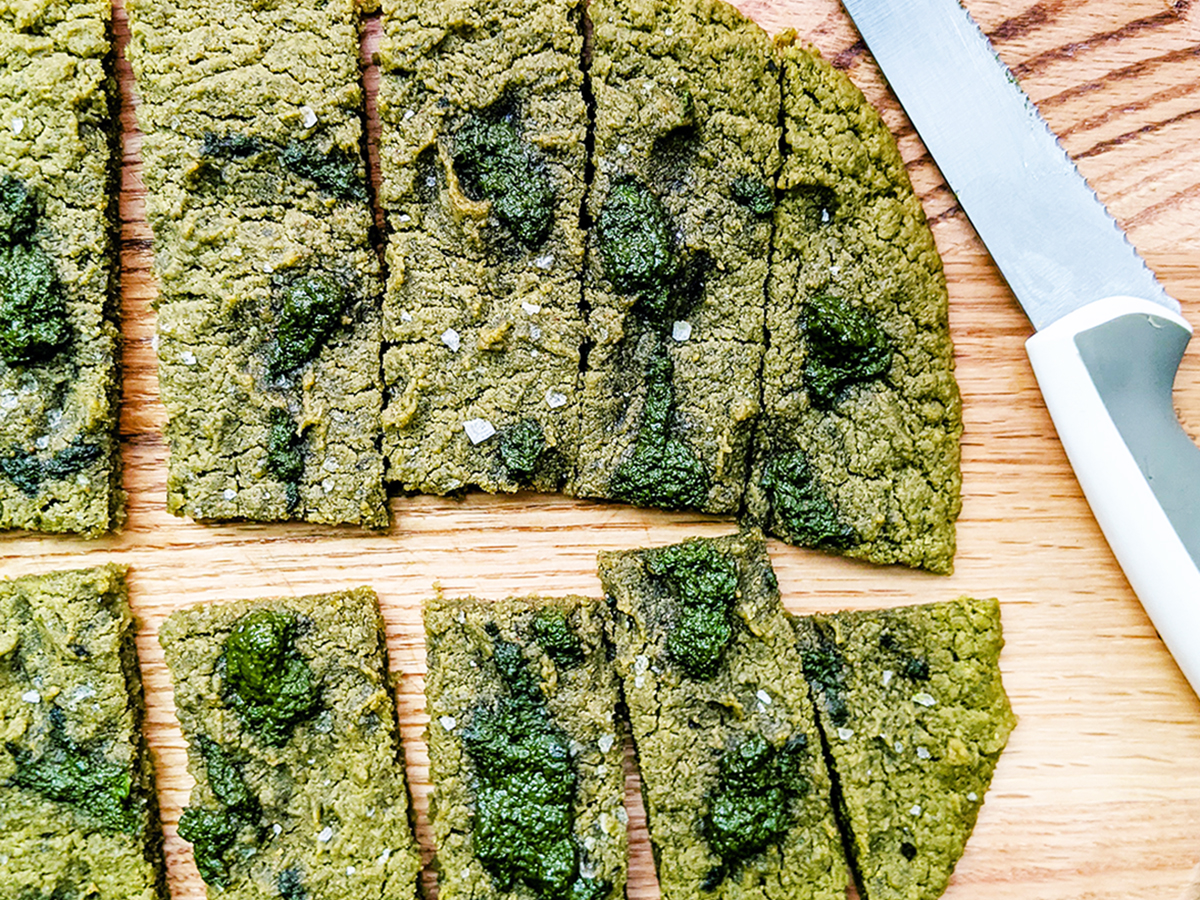 Ingredients
Flatbread:
3/4 cup cassava
1/2 cup arrowroot
1/2 cup tigernut
1/2 tsp baking soda
1/2 tsp sea salt
1/4 cup palm shortening, melted
1/2 cup warm water
4 oz coconut yogurt (see recommendations)
1/4 cup and 1 tbsp pesto (see pesto below)
1 tbsp apple cider vinegar
Maldon salt flakes (optional)


Pesto:
3 cups basil
1/2 cup extra-virgin olive oil
1/2 tsp sea salt
Directions
Step 1

Preheat the oven to 375°F. Line a baking sheet with parchment paper.

Step 2

Set aside the coconut yogurt on the counter to warm up a bit before adding to the dough.

Step 3

Feel free to use your own favorite pesto recipe or follow the next step.

Step 4

If making the simple basil sauce included here, add basil, extra-virgin olive oil, and sea salt to a blender. Blend ingredients until smooth.

Step 5

In a medium bowl, mix together the cassava, arrowroot, tigernut, baking soda, and sea salt.

Step 6

Add the melted palm shortening and warm water to the dry ingredients and mix until well-combined.

Step 7

Add the coconut yogurt and pesto to the mixture, stirring until well-combined.

Step 8

As the last step, add in the apple cider vinegar and fold into the batter mixture. The texture should be similar to a thick pancake batter.

Step 9

Gently pour the batter onto the baking sheet with parchment paper, forming into whatever shape you prefer (round, oblong) with a spatula. Spread the batter until you reach a thickness of 1/4″ inch. Lightly sprinkle with Maldon salt flakes if desired.

Step 10

Place the baking sheet into the oven and bake for 25 minutes. Remove from the oven and let cool for 15-20 minutes before enjoying. Top with extra pesto if desired.