---
Waffles without flour or eggs?! This plantain waffle recipe is so fun and easy to make. The batter is a simple blend of plantains and full-fat coconut milk and doesn't require any fancy alternative flours.
It is a very budget-friendly breakfast or snack and pairs wells with a breakfast hash or bowl of soup.
---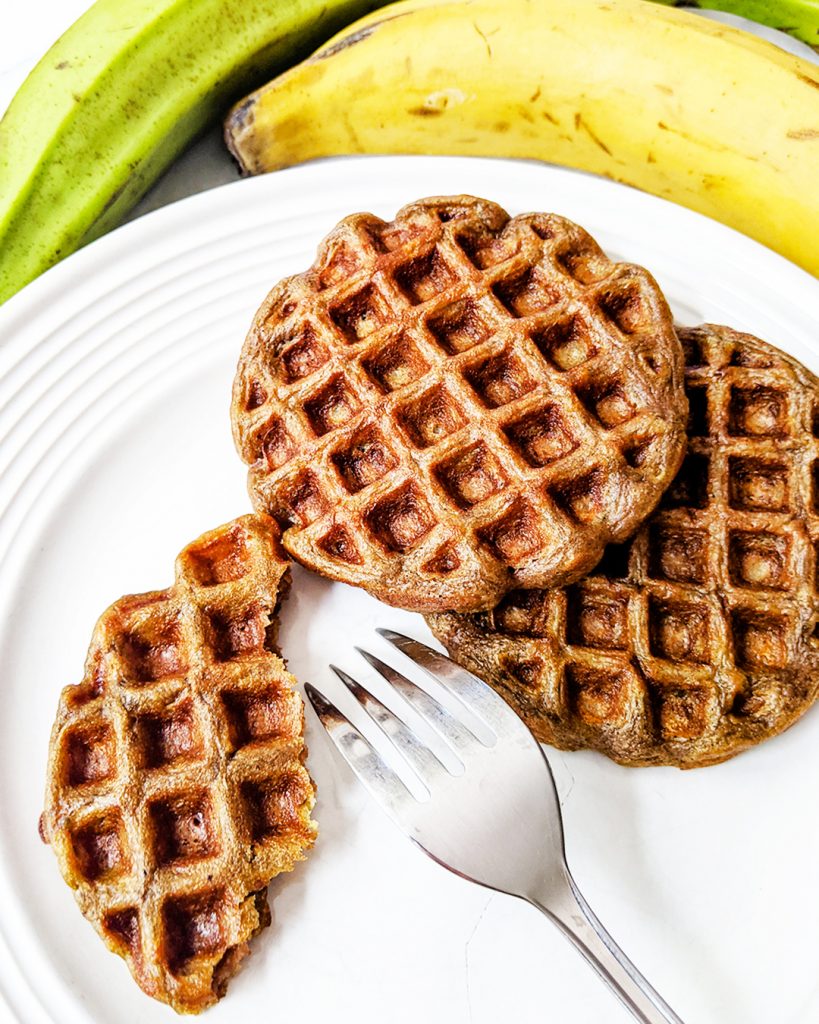 Only 5 Ingredients for Flourless Plantain Waffles:
Green and yellow plantains
Full-fat coconut milk
Baking soda
Apple cider vinegar
Sea salt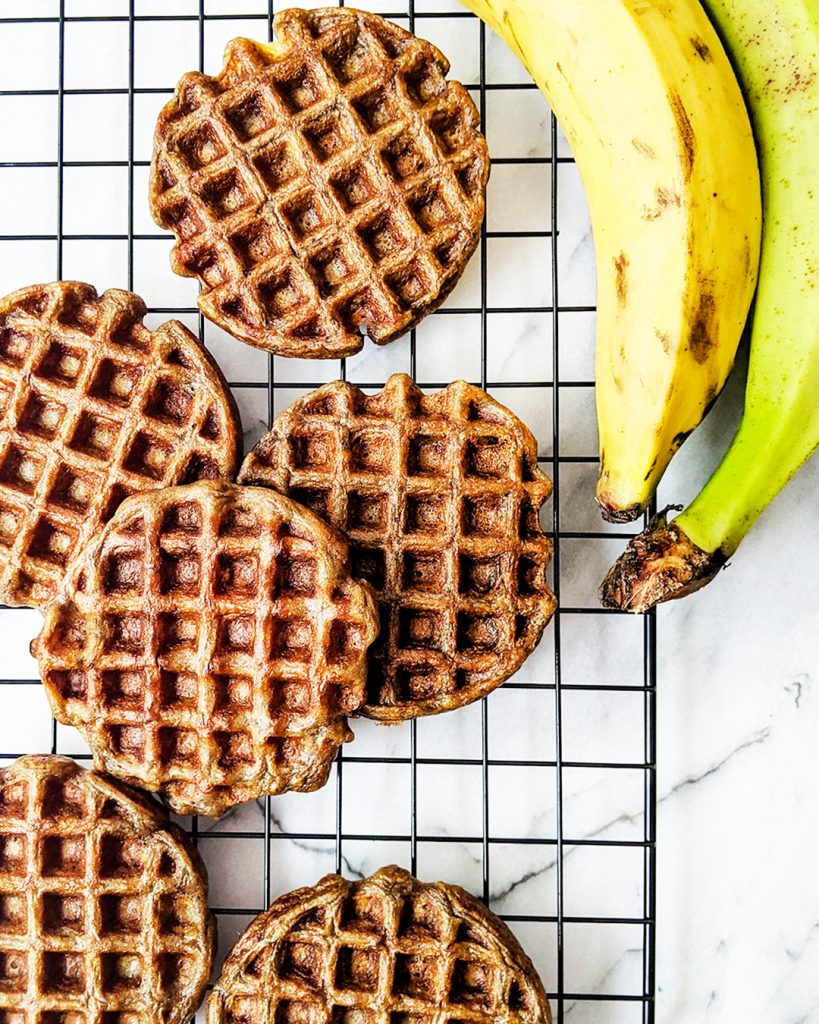 ---
RECOMMENDATIONS
I recommend using one green plantain and one yellow plantain. This will provide a perfect amount of sweetness to the waffles.
I used a Dash mini waffle maker and highly recommend giving it a try. I find that the mini size (4″ diameter) works much better for AIP waffles. For this recipe, I can't speak from experience how the waffles will turn out in a full-size waffle maker. Please let me know if you give it a try!
Store the waffles in an air-tight container. Keep in the fridge for up to 3-4 days or in the freezer for up to 3 months. I love to reheat the waffles in a toaster oven before enjoying.
---
Flourless Plantain Waffles (AIP & Vegan)
: 6 mini waffles
: 5 min
: 30 min
: 35 min
These AIP waffles are a simple blend of plantains and full-fat coconut milk.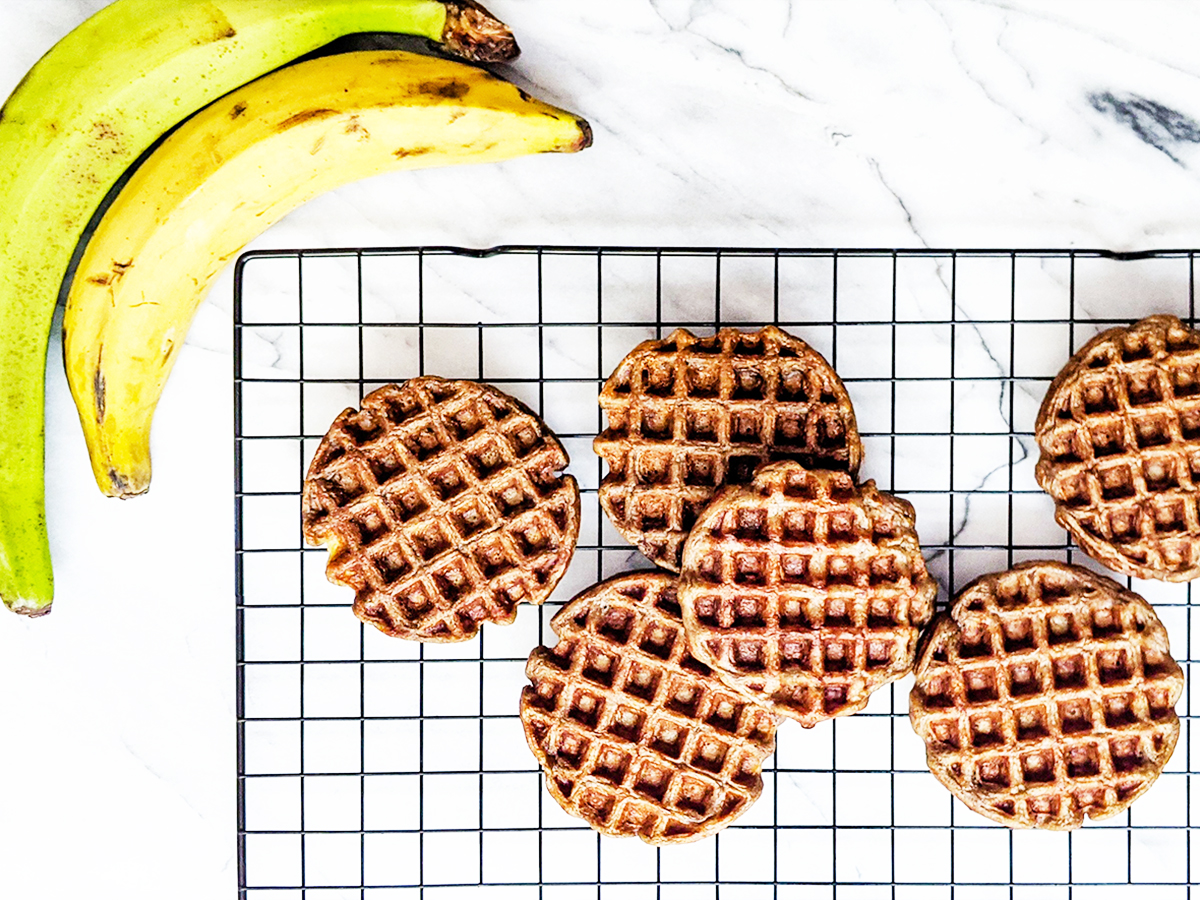 Ingredients
1 green plantain, peeled and chopped
1 yellow plantain, peeled and chopped
4 tbsp full-fat coconut milk
1/2 tsp baking soda
1/2 tsp sea salt
1 tbsp apple cider vinegar
Coconut oil (for oiling the waffle maker)
Directions
Step 1

Heat up the mini waffle maker.

Step 2

Peel and chop the green and yellow plantains into 1 inch slices.

Step 3

In a high-speed blender, add the plantains and full-fat coconut milk. Blend until smooth.

Step 4

Add the baking soda, sea salt, and apple cider vinegar into the blender. Blend the ingredients until well-combined and smooth.

Step 5

Once the mini waffle maker is fully heated, lightly grease with coconut oil. Add roughly 2 tbsp of batter into the waffle maker. Close and let cook for 5 minutes.

Step 6

Open the waffle maker and gently remove the waffle with a spatula or fork. Place waffle on a plate or cooling rack.

Step 7

Repeat steps until batter is finished, lightly oiling the waffle maker between each waffle. This recipe should make roughly 6 waffles.

Step 8

Enjoy the waffles right away while they are still warm. Or, store them in an air-tight container in the fridge/freezer, heating them up in a toaster oven before serving.